International Association for Ambulatory Surgery (IAAS) Representative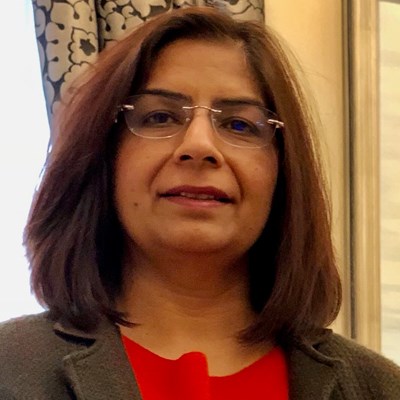 The Royal Wolverhampton NHS Trust
Madhu joined The Royal Wolverhampton NHS Trust as a Consultant Anaesthetist and Clinical Lead for Day Surgery in 2004. She took on the role of Clinical Lead for Pre-Operative Assessment in 2008 and was instrumental in centralising and streamlining the pre-assessment service.
Madhu has been the Clinical Director for Anaesthesia, ICU and Theatres for the last three years. During her term she supported the Trust to deliver elective and urgent surgery during the first surge of COVID, implemented various clinical pathways and provided ongoing Critical Care Support.
She was co-opted as a member of the Council of British Association of Day Surgery (BADS) in 2008, before being elected to the Council in 2010. In 2014, she became the Chair of the Editorial Committee, in addition to her pre-existing role of the Website Lead in 2013.
Madhu has edited and contributed to several day surgery publications, including numerous Day Surgery Handbooks, GPAS - Day Surgery Document for the Royal College of Anaesthetists and Day Surgery Handbook for Association of Anaesthetists. She has also contributed to the Oxford Handbook of Day Case Surgery.
Madhu joined the General Assembly of the International Association for Ambulatory Surgery as BADS/UK representative in 2018 and has recently been appointed as Editor-in-Chief for the journal Ambulatory Surgery.
International Association of Ambulatory Surgery
The aim of the IAAS is to promote the development and growth of high-quality ambulatory surgery worldwide. To this end, it encourages an international exchange of ideas and stimulates programmes of education, research and audit and has members from over 22 countries.
The IAAS publishes the journal Ambulatory Surgery (freely available in electronic format at www.ambulatorysurgery.org), holds biennial international congresses, assists with national meetings and lobbies national and international healthcare bodies.
These activities have resulted in the founding of new national associations for ambulatory surgery, a growth in ambulatory surgery rates worldwide and the incorporation of ambulatory surgery in the strategies of an increasing number of national healthcare providers and international bodies.