This virtual conference will take place on Thursday 8th December 2022
Back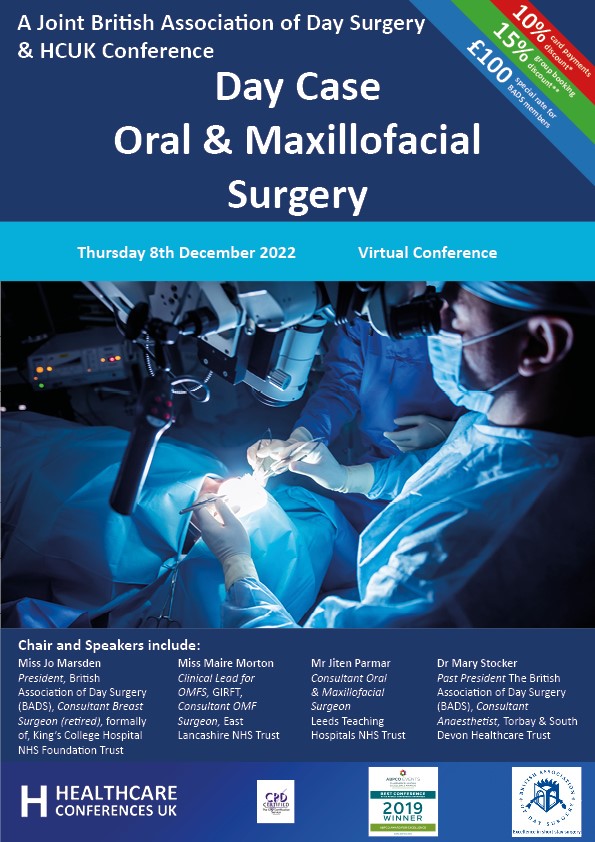 A joint BADS and Healthcare Conferences UK Conference
Day Case Oral & Maxillofacial Surgery
Thursday 8th December 2022

A reduced delegate rate of only £100 + VAT is available to BADS members and Trainees for this event. Please quote HCUK100BADS when booking.
Oral & Maxillofacial Surgeons carry out a range of procedures on the head and neck from the complexities of head and neck cancer surgery to the more routine dentoalveolar surgery. A large volume of this work is carried out on a day stay basis but there is still considerable variation across the country. Most of the day stay activity is in dentoalveolar surgery however, some teams are now carrying out a wider range of procedures that were more traditionally associated with an inpatient stay.
Changing from traditional practice is not always easy. Clinicians need assurance about patient safety, organizations need to support the change and there is a need to change the perceptions and expectations of both of staff and patients. The current Covid-19 pandemic has placed unprecedented strain on hospital services, staff and facilities with hospitals having to redesign, pathways and physical spaces. Oral & Maxillofacial Surgery now have to deal with some massive waiting lists. During the acute phases of the pandemic inpatient beds were at more of a premium and the move to day stay surgery allowed some units to keep a proportion of services running.
Attendance at this conference which has been produced by the British Association of Day Surgery will allow delegates to hear from some of the teams delivering high levels of day stay surgery in dentoalveolar surgery but also in trauma, orthognathic surgery and salivary gland disease. The variations seen across the country will be presented. The essential elements of day stay surgery pathways will be presented. Teams will deal with the organisational issues associated with the move to day stay surgery in addition to the clinical aspects.
Attending this conference will enable you to:
Hear about the variations identified by the Maxillofacial Surgery workstream
Look at the variations in day stay surgery across the country
Learn from outstanding practice in the management of maxillofacial trauma on a day stay basis
Understand how you can improve day stay surgery in your practice
Identify key strategies to develop a day stay practice
Network with colleagues interested in changing practice
Supports CPD professional development and acts as revalidation evidence. This course provides 5 Hrs training for CPD subject to peer group approval for revalidation purposes
Speakers include:
CHAIR: Miss Jo Marsden, President BADS, Consultant Breast Surgeon (retired) formerly of King's College Hospital NHSFT
Miss Maire Morton, Clinical Lead for OMFS & GIRFT, Consultant OMF Surgeon, East Lancashire NHS Trust
Dr Mary Stocker, Past President BADS, Consultant Anaesthetist Torbay & South Devon Healthcare Trust
Mr Jiten Parmar, Consultant Oral & Maxillofacial Surgeon, Leeds Teaching Hospitals NHS Trust
REDUCED RATES
for
BADS Members and Trainees (medical, nurses, allied health professionals)
ONLY £100 + VAT
Quote HCUK100BADS when booking