As we enter the recovery phase following the huge disruption caused by Covid-19 the number of patients waiting for elective surgery remains at record levels, the highest it has ever been in the history of the NHS.
Back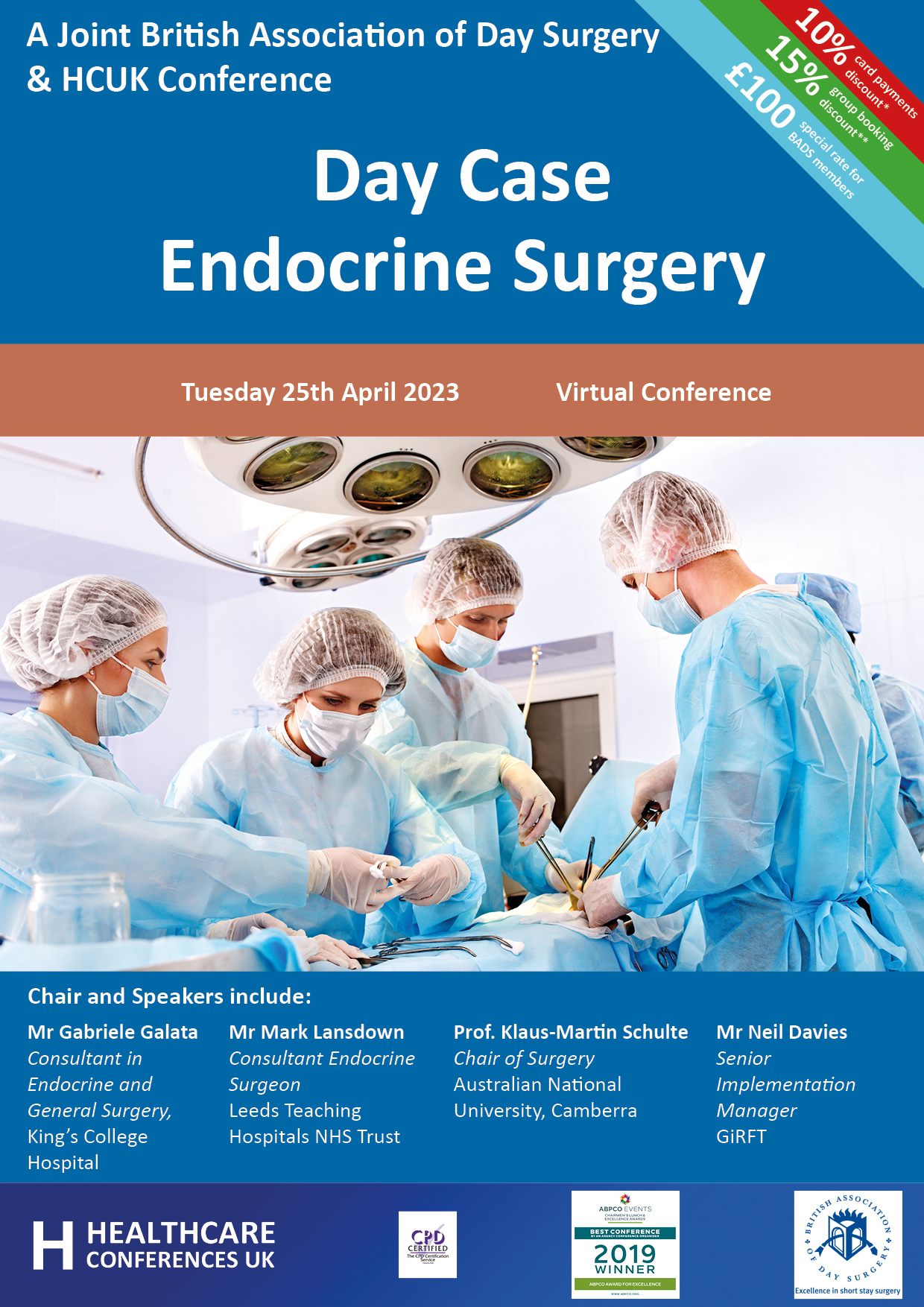 In response to the Government Elective Recovery Plan, it is clear we must work differently to respond to these unprecedented waits. Increasing the delivery of day case surgery is an important component towards achieving this.
Currently there is significant national variation in day-case endocrine surgery performance. Why, if some procedures are being undertaken as a day case, safely with good outcomes and patient experience, is this not being reproduced throughout the country? The aim of this one-day virtual conference is to provide an opportunity to share learning about successful day-case endocrine surgery and showcase what can be achieved, including key aspects of the day surgery pathway, current guidance and using data in its successful delivery.
Join us to learn how this is achievable for our patients.
This conference will enable you to:
Network with colleagues who are working to improve day surgery endocrine surgery delivery
Reflect on national developments
Ensure you are up to date with the latest national practice
Learn from outstanding practice in day case endocrine surgery
Understand how you can improve your day surgery pathways
Identify key strategies for implementation of day case endocrine surgery
Self-assess and reflect on your own practice
Supports CPD professional development and acts as revalidation evidence. This course provides 5 Hrs training for CPD subject to peer group approval for revalidation purposes
Chair & Speakers Include:
Mr Gabriele Galata
Consultant in Endocrine and General Surgery,
King's College Hospital

Neil Davies
Senior Implementation Manager
GiRFT

Prof Klaus-Martin Schulte
Chair of Surgery
Australian National University, Camberra