Second Edition
Contributing authors:
Jo Marsden
President-elect, The British Association of Day Surgery, Consultant Breast Surgeon King's College Hospital NHS Foundation Trust (retired)
Kim Russon
President, The British Association of Day Surgery, Consultant Anaesthetist, Rotherham Foundation Hospital Trust 
Mary Stocker
Immediate Past-president, The British Association of Day Surgery Consultant Anaesthetist, Torbay and South  Devon NHS Foundation Trust

Mei-Ju Hwang
Consultant Breast Surgeon, Sandwell and West Birmingham Hospitals NHS Trust

The authors would like to acknowledge members of the Birmingham City Hospital Breast team for providing their clinical data

Edited by:
Jo Marsden, President-elect and Publications Editor, The British Association of Day Surgery

Vanessa Cubas, ST5, General Surgery, Worcestershire Royal Hospital.

Copyright © The British Association of Day Surgery 2020. All rights reserved. No part of this publication may be reproduced, stored or transmitted by any means without the prior permission on writing of The British Association of Day Surgery 

ISBN number: 978-1-908427-39-7


Day case surgery is defined as admission and discharge on the same day, with day surgery being the intended management. The principles underlying safe service delivery are well established and it is the ultimate example of optimal patient-centred care [1,2]. For breast surgery, many procedures are suitable to be performed in the day case setting as they are not technically intricate, the duration of surgery is relatively short and postoperative events and significant pain are uncommon so enabling early mobilisation, nourishment and discharge. As day case breast surgery has been shown to be associated with a good quality of care and positive patient experience, maximising day case performance should be an unequivocal goal in the NHS and private sector [3,4].
Improving day case breast surgery rates has further benefits in that it releases valuable in-patient resource. With advances in oncoplastic techniques, the breast surgical case-mix is expanding and there is a growing cohort of patients, requiring more complex procedures, which necessitate a longer duration of surgery and postoperative in-patient admission for monitoring [4]. Furthermore, given the predicted increase in breast cancer incidence over the next thirty years, surgical management will place an unsustainable demand on in-patient services unless a significant shift to the day surgery setting is undertaken for appropriate procedures [5].
Despite the advantages of integrating a day surgery pathway into breast unit practice, day case rates and the range of procedures performed varies considerably across the UK and progress to improve performance is slow. The aim of this handbook is to provide practical and evidence-based advice to support development of a day case service and where an overnight (i.e. one night) pathway is in place, stimulate consideration of why such cases cannot be managed as a day case. Throughout, examples will be drawn from the experience of NHS trusts, where pathways have been successfully introduced.
The UK Cancer Reform Strategy identified an urgent need for reducing length of stay for all cancer admissions to release in-patient capacity in 2007 [6]. At that time, for non-oncoplastic breast cancer surgery, the standard of care was for in-patient admission. The mean duration of stay was 4.9 days, with a day case rate of 13.2% for breast conserving surgery and 2.4% for mastectomy. Variance in length of stay was largely dictated by the routine use of wound drains and compounded by differences in protocols for their management between individual breast units [4].
The same year, the NHS Improvement Transforming Inpatient Care Programme, as part of the Cancer Reform and Improving Cancer Outcomes Strategies, prioritised the development of same day discharge and or overnight stay as best practice for non-oncoplastic breast cancer procedures. This was based on the clinical experience of two individual English NHS hospital trusts (i.e. King's College Hospital NHS Foundation Trust [KCHFT] and Sandwell and West Birmingham Hospitals NHS Trust [SWBHT]) where such surgical practice had been successfully implemented and shown to be feasible, safe and acceptable to patients, their family and carers. Between 2010 and 2011, The NHS Improvement Agency ran a programme to support thirteen English NHS cancer networks, with representatives from 72 NHS trusts, to develop breast surgery day case or overnight stay pathways [4]. Outcomes audit demonstrated this was feasible even in the absence of a dedicated day surgery unit and resulted in the publication of a template for NHS hospital trusts to use when re-designing their surgical service. This was endorsed by The British Association of Day Surgery (BADS) and Association of Breast Surgery (ABS) [4].
Whilst some trusts have embraced transformation and been innovative by introducing day case and overnight stay pathways for non-oncoplastic and oncoplastic procedures, implementing change overall has been slow. In 2019, the median day case performance for wide local excision in English trusts was 73% with individual hospital activity ranging from 40% to 100% and median day case rates for simple mastectomy was 9%, despite the best performing English trusts achieving rates over 70% [8,9]. Performance variation has persisted despite incentivisation with the introduction in 2012 of breast-specific best practice tariffs (BPTs) and use of day case activity as a key quality performance indicator for breast cancer peer review [10,11]. Evidence suggests the most important factor impeding change is professional culture, with a perception day surgery is unsafe or presents too many organisational challenges [4]. This may be contributed to by current guidelines, which although summarising issues pertinent to supporting day surgery delivery, tend to focus on overall standards for generic surgical management, speciality-specific advice being restricted to lists of procedures and indicative rates that can be achieved, rather than provision of 'how to do' guidance [2,8,12].
Tackling variation in day case rates between NHS trusts is one of the outcomes of the Getting it Right First Time (GiRFT) breast surgery workstream programme [11]. Their report is scheduled for publication in the summer of 2020. There is every reason to suspect this will confirm the aforementioned disparity in day surgery practice and recommend NHS service delivery change to improve day case practice and achieve BADS breast surgery targets [12].
The prospect of making changes to a long established in-patient surgical pathway to enable day surgery delivery can appear daunting. However, if the following practical steps are taken, this can be achieved.
1. A named clinician (anaesthetist, surgeon) with a self-declared interest in day case breast surgery should engage with the multi-disciplinary team members involved in delivering service to promote evidence about patient benefits associated with day case management. This will necessitate provision of 'in-house' education about the general principles underlying safe day surgery delivery and evidence from trusts where same day discharge for breast surgery has been successfully introduced. The aim is to address perceived impediments and build clinical confidence in health professionals reluctant or uncertain about the proposed change.
2. Once agreement is reached to introduce a day case pathway, the lead clinician can commence planning of this in collaboration with identified surgical, nursing, anaesthetic and administrative staff in the breast and day surgery unit teams.
3. Decide which breast surgical procedures will be managed as a day case and agree, this will be the default position. When day case management of breast surgery was promoted between 2007 and 2011, the emphasis was on procedures deemed to be 'less complex' that did not involve any reconstructive or oncoplastic techniques. This encompassed breast conserving surgery, mastectomy and any axillary surgery. However, some NHS trusts have successfully introduced a day case or overnight pathway for patients requiring oncoplastic management. The latest edition of the BADS Directory of Procedures (2019) provides indicative day case rates for breast operations, which include both non-oncoplastic and oncoplastic procedures [12]. These rates have been obtained following consultation with recognised leaders in day and short-stay breast surgery, as well as review of national performance data.
4. The surgical pathway can then be redesigned. Adopting a collaborative approach will ensure appropriate multi-disciplinary team protocols and integrated care plans are developed, organizational obstacles more easily identified and comprehensive revision of patient information takes place. Quality measures must be integrated into the pathway to allow for its initial evaluation and to maintain and drive improvement standards, for which, BADS recommends continuous prospective audit.
Work undertaken by The NHS Improvement Agency between 2010 and 2011 showed successful implementation of breast day case surgery pathway design could be achieved when mapping of the surgical pathway with simultaneous Plan Do Study and Act (PDSA) cycles was undertaken [13,14]. The stages are as follows (Figure 1)
i. Plan
The in-patient surgical pathway should be mapped to identify steps, which need to be modified to deliver day surgery safely. The BADS and ABS endorsed NHS Improvement Agency, breast surgery template summarises all the potential activities that can be associated with a patient's surgical episode and can be used to initiate discussion about planning (Figure 2) [4].
This mapping exercise provides insight about:
What happens to the patient at every stage of their surgical episode, from the decision to proceed with surgery to discharge planning and support at home
Potential demands on surgical and affiliated services
Issues surrounding meeting clinical targets, pre-booking of appointments, multi-disciplinary team protocols being in place
The adequacy and appropriateness of patient information
From a resource perspective, pathway redesign is usually cost neutral as it streamlines and re-allocates skill mix and time (Figures 2 and 3).
ii. Do
Once the day case pathway and supportive measures are agreed it can be introduced. It is advisable, however, to pilot service change first in a few patients to assess its impact, rather than introducing wholesale service change overnight (see below). This is also a useful ploy when the situation arises within a breast unit where either surgical or anaesthetic colleagues are sceptical or resistant to change. Demonstrating that practice is safe in a pilot of patients is a powerful tool for negotiation.
iii. Study
This involves collection of data before and after the pilot phase, observing and learning from the outcomes.
iv. Act
If as a result of piloting the service change, further modifications are identified, these can be made, further pilot phases conducted and evaluated as necessary until all potential impediments are addressed before full implementation.
Figure 1 The PDSA cycle
Figure 2 NHS Improvement Surgical Pathway Mapping Template
Figure 3 Mapping The Surgical Pathway To Deliver Day Surgery
At KCHFT, use of PDSA cycles to test their breast surgery day case pathway during its initial six-month pilot phase confirmed no unplanned admissions, increase in complications or patient concerns about early discharge compared with the traditional in-patient pathway. Day case management was so popular some patients deferred their cancer surgery until a day case list was available. This provided compelling evidence for management to support additional day surgery list allocation to meet demand. With an 80% shift of non-oncoplastic breast procedures from in-patient to day case admission, in 2006, an estimated £250,000 of expenditure was released to other areas within the trust. Reflective practice as part of the PDSA cycle (Table 1) also provided clarity as to the patient benefits of a pre-defined short-stay pathway and was an effective tool in communicating advantages to staff.
Table 1 Comparing in-patient admission with day case or overnight management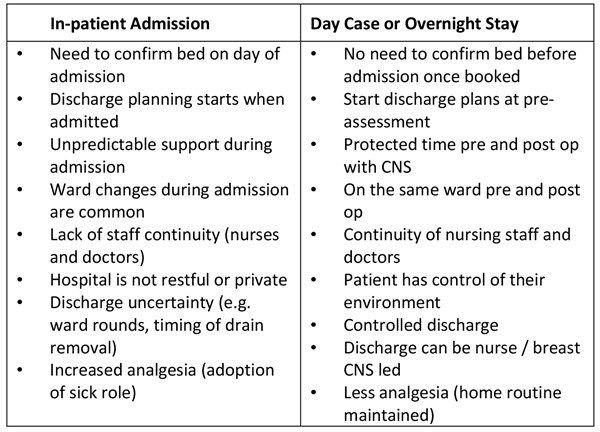 5. It is important when introducing a day case pathway, to appreciate change will not take place overnight as it will take time to build confidence in the breast unit and day surgery teams. At KCHFT it took 12 to 18 months to achieve maximal day case breast surgery performance and at Torbay, two years to optimise mastectomy day case rates [15,16].
6. Unnecessary delays to discharge are usually attributable to inadequate pathway mapping resulting in incomplete care plans being in place or failure of staff being familiar with protocols and which surgeries are to be managed as a day case. Regular education events for breast and day surgery staff after pathway implementation caters for personnel turnover and perpetuates good clinical practice [4].
1. Preoperative assessment [1,3,4]
Key to developing a day surgery pathway, is concentrating activities surrounding the surgical admission preoperatively. Ideally and where practicable, all should be scheduled on the same day, in advance of the day of admission. Trusts where a day case or overnight (i.e. one night) stay pathway has been successfully implemented have co-location of relevant expertise (e.g. breast consultant or consultant-led anaesthetic pre-operative clinic), or direct referral pathways with other specialists whose advice may be required about patient co-morbidities (e.g. cardiology, care of the elderly). This is of particular relevance for patients on a cancer pathway, where surgery is their first treatment episode and as such this part of their management has to be completed within a rapid time frame in order to be compliant with national cancer target waits. Effective and rapid communication between the surgical team, breast clinical nurse specialist, day surgery pre-assessment and anaesthetic consultant staff is fundamental to this. Finally, preoperative assessment can offer opportunity for protected clinical time to be scheduled for breast clinical nurse specialist review.
Patient information and education needs, which need to be met preoperatively include:
Confirmation of surgery and consent
Anaesthetic planning
Arrangements for the day of surgery including fasting and management of medication
Details about recovery from surgery including wound care, post-operative analgesia, drain management (if used)
Advice about support bras, temporary prothesis fitting
Checking social support to enable appropriate discharge planning
Postoperative arm and shoulder exercises
Provision of all documentation about postoperative clinic appointments
Completing the above ensures individualised care-planning is in place before admission.
The following examples from three different trusts shows how this has been achieved for their patient populations, given information needs may vary with the stage of presentation and degree of surgical complexity.
Torbay and South Devon NHS Foundation Trust (TSDFT) [16]
The day surgery pathway here does not involve patients undergoing complex oncoplastic procedures and begins with a 'one-stop' clinical process, in which all pre-operative activities take place on the same day. This encompasses agreement and consent for surgery and allocation to a theatre list as a day case in the breast results clinic, followed by breast clinical nurse specialist review to cover information needs surrounding their surgery. Finally, patients are seen for preoperative assessment. This is undertaken by specialist day surgery preoperative assessment nurses as experience at TSDFT has shown the latter is essential for ensuring patients are adequately prepared for their day surgery pathway. A senior day surgery anaesthetist is available to directly support the nurses when more complex decisions are needed.
Kings College Hospital NHS Foundation Trust (KCHFT)
As with TSDFT, this pathway involves patients having non-oncoplastic procedures. However, it differs in that once seen in the breast results clinic, the patient is booked for a preoperative clinic, one or two weeks prior to admission at which times are allocated on the same day for them to be seen by a specialist day surgery preoperative assessment nurse, their breast clinical nurse specialist and physiotherapist. Consent is not taken at this appointment, rather at a further pre-admission clinic, appointment with their consultant, the day before surgery. This was introduced following review of the pathway when it became apparent a majority of patients found difficulty completing all the preoperative requisites, particularly the consent process, at the same appointment. This was attributed to the complex decision-making surrounding treatment sequencing options for the local patient population whose average estimated prognosis for both screen-detected and symptomatic cancers was higher than the national average.
Sandwell and West Birmingham Hospitals NHS Trust (SWBHT) [17]
The surgery pathway here includes patients having oncoplastic procedures. As with KCHFT, once a decision has been made for surgery, the patient is booked for a standardised, multidisciplinary preoperative assessment and discharge planning clinic, which is usually the week prior to admission and runs alongside the breast consultant clinic. In contrast to KCHFT, this is run by an experienced Surgical Care Practitioner (SCP), whose role combines what would have previously been done in several separate steps in the traditional in-patient pathway. This includes obtaining consent (delegated consent), breast clinical nurse specialist activities and pre-operative assessment. When the SCP is unavailable, for example due to annual leave, there is a trust staff grade doctor, familiar with the clinic who can provide cover. If patients have persisting uncertainty about their operation, they are offered the choice of another appointment with their consultant or to discuss with their breast clinical nurse specialist over the phone, before making their final decision.
Following preoperative assessment, a plan should be made for perioperative care as a day case wherever possible [1]. The majority of patients will be offered a general anaesthetic with local anaesthetic infiltration by the surgeon. Patients with significant co-morbidities in whom general anaesthesia might be considered a high risk can be counselled preoperatively prior to their admission date about having surgery awake or slightly sedated using local anaesthetic infiltration or regional anaesthesia. In this way the anaesthetic can be tailored to the individual patient with the aim of maintaining their baseline physiological parameters, especially where disturbance in blood pressure, pulse rate and oxygenation might lead to compromise in other health issues. Much can be safely achieved with team communication and patient counselling. Day-case mastectomies have successfully been undertaken in patients with significant cardiovascular compromise including pulmonary hypertension using local anaesthesia alone [18,19].
In some centres regional anaesthesia blocks are used to provide analgesia rather than local anaesthetic infiltrated by the surgeon combined with a general anaesthetic. However, when patients have significant co-morbidities such as pulmonary hypertension or obstructive sleep apnoea then surgery under "block alone" can enable a patient to still be treated as a day case. Please note that this will require extra anaesthetic and possibly surgical time and the surgical team all need to be mindful and agreeable to managing an awake patient. It is beyond the scope of this handbook to discuss the details of all of the blocks that can be suitable for breast surgery but good overviews are available [20,21]. Newer regional anaesthesia techniques such as pectoral nerve block type I (PECS1) and type II (PECS2), serratus anterior blocks and erector spinae plane (ESP) blocks have all been found to be effective in appropriately skilled hands.
1. Admission
This takes place on the day of surgery. Patients should have been provided with clear, written fasting instructions from their preoperative assessment dependent on the timing of their scheduled operation.

2. List planning
The order of the list should be planned in advance to ensure that there is a 'starter' case to allow time for patients needing wire localisation and radioisotope injection to have this done at an appropriate time so as not to delay the theatre list. It is worth highlighting on the theatre list which patients need these interventions to avoid inadvertent reorder of the list which does not account for them and will cause delays.

3. Anaesthetic Technique
The principles of anaesthesia for day case breast cancer surgery are common to most other day surgical procedures [1]. An example protocol is shown in Appendix 1.

Namely:
Premedication with oral analgesia
Short acting anaesthetic agents
Avoidance of emetogenic medication
Multi-modal analgesia [20]
Short acting opioids for rescue analgesia if required
Good post-operative analgesia
i. Premedication
Patients should be premedicated with oral paracetamol and if appropriate a non-steroidal anti-inflammatory drug (NSAID). You need to be mindful that some surgeons have concerns about anti-platelet effects of NSAIDS and may prefer these to be withheld preoperatively for certain procedures. If NSAIDs are used, then long acting preparations such as ibuprofen slow release 1600mg have found to be efficacious in a number of leading day surgery centres and avoid the risk of "missed doses" later in the day. Patients should be encouraged to remain warm and hydrated preoperatively. Delaying changing from street clothes into theatre gowns until absolutely necessary minimises hypothermia and encouraging liberal consumption of water preoperatively minimises rates of postoperative nausea and vomiting (PONV).

ii. Intraoperative Anaesthesia
Short acting anaesthetic agents should be used. Total intravenous anaesthesia (TIVA) is ideally suited to day surgery anaesthesia, however units have also had success using the short acting volatile anaesthetic agent
sevoflurane. Caution should be taken using Isoflurane for day surgery due to the longer "hang-over" effect and manufacturers advise not to drive for 48 hours postoperatively when this is used. Avoidance of agents likely to contribute to PONV such as nitrous oxide or long-acting opioids (morphine) is important. Patients should be warmed and hydrated with 1 litre of crystalloid fluids. With these techniques routine use of anti-emetic medication is not usually required. Judicious use of surgical local anaesthetic infiltration results in very low postoperative analgesia requirements
iii. Post-operative medication
Simple analgesia is usually sufficient (regular paracetamol and ibuprofen). If required, there should be agents available for rapid analgesic rescue. Standard prescriptions of intravenous fentanyl (6 x doses of 25µg) and oral morphine sulphate are effective in this circumstance. There should also be a prescription for antiemetics in first stage recovery, however, routine use of anti-emetic medication is not usually needed. Of interest, there has been some suggestion that use of TIVA and regional anaesthesia techniques can reduce cancer recurrence rates but further confirmatory evidence is required to support this [21,22].
4. Seroma Management Drains
One of the main factors contributing to reluctance about implementing a day case pathway is concern over wound drains. Whilst some surgeons have abandoned their use without any adverse impact on patient outcomes, in many breast units they are still part of routine surgical care. Inconsistency in their management is the most influential factor determining length of stay [4]. Drains are used to reduce postoperative seroma formation, the rationale being that if one forms, it will hurt. Although it is unusual for seroma induced swelling to become so tense it is painful, there is also concern accumulation of a large volume following mastectomy, axillary dissection and extensive oncoplastic dissection will place excessive tension on the breast and associated incisions [23,24]. Drains, however, do not prevent seroma formation, only their volume and re-accumulation invariably occurs following their removal [23]. This resulted in the widespread non-evidence based, practice of repeated, routine out-patient transcutaneous seroma aspiration following drain removal. Wound drains are associated with an increase in the mean number of seroma aspirations and time to seroma resolution [4,24]. They are also be a source of postoperative pain and infection as is repeated out-patient aspiration of seromas [25].
Omitting drains promotes early mobility and makes it easier for patients to wear a bra for support, manage an external prosthesis and use postoperative pressure or support garments. Whilst the latter do not reduce seroma formation or volume, they can decrease postoperative discomfort. Evidence evaluating drains is largely restricted to surgery where oncoplastic techniques have not been employed and varies considerably in quality but overall suggests a 'no-drain' policy is safe, even if reduction mammoplasty is performed [23-27]. Audit by The NHS Improvement Agency showed omitting drains following breast conserving surgery, simple mastectomy or axillary surgery removed the necessity for in-patient admission. Although seroma volume was larger, postoperative pain was reduced and the incidence of outpatient seroma aspiration fell without an increase in re-admissions for the management of complications [4]. Counselling patients that a seroma is a common side effect rather than a complication of surgery, its volume can be variable and it will resolve with time, will allay unnecessary concern.
If there is still clinical preference for a drain, this should not prevent development of a day case pathway. Key to this is having a clear policy for drain management in place, which all involved staff are familiar with and patients adequately educated about what to expect. In some units, drains are removed on the day of surgery prior to discharge or patients are discharged with their drains in situ [4]. Unwillingness of patients to be discharged with a drain due to lack of information about personal care when home has been shown to result in a median duration of in-patient admission of 4 (range 3 to 8) days [4]. No difference has been observed in time to seroma resolution (or mean number of out-patient seroma aspirations) following breast conserving surgery, simple mastectomy or axillary surgery, regardless of whether drains are removed on the first postoperative day or later. This and the fact drain omission simplifies patient management without impacting adversely on recovery begs the question of why their use persists.
5. Other Methods for Seroma Management
Seroma formation and volume can be reduced with the use of harmonic devices compared to conventional electrosurgical techniques and scalpel dissection and ligation [28]. Evidence regarding other dissection techniques is inconsistent (e.g. laser scalpel, argon diathermy, ultrasonic scalpel)
Seroma volume is also reduced with quilting of skin flaps but at the expense of increased operating time [29]
Evidence for sclerosants (e.g. tetracycline) is not compelling. They have been shown to be ineffective and can induce post-operative pain [30]
Uncontrolled observational studies suggest the use of fibrin sealant is beneficial when drains are omitted but a Cochrane review of randomised studies failed to demonstrate any influence of its use upon the incidence and volume of postoperative seroma, wound infection, complications and length of hospital stay [31-33]. The recommendation that a large multi-centre trial is undertaken to reliably answer this question is yet to be instigated
Although a postoperative activity, it is worth noting that delaying initiation of shoulder and arm exercises, which are usually commenced on the first postoperative day, may reduce seroma volume but this can increase shoulder mobility problems in the short-term [30]
6. Wound Management

Subcuticular, dissolvable sutures with tissue adhesives minimises the risk of dehiscence especially in the presence of an underlying wound seroma. Tissue adhesives also serves as a wound dressing obviating clinic or GP attendance for dressing changes following discharge.
7. Day Surgery Ward and Discharge
Patients can be discharged as soon as day surgery criteria for such are met. Consultant review is unnecessary as it is safe for this to be nurse led. Day surgery recovery staff will be familiar with providing advice about wound care and analgesia but will need to be conversant with information about support garments, temporary prosthesis fitting and drain management if these are used and educated about them by the breast clinical nurse specialist. At SWBHT, where some operating sessions take place on a Friday and patients have planned overnight stay, the breast clinical nurse specialist and SCP shared their skills with in-patient ward nursing staff. This built confidence and enabled prompt patient discharge on a Saturday morning avoiding discharge delays. Neither day surgery nor in-patient nursing staff, however, should be expected to deal with queries related to a patient's diagnosis or treatment if this arises. Instead they should alert the breast clinical nurse specialist to contact the patient following discharge.
8. Analgesia Requirements Following Discharge

Patients must be discharged with adequate oral analgesics and local anaesthetic infiltration during, or at end of surgery provides symptomatic benefit in the immediate postoperative period [20]. Common oral agents offered initially are paracetamol and non-steroidal anti-inflammatories (some centres avoid NSAIDs due to perceived increased risk of postoperative bleeding). If NSAIDs are avoided patients may require paracetamol/codeine preparations rather than paracetamol alone. It is preferable to prescribe the 30/500 preparation of co-codamol as the 8/500 is no more efficacious than paracetamol alone but causes constipation. Separate prescriptions of paracetamol and codeine often results in patients omitting the more efficacious paracetamol in favour of the "perceived" stronger effects of codeine. If codeine containing medications are prescribed consideration should be given to co-prescription of a stool softener such as Laxido as this has been shown to significantly reduce the incidence of post-operative constipation [34]. The NHS improvement Agency audit revealed approximately 30% of patients did not require any analgesia. Paracetamol alone was sufficient for most having breast conserving surgery and multi-modal analgesia (i.e. paracetamol and wound infiltration) following mastectomy [4].
With appropriate preoperative preparation and analgesia planning followed by support on the ward prior to discharge, experience shows that any further patient, family and carers' needs can be met safely if there is easily available hospital contact telephone number in and out of regular working hours [4].

At KCHFT and SWBHT, the breast clinical nurse specialists take calls between working hours. Out of hours and at weekends support at KCHFT is provided by a day surgery unit senior nurse who can be contacted for advice and at SWBHT this is provided by the surgical assessment unit on call. At TSDFT, the day surgery unit discharge ward can be contacted between 8am and 8pm and out of hours, calls are directed to the clinical site manager who can provide advice and contact the relevant teams if re-admission is required.
Nurse-led telephone follow-up the day after discharge has been incorporated into some but not all surgical pathways. It is utilised at TSDFT and KCHFT, where is it undertaken by day surgery staff and breast clinical nurse specialists respectively. At TSDFT, it is used to assess and provide advice about general wellbeing, pain, nausea and any other symptoms. Patients are signposted to the breast clinical nurse specialist as appropriate. In addition, for patients that have been discharged with a drain in situ, they receive daily contact from the trust 'medical admissions team', which provides care for patients at home, until the drain is removed. Patients also have open access to contact the breast care nurses, who run daily 'drop-in' clinics. Wounds are checked in a dedicated clinic five-days postoperatively and then again when seen in clinic to discuss their surgery results [16]. At KCHFT the nurse-led telephone follow-up utilises a brief, standardised questionnaire, which can also be used as a care plan to individualise patient support (Appendix 2). In common with TSDFT, it covers questions about general well-being, pain and post-operative nausea and vomiting. It also incorporates specific questions about the appearance of the patient's wound, if any swelling is present and can be used to prompt patients to start their postoperative arm exercises if they have not already done so. If the breast clinical nurse specialist considers clinical review is needed, this can be arranged promptly. Patients are not seen for a routine wound check appointment prior to attending for their surgery results, unless following telephone contact, review is considered necessary.
At SWBHT a different approach is undertaken. Routine nurse-led telephone follow-up is not part of the pathway, including those patients having oncoplastic procedures. A breast clinical nurse specialist-led dressing clinic is held daily and all patients are aware that 24-hour telephone contact is available and they will be seen promptly if necessary. In addition to documentation outlining what to expect following discharge respecting wound, drain and seroma management (these are only aspirated if tense or painful), the GP receives a letter to review uncomplicated wounds in the practice at ten days detailing what the patient has been told to expect. Complex wounds following oncoplastic procedures and drain removals are reviewed in the breast clinical nurse specialist-led dressing clinic. Feedback has shown patients feel well supported and reassured [17].
This section of the handbook provides a summary of clinical outcomes and patient experience from day case or overnight stay management, demonstrating the safety and good quality of care that can be achieved. It can also be used as evidence to counter health professional and patient concerns about introducing a reduced length of stay pathway.
1. Clinical outcomes
The evidence presented is taken from:
A Hospital Episode Statistics (HES) audit [7]
Results of the audit undertaken by NHS Improvement following its initiative to promote day case breast surgery in thirteen English cancer networks between 2010 and 2011. Data was collected on 2,087 patients (666 mastectomy patients and 1,421 wide local excision and other breast procedures) [4]
Individual audit data from NHS trusts (KCHFT, TSDFT and SWBHT) [15-17]
i. Length of stay and cost savings
Over the time period The NHS Improvement Transforming Inpatient Care Programme promoted and supported a drive to increase the delivery of day case breast surgery (i.e. between 2007 and 2012), a HES audit demonstrated a shift towards reduced a length of stay with an increase in same day discharge. The overall length of stay reduced by 56% and the average duration of stay fell from two days to one, with an increase in day case rates from 27% to 40%. The number of bed days reduced by nearly 50%, yielding cost savings of just over ten million pounds. This was all achieved despite a concomitant 4% increase in the number of elective breast procedures (table 2) [7].


Table 2, HES Audit Of Day Surgery Outcomes, 2014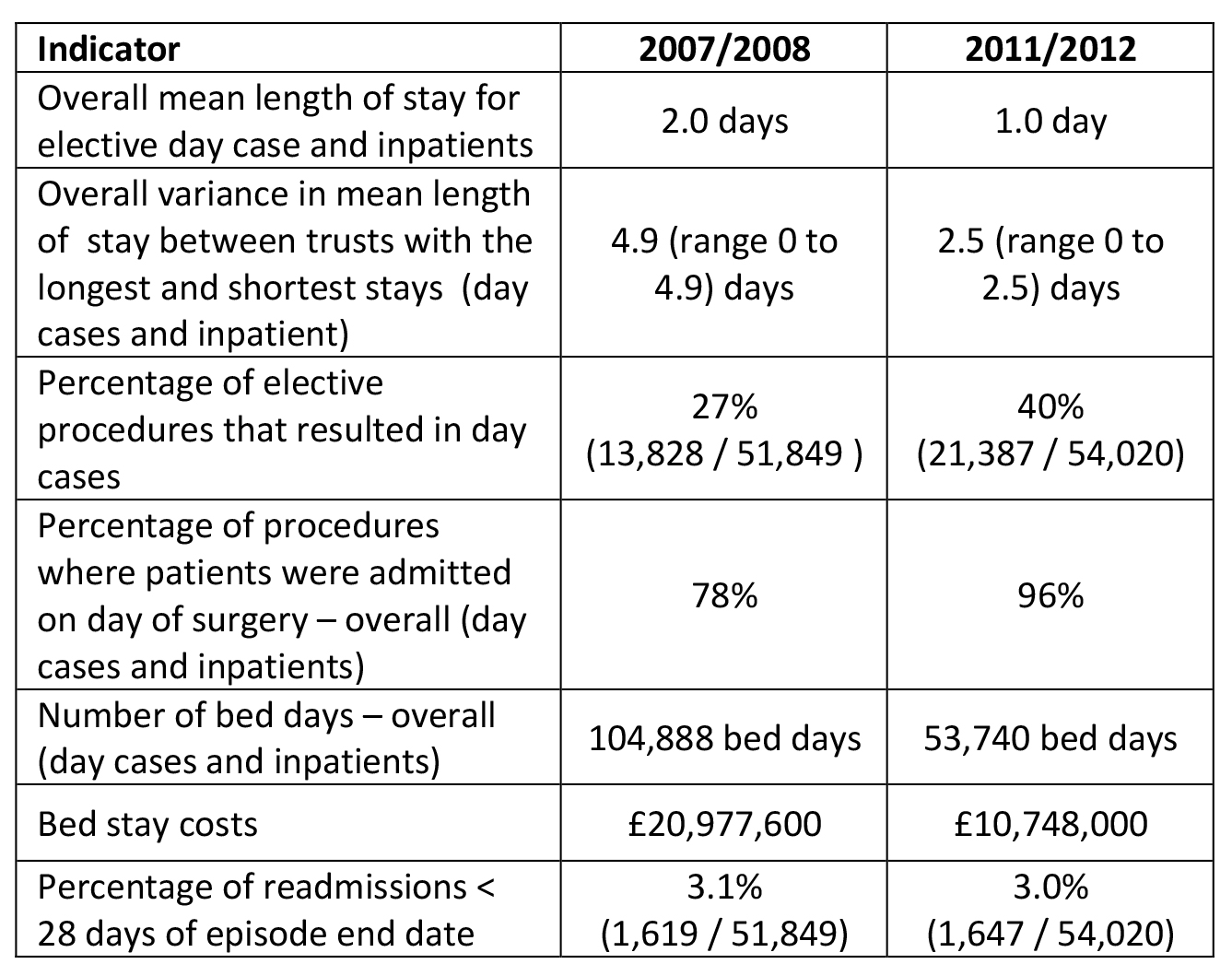 ii. Unplanned In-patient Admission from Day Surgery
This is largely are a measure of the effectiveness of pre-assessment and planning of theatre lists, although unforeseen events can occur (e.g. return to theatre for bleeding). The Royal College of Anaesthetists have recommended the rate of un-planned admission from day surgery for any procedure should be less than 2% but this is currently being revised to take into account the type of surgery undertaken [35]. This target encompassed all day surgery procedures and there is no national standard for acceptable rates of un-planned admission, which at KCHFT over a ten-year period (March 2006 to February 2016), the median un-planned admission rate for women having non-oncoplastic procedures was 1.7% (range 0% to 5.3%), the main reason being late finish to the list. Once this was identified review of list planning was undertaken. At TSDFT a two-year audit following introduction of a breast surgery day case pathway showed improvement in unplanned admissions over time, which almost certainly reflects growing confidence in the clinical team at managing a day case pathway [16].
iii. Re-admission Rates
HES data and the NHS Improvement audit confirmed day case and overnight stay does not increase re-admission rates for the management of complications with rates of 3% and 2% respectively. The rate reported by NHS Improvement was below the national average of 3.2% [4,7]. Ten-year audit at KCHFT showed an in-patient re-admission rate within 30 days of 0.6% (N=10) with a median length of stay 5 (range 2 to 11) days. Most complications, however, were managed safely via day surgery or as an outpatient. The incidence of post-operative complications was similar across breast conserving surgery and mastectomy and range of complications in keeping with the NHS Improvement audit (i.e. systemic complications, skin necrosis, wound haematoma and dehiscence) [15]. At SWBHT, audit over a four-year period from October 2015 to the end of September 2019 showed a re-admission rate within 30 days of 0.8% [17].
iv. Patient Selection - Increasing Age
Patient selection should not be based on chronological age, rather it should be directed by standardised, generic day surgery medical and social criteria. This is exemplified by experience at KCHFT (Figure 4) and TSDFT, where audit has confirmed age in itself, is not a barrier to safe day surgery management [15,16]. At KCHFT, irrespective of age most patients were managed safely as a day case. At TSDFT, the patient population aged over 70 is higher than the national average and almost a quarter of breast cancer patients successfully treated were aged over 80.
Figure 4. Duration of stay (%) for non-reconstructive breast cancer surgery by age at King's College Hospital, March 2006 to end February 2016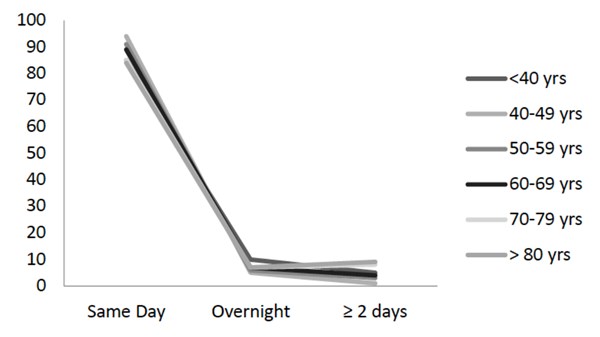 v. Patient selection - Surgical Complexity
This is often cited as a reason for not implementing a reduced length of stay due to safety issues. Complexity has been variously interpreted in terms of bilateral surgery or the extent of tissue volume excised (i.e. axillary dissection, mastectomy with or without axillary surgery or oncoplastic procedures). Bilateral procedures should not be an exclusion criteria for day case or overnight management as evidenced by audit at KCHFT (Table 3). No patients required re-admission following discharge.
Table 3. Length of stay for bilateral surgery at KCHFT March 2006 to end February 2016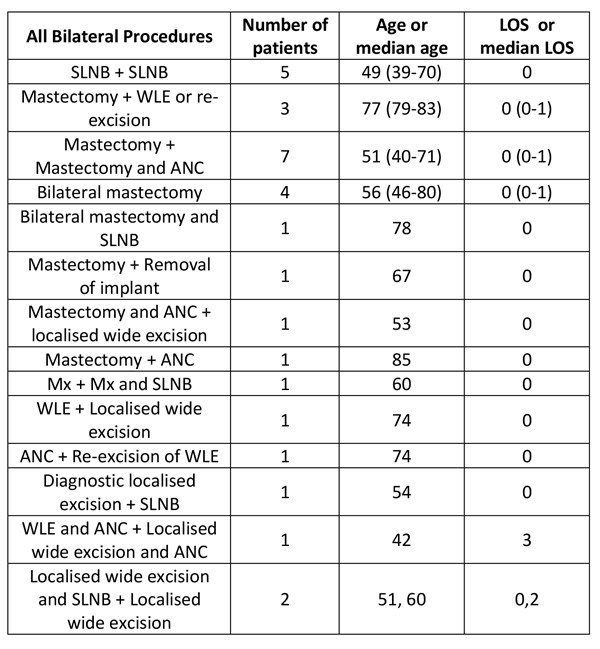 WLE = wide local excision;
SLNB = sentinel lymph node biopsy;
ANC = axillary node dissection
Axillary dissection or mastectomy can be performed safely as a day case and high rates are achievable (Table 4). It is worth noting rates increase with time, reflecting growing team confidence. Unexpected return to theatre within 48 hours also supports this with only one patient needing to do so at TSDFT (0.8% of all mastectomies) and at SWBHT (4% of all mastectomies, including skin sparing mastectomies, 0% with axillary dissection alone) [15-17].
Table 4. Day case performance for axillary dissection and mastectomy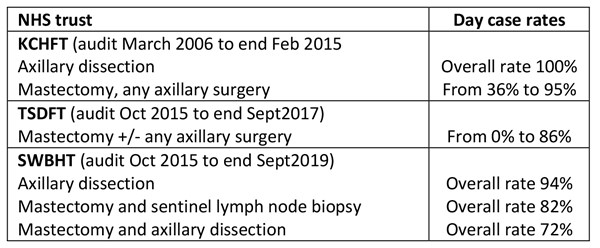 At SWBHT, the length of stay has been reduced significantly despite their pathway including non-onoplastic and oncoplastic procedures. Audit of 2746 patients between October 2015 and the end of September 2019 has shown an overall day case rate of 83% and overnight stay rate of 14% with a mean length of stay of 0.23 (range 0 to 18) days. Of 290 oncoplastic procedures, 83% were either discharged on the same day or following overnight stay (Table 5) [17].
Table 5. Oncoplastic procedures performed at SWBHT October 2015 to end of September 2019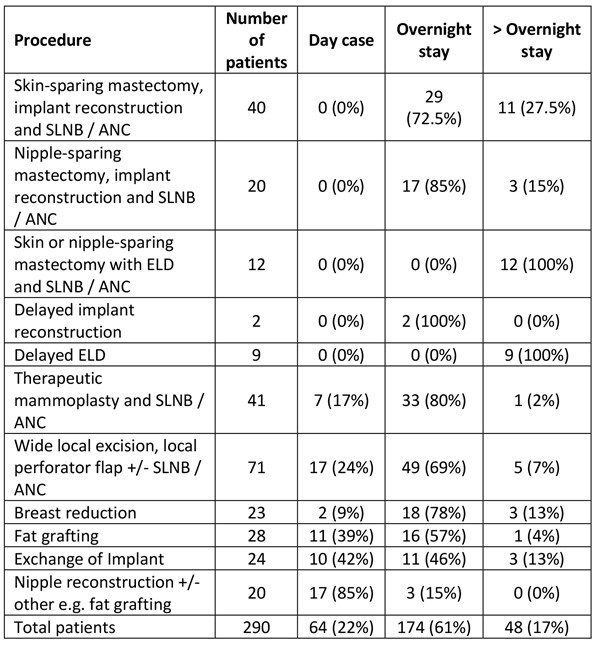 SLNB = sentinel lymph node biopsy; ANC = axillary node dissection
ELD = extended latissimus dorsi reconstruction
vi. Patient Selection - Perceived Gravity of Cancer Surgery
A diagnosis of malignancy does not preclude safe day case management as evidenced by data presented in this handbook. Cancer prognosis should not affect decision-making, as with increasing age, eligibility should be determined by generic medical and social criteria (Table 6) [15].
Table 6. Length of stay for all breast cancer surgeries at KCHFT according to estimated prognosis

This reflects overall pathway organisation and alignment of patients' expectations, starting with the decision for surgery in the out-patient clinic. It is dependent on there being a clear pathway in place and consistency from the breast and day surgery teams as to which breast surgical procedures are managed as a day case and the activities to support this. There should be no equivocation communicated at any stage with either verbal or written information. Supporting evidence is summarised below.

i. Focus group outcomes
Using this methodology, The NHS Improvement Agency showed patients' positive experience of day surgery was dependent on feeling involved and informed about treatment decisions, knowing who to contact following discharge if they had concerns and if the question arose, being reassured day case management is driven by improving service and not a cost-cutting exercise. Confidence was undermined if staff appeared critical of day case management or were unfamiliar with the pathway [4]. These findings concurred with those from focus groups conducted by Breast Cancer Care on behalf of KCHFT between 2006 and 2007. Clarity of information about knowing what to expect in the first few days after discharge, for example with wound changes, analgesia needs, general activity levels and confidence there was a reliable contact at any time should worries arise, was integral in reducing anxiety. Patients who had same day discharge stated they would have it again if offered and in-patient care was not considered to be superior due to dissatisfaction with the ward environment and lack of specialist nursing care [15].

ii. Audit
The NHS Improvement Agency used selected questions from The National Cancer Patient Experience Survey (NCPES) and audited responses from over 2,000 patients who were treated at their 13 NHS cancer network pilot sites. This demonstrated they felt involved in decisions about their care, were adequately informed about their breast cancer and treatment and knew who to contact following discharge if they had any concerns (scores of over 90%). Over 75% felt they were involved in decisions about their discharge from hospital (77% mastectomy, 83% other breast procedures) [4].


At TSDFT, audit of 288 (82%) patients having either breast conserving surgery or mastectomy over a two-year period (October 2015 to the end of September 2017) about their early postoperative symptoms confirmed severe PONV in 0.3%, severe pain in 0.7% and poor general well-being experienced in 0.3% of respondents. Satisfaction with overall care was also enquired about and showed 87.1% of patients were very satisfied and 11.5% satisfied with the care they had received [16].


At KCHFT, audit of the breast clinical nurse specialist-led post discharge follow-up telephone questionnaire demonstrated that although most patients did not experience problems in the early postoperative recovery period, they appreciated the potential support this offered. Nearly all patients had checked their wounds (96%) since discharge and were able to accurately describe symptoms if informed what to look for preoperatively. Of the 15% of patients who did not receive a call, they had more wound concerns, difficulty with postoperative arm exercises and were more likely to seek advice about their recovery following discharge. Day case management did not cause a significant increase in postoperative clinical workload, irrespective of surgical complexity ('ad hoc' postoperative clinic review was required for 6% of patients and a further telephone check for 15% of patients).Breast clinical nurse specialist feedback was that it helped to individualise patient care [15].
Quality measures to maintain good clinical practice and drive continued improvement of care are essential. Ideally, continuous, prospective collection and analysis of data during routine clinical practice should be incorporated into day case pathway design. To this end, outcome measures recommended by BADS and The International Association of Ambulatory Surgery are summarised in Table 7, below [2,36].
Table 7. Quality Outcome Measures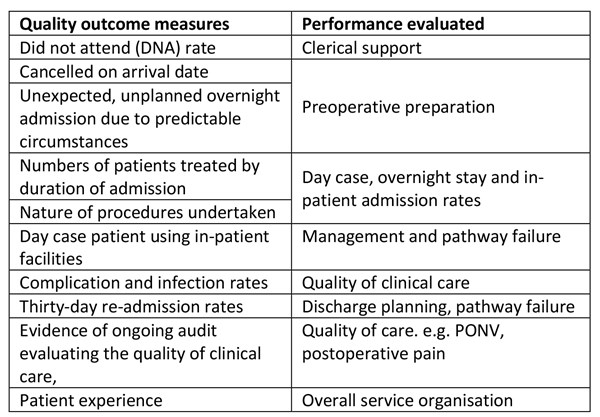 There are practicalities associated with the above audit recommendations, which are dependent on local resource, for example, not all breast units have access to a data manger. In such circumstances, how can relevant outcomes be captured and audited?
1. Clinical outcomes
The Model Hospital (NHS England) provides individual NHS trust data about day surgery clinical outcomes in England, which can be used as a source for this information [9]. Their data can be used to support continuous, prospective audit for the following outcomes for breast surgery:
Trust breast operation day case rates
Unplanned admission rates
Some indication of absolute numbers for each procedure as long as they are large enough
Productivity opportunities (i.e. bed days saved) if your trust reaches the BADS target.
CHKS (Caspe Health Knowledge Systems) is a leading provider of healthcare intelligence and its benchmarking solution, iCompare, includes a BADS module providing an interactive display of comparative day case rates and other related statistics for Wales, Northern Ireland and England. They have an annual data collaboration with BADS, which provides contemporaneous information about English NHS Trust day surgery performance, indicating day case rates achieved by the top 5%, 25% and 50% of hospital trusts [37].

2. Patient experience
Use of Patient Reported Outcome Measures (PROMs) such as the BREAST-Q is gaining popularity and becoming mandatory in the NHS as a means of assessing patient perception of care [38,39]. The BREAST-Q is a validated questionnaire with different modules depending on the surgery undertaken with each consisting of quality of life and patient satisfaction domains, Satisfaction with care (information, surgeon, medical staff) is one of the latter's themes. It is designed to capture information prior to surgery and after surgery at intervals and only takes about 10 to 15 minutes for patients to complete. However, it is still paper-based and too labour intensive to integrate into daily clinical practice, score and analyse for most trusts, which have limited resource. So what alternatives are possible in the meantime? Some examples are summarised below. Ideally, to minimise recall bias, patient feedback should be collected as close to the day surgical episode as possible. Figure 5 shows times when patient feedback can be invited, which can be integrated into the surgical pathway.

Figure 5. Suggested timings for collecting patient feedback for audit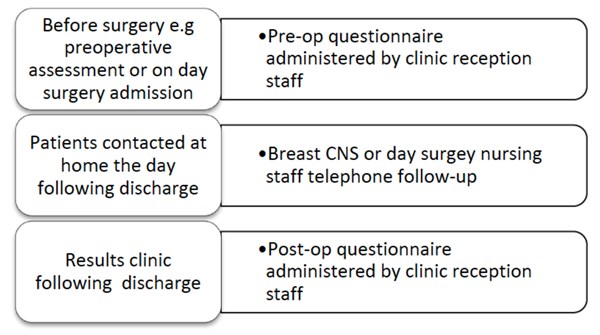 i. Audit of post discharge telephone follow-up
If the format used by staff is standardised and the answers recorded, this can provide information for audit to assess patient experience of being managed as a day case. For example, at KCHFT, spot audit identified a gap in the provision of cover for the physiotherapist when on leave, which could then be addressed. At TSDFT, audit of symptoms confirmed good postoperative control of PONV and pain, which are essential for optimal care.

ii. Use of questions from the National Cancer Patient Experience Survey (NCPES)
The NHS Improvement Agency audit used the following questions from the NCPES to assess whether information needs of women having either mastectomy or breast conserving surgery as a day case had been met.
Did you feel:
Informed in decisions about care
Adequately informed about treatment
Involved in decisions about hospital discharge
Informed who to contact if concerns following discharge
iii. Patient Reported Experience Measures (PREM)s
At KCHFT, a PREM was developed in collaboration with the trust Patient and Public Involvement Unit to assess the adequacy of pre and postoperative patient information (Appendix 3). Scoring and monthly audit was undertaken by the surgeon leading the breast day case pathway, which on a practical level was not onerous. Initial audit demonstrated a high level of consistency (85% to 100%) in the clarity and helpfulness of information provided about diagnosis, surgery and day surgery admission delivered by dedicated clinical staff (i.e. consultants and breast CNS's) but disparity (56% to 100%) in that provided by preoperative assessment clinic staff, which impacted adversely on patient health-seeking behaviour postoperatively. Sharing this information with the day surgery unit resulted in agreement pre-assessment was undertaken by a small number of dedicated nursing staff, familiar with the breast day surgery pathway and subsequently information scores improved.
Whilst collecting patient feedback is invaluable for improving less than satisfactory experience, disseminating positive experience and examples of good clinical care also important in boosting clinical morale.
Assiduous pathway planning is key to changing practice successfully and safely. It depends on patients being  on a pre-defined pathway with same day discharge being the default position and managing their expectations from the outset with good pre-operative assessment and anaesthetic technique combined with  clear communication across the multidisciplinary team. Finally, for procedures currently managed by  overnight stay, reevaluate the reasons why. Are they still valid? What is preventing transition to day case care?
If a procedure is suitable for day surgery, patient selection should be based on established medical and social day surgical admission criteria only
Management is simplified by omission of wound drains
Discharge planning takes place preoperatively
A pre-defined day surgical pathway strengthens the therapeutic relationship, providing equity of patient access to all levels of support, improving continuity of care and individualised care-planning
Incorporate quality outcome measures into the pathway
Maximising day surgery potential releases in-patient resource for patients requiring complex breast surgery
Day surgery will enhance compliance with 31 and 62-day cancer targets
Stocker M, Russon K, Montgomery J and Ahuja M. Guidelines for the Provision of Anaesthetic Services, Chapter 6 Guidelines for the Provision of Anaesthetic Services for Day Surgery (2020). https://www.rcoa.ac.uk/gpas/chapter-6


International Association for Ambulatory Surgery, 2014. Ambulatory Surgery Handbook Second Edition, 1-91. https://www.iaas-med.com/files/2013/Day_Surgery_Manual.pdf


Odofin O, Harris K, Paramanathan N, Laws S and Rainsbury R. The Impact of Providing an Oncoplastic Service on the Workload of a Specialist Breast Unit, The Breast Journal 17 (2011): 371–376


NHS Improvement. Delivering major breast surgery safely as a day case or one-night stay (excluding reconstruction) December 2011. https://www.slideshare.net/NHSImprovement/delivering-major-breast-surgery-safely-as-a-day-case-or-one-night-stay-excluding-reconstruction


Maddams J, Utley M, Møller H. Projections of cancer prevalence in the United Kingdom, 2010-2040. 2012, Br J Cancer; 107: 1195-1202


Department of Health, December 2007. Delivering care in the most appropriate setting, In Cancer Reform Strategy. 96-97. http://www.nhs.uk/NHSEngland/NSF/Documents/Cancer%20Reform%20Strategy.pdf


Basser MR. Improvements in breast care surgical pathway (release of health data to the National Clinical Analysis and Specialised Applications Team, July 2014. http://www.content.digital.nhs.uk


The British Association of Day Surgery. Breast Surgery. In, BADS Directory of Procedures National Dataset (Calendar Year 2019). https://daysurgeryuk.net/en/shop/directory/national-dataset-(calendar-year-2019)/


The Model Hospital https://improvement.nhs.uk/resources/modelhospital/


2019/20 National Tariff Payment System – A consultation notice: Annex DtD. Guidance on best practice tariffs. A joint publication by NHS England and NHS Improvement, Chapter 5, day case procedures (updated), January 2019. https://www.england.nhs.uk/publication/national-tariff-payment-system-documents-annexes-and-supporting-documents/


GiRFT Breast Surgery Report https://future.nhs.uk/system/login?nextURL=%2Fconnect%2Eti%2FGIRFTNational%2Fview%3FobjectId%3D112160613


The British Association of Day Surgery. Breast Surgery. In, BADS, Directory of Procedures 6th Edition.
https://publications.bads.co.uk/bads-directory-of-procedures-6th-edition-1-p.asp


The Cancer Services Collaborative 'Improvement partnership'. The 'how to' guide: achieving cancer waiting times. https://www.england.nhs.uk/improvement-hub/wpcontent/uploads/sites/44/2017/11/How-To-Guide-Achieving-CancerWaiting-Times.pdf


NHS Improvement. Online library of Quality, Service Improvement and Redesign tools. Plan, Do, Study, Act (PDSA) cycles and the model for improvement.
https://improvement.nhs.uk/documents/2142/plan-dostudy-act.pdf


Marsden J. Breast surgery as day surgery: common pitfalls in developing and setting up service, Paper presented Breast Surgery as Day Surgery Meeting, London 6th September 2016
https://rmpartners.nhs.uk/wp-content/uploads/2016/09/Breast-Surgery-as-Day-Surgery-forum-slides-060916-web-version.pdf


Humphreys A, Hare W, Ree-Lee J et al. A successful revolution in day case breast surgery, Journal of One Day Surgery, JODS 29.1 February 2019. https://bads.co.uk/for-members/journal-of-one-day-surgery/?id=1557


Hwang, MJ, personal communication


Marsden J, personal communication


Mills ATD, Stocker M, Palliative mastectomy under local anaesthetic in day surgery. Journal of One Day Surgery 2008; 17: 97


Bartakke MM, Varma MK. Analgesia for Breast Surgery - A Brief Overview. Anaesthesia Tutorial of the Week, 30th April 2019. https://resources.wfsahq.org/wp-content/uploads/403_english.pdf


Fitzgerald S, Odor PM, Barron A and Pawa A, Breast surgery and regional anaesthesia. Best Pract Res Clin Anaesthesiol, 2019; 31: 95-110


Sessler DI, Pei L, Huang Y et al. Recurrence of breast cancer after regional or general anaesthesia: a randomised controlled trial. Lancet, 2019; 394: 1807-1815


Thomson DR, Sadideen H and Furniss D. Wound drainage after axillary dissection for carcinoma of the breast, Cochrane Database Syst Rev. 20 (2013): 10:CD006823.


Khan SM, Smeulders MJC and Van der Horst CM. Wound drainage after plastic and reconstructive surgery of the breast. Cochrane Database of Systematic Rev, 10 (2015): CD007258.
Ebner F, de Gregorio N, Vorwerk E et al. Should a Drain Be Placed in Early Breast Cancer Surgery? Breast Care 9 (2014): 116-122


Taylor JC, Rai S, Hoar F et al. Breast cancer surgery without suction drainage: the impact of adopting a 'no drains' policy on symptomatic seroma formation rates. Eur J Surg Oncol. 39 (2013): 334-338


Kalliainen LK. ASPS Clinical Practice Guideline Summary on Reduction Mammaplasty, Plastic Reconstr Surg 130 (2012): 785-789


Cheng H, Clymer JW, Ferko NC et al. Systematic review and metaanalysis of Harmonic technology compared with conventional techniques in mastectomy and breast-conserving surgery with lymphadenectomy for breast cancer, Breast Cancer (Dove Med Press) 8 (2016): 125-140


Lee J, Bae Y, Jung JH et al. Effects of Quilting Suture Interval on Donor Site Seromas After Breast Reconstruction with Latissimus Dorsi Muscle Flap: A Randomized Trial, Clinical breast Cancer 16 (2016): e159-e164 doi: 10.1016/j.clbc.2016.05.017 Epub 2016 Jun 7. PMID: 27364307.


Srivastava V, Basu S and Shukla VK. Seroma Formation after Breast Cancer Surgery: What We Have Learned in the Last Two Decades, J Breast Cancer 4 (2012):373-380


Cullen J, Razi K and Shah E. ARTISS (Fibrin Sealant Spray): Day-case Drain-less Mastectomy. Eur J Surg Oncol, 2019; 45: 2208-2208


Harrison C, Remoundos DD, Harvey KL et al. Increasing the incidence of drain-free day-case mastectomies with the use of a fibrin tissue sealant; data from a single surgical center in the United Kingdom. Breast J, 2019; 25:1090-1096


Sajid MS, Hutson KH, Rapisarda IF and Bonomi R. Fibrin glue instillation under skin flaps to prevent seroma-related morbidity following breast and axillary surgery, Cochrane Database Syst Rev. 31 (2013):
5:CD009557


Jones, L, Downey E and Montgomery J. Does Laxido improve Symptoms of Constipation after Day Surgery? Journal of One Day Surgery, 2014; 24S: 17


Stocker M, Section 5.6 Unplanned hospital admission after day surgery, in The Royal College of Anaesthetists, Raising the Standard: a compendium of audit recipes for continuous quality improvement in anaesthesia. https://www.rcoa.ac.uk/sites/default/files/documents/2019-09/CSQ-ARB-2012_0.pdf


The British Association of Day Surgery. Commissioning Day Surgery a Guide for Clinical Commissioning Groups, May 2012. https://www.iaas-med.com/index.php/iaas-recommendations/clinical-indicators


Lui LQ, Branford OA, Mehigan S. BREAST-Q Measurement of the Patient Perspective in Oncoplastic Breast Surgery: A Systematic Review. Plast Reconstr Surg Glob Open. 2018 Aug 7;6(8):e1904. doi: 10.1097/GOX.0000000000001904. eCollection 2018 Aug