First Edition
Mr Stamatios Karavolos,
Consultant Gynaecologist, Salford Royal, NHS Foundation Trust
Sr Alex Alen,
Senior Sister, Day Surgery Unit, Torbay and South Devon Hospital NHS Foundation Trust
Dr Theresa Hinde,
Consultant Anaesthetist, Director of Day Surgery, Torbay and South Devon Hospital NHS Foundation Trust
Mr Jonathan Hindley,
Consultant Gynaecologist, Torbay and South Devon Hospital NHS Foundation Trust
Mr Subramanian Narayanan,
Consultant Urogynaecologist, Torbay and South Devon Hospital NHS Foundation Trust
Dr Mary Stocker,
Consultant Anaesthetist, Torbay and South Devon Hospital NHS Foundation Trust, Past-President, British Association of Day Surgery
Mr Peter Scott,
Consultant Gynaecologist, University Hospitals Plymouth, NHS Trust
Dr Ciska Uys,
Specialist Registrar, Anaesthesia, Peninsula Deanery
Edited by: Miss Jo Marsden, Publications Editor, The British Association of Day Surgery
Copyright © The British Association of Day Surgery 2020. All rights reserved. No part of this publication may be reproduced, stored or transmitted by any means without the prior permission in writing of The British Association of Day Surgery.
ISBN number: 978-1-908427-42-7
Over the last 3 decades there have been a number of innovations and advances in surgical techniques and anaesthesia, as well as deliberate policy, which has led to a progressive shift from the traditional inpatient model of care to day case surgery. The definition of day case surgery is an operation or surgical procedure that does not involve an overnight hospital stay. The patient is admitted, operated upon and discharged on the same calendar day, usually a few hours after the procedure once they have recovered sufficiently. The procedure must have been planned and booked as a day case in advance.
Patients who are planned as inpatients but discharged home on the same day count as inpatients with zero length of stay, rather than day cases. Day surgery is not to be confused with 23-hour stay surgery which is inpatient surgery with a 1-day length of stay. In the USA, this is commonly referred to as day surgery, but this definition is not valid in the UK [1,2].
The day case surgery philosophy shortens the care pathway by promoting patient-centred care and has the added benefit of saving and redistributing resource. A greater range of gynaecological procedures are being offered in the day case setting as this offers many benefits to both the patient and the provider including:
Shorter waiting times
Reduced risk of cancellation relating to shortages of inpatient beds
Shorter hospital stay
Reduced risk of hospital acquired infection and venous thromboembolism
Better overall patient satisfaction
The concept of day case gynaecological surgery is in keeping with the strategic vision set in the NHS delivery plan and offers a unique opportunity to transform healthcare for women in the UK [3]. Length of stay is a key performance indicator for gynaecological surgery as highlighted in the latest Royal College of Obstetrics and Gynaecology (RCOG) report Patterns of Benign Gynaecology Care (2015-2016), which highlighted a significant variation in length of stay for gynaecological procedures considered day cases in hospitals across the UK [4]. The RCOG working party report urged NHS hospital Trusts and Health Boards to explore reasons for longer lengths of stay and to identify opportunities to improve care.
This handbook is intended to be a guide for gynaecology units to help improve their gynaecological surgery day case rates and includes examples of where this approach has been successfully implemented in individual units as a result of clinicians questioning the rationale for inpatient admission.
Over recent years the range of gynaecological procedures undertaken as a day case has expanded, due to a growing appreciation that day surgery management is the ultimate example of enhanced recovery, in providing individualised, optimised patient care with favourable clinical outcomes and experience. In addition, it is increasingly accepted that day surgery offers the best pathway even for patients with considerable co-morbidities, such that many centres now accept that most patients are appropriate to be managed by a day case pathway and as a result default to day surgery for the majority of gynaecological procedures.
Traditionally, patients with complex medical and social conditions have been deemed unsuitable for day surgery. However, experience suggests that most are in fact appropriate for day case management or can be enabled to be so with careful organisation and proactive management [1,2]. This has resulted in a large expansion of the number of such patients presenting for day case gynaecological procedures. Whilst this may appear challenging, adopting a 'day surgery mindset' approach, in which adherence to the basic principles of timely, routine, patient-centred care, should avoid unnecessary inpatient admission without compromising physical, psychological and social outcomes.
For this to be successful, clear communication channels between primary and secondary care must be established. With standardised, appropriate pathway planning it is unusual for a specific patient to be unsuitable for day surgery. It is worth acknowledging that if a patient is unfit for day surgery, they are probably unsuitable for elective, inpatient admission. If time allows, they should be optimised and then re-listed as a day case once fit [5].
i. Preoperative assessment and preparation
Preparing a patient for day surgery should start by setting and aligning expectations for the patient, their family or carers from the time it is agreed they need surgery. For many patients the thought of surgery can be frightening and it is important the preoperative assessment nurse checks the patient's understanding of the agreed pathway and gives as much information not only verbally but in writing so the patients and their carers have something to refer to closer to the time of their admission.
Preoperative assessment either on the day of their outpatient clinic appointment when a mutual decision has been agreed to proceed with surgery, or very soon after allows time to liaise with relevant hospital departments and outside agencies regarding any medical or social problems which might need some planning for patient optimisation before the day of admission for surgery. Preoperative assessment should involve assessment of patients medical and social risk factors. It also provides an opportunity to educate the patient and their carers about the day case pathway and what the expectation is on discharge, giving the patient and carer time to ask questions and ensure they understand what restrictions the patient may have after discharge especially after more complex surgery such as a hysterectomy, where returning to normal activities could take many weeks and will affect how they manage at home [1,2].
If a patient does not have any family support this is also the time to look at alternatives for the first 24 hours of care following discharge. Traditionally patients who live alone have been excluded from day surgery unless they could arrange for a friend or relative to stay with them for the first postoperative night. However, two models of care, which have been developed and successfully implemented at The Norfolk and Norwich University Hospitals (NNUHFT) and Torbay and South Devon NHS Foundation Trusts (TSDFT) challenge this dictum and are summarised in Figure 1. Both models have been endorsed by The British Association of Day Surgery (BADS), The Royal College of Anaesthetists (RCOA), The Association of Anaesthetists of Great Britain and Ireland (AAGBI) and Getting it Right First Time (GiRFT) [5,6]. At NNUHFT, patients living alone are triaged to assess their suitability for being sent home without a carer (an escort to accompany them home, however, is mandatory). In contrast, the TSDFT model provides an overnight carer for all such patients, which has proved to be more cost effective than defaulting to overnight inpatient admission [5]. In both instances, the preoperative assessment nurse has to use their judgement as to whether this would be suitable for the patient they are reviewing, depending on the type and complexity of surgery in the context of patients' medical and psychological health and their confidence to be home alone after surgery.
Patients lacking mental capacity, for example, those with dementia, are best treated in a day case setting wherever possible as this is less threatening, anxiety-provoking and disorientating compared with the inpatient hospital environment [1,2,5]. Swift completion of treatment also allows an early return to familiar routines. Ability to recognise such patients is an important role of both the gynaecology team and preoperative assessment nurses to ensure appropriate carer support is put into place. Relatives and carers can give invaluable advice on strategies for managing the patient perioperatively. The timing of admission, surgery and discharge should be managed to make waits as short as safely possible. This group of vulnerable patients are best discharged to be cared for by those who know them well, who have been appropriately educated about what to expect postoperatively. Clear communication between a patient's GP, social service or care home support is essential to ensure a safe discharge and to arrange any ongoing care.
Figure 1. Day Surgery, Solutions for Patients without Carers
ii. Scheduling patients
As day surgery expands to include a growing number of patients and more complex procedures, list scheduling is important to ensure safe and timely discharge. Listing complex surgery in the morning gives adequate time for patient recovery, hence safe discharge. Scheduling also requires consideration of any comorbidities, mental health and social issues, identified by preoperative assessment, which are best managed by an earlier time allocation. There also needs to be awareness of patents who may need longer to recover but practical issues prevent early admission [1,2,5].
iii. The day of admission
The admission process should be straight forward if a patient has had a comprehensive preoperative assessment. This is the time to check a patient's medical health hasn't changed since last seen and confirm they have a full understanding of what to expect not only on the day but following discharge. This is another opportunity for them to ask questions and confirm that support is in place and to ensure that their carer has all the correct information about the expected process during the day and overnight.
iv. Patient Discharge
Nurse-led discharge with supporting protocols is a standard pathway in day surgery [1,2,5]. Experienced nurses can ensure set criteria are met whilst recognising the needs of individual patients in supporting a safe discharge. Clear written information should be given to the patient, which should also be explained verbally. If required, this should also be shared with the carer giving time for questions to be asked. Close links with primary care will ensure that any follow-up care needed for wounds, catheters and drains is arranged, communicated to the patient and the team that will be carrying out this care.
v. Case Study
At TSDFT, a woman of 84 presented for investigation of postmenopausal bleeding and was listed on a two-week-wait pathway as a day case. She was seen in the preoperative assessment clinic where her social circumstances were discussed. Her husband had mild dementia and she was concerned about his ability to cope alone at home during her admission and to look after her following discharge. This raised concerns as to whether this would be a safe discharge as the patient was unsure whether her husband would be able to access post-operative help for her if required.
It was also apparent that the patient herself had quite severe short-term memory problems forgetting appointments, previous discussions and attending the day unit on a number of occasions believing incorrectly that she had an appointment. The patient declined an offer of overnight care and was reluctant to have any help at home. She was also unwilling to be admitted for surgery unless her husband could accompany her. She had a son who lived some distance away, who was unable to stay with and support his parents at short notice. As the surgery could not be delayed due to the potential cancer diagnosis, the patient's GP and social services were contacted. In discussion with the surgeon, anaesthetist, day surgery team and primary care, a bespoke management plan was agreed and put into place. It was considered to be the safest way forward to ensure the patient had her surgery without delay.
On the day of admission, day surgery unit (DSU) reception staff called to remind her not to have breakfast and that transport would be coming to pick up her and her husband. It had been agreed her husband could stay with her and be looked after by the day surgery team while she was in surgery
She was put first on the list so she could spend the maximum time in recovery before discharge (i.e. most of the day).
As soon as possible following surgery, the patient and her husband were reunited and given a hot meal before discharge
Social services undertook a welfare check on them at home that evening. They continued to follow the couple up as it was clear they had not been coping for some time. With input from their son, a care package was agreed to provide the extra support they needed to remain living at home safely
This case study demonstrates how a multi-disciplinary approach was able to provide innovative solutions for the individualised care of a patient's social situation and cognitive function, resulting in management as a day case without compromising safety or experience.
Usually patients with such problems are directed to inpatient care and frail relatives likely to have been temporarily admitted to a care home, both environments having the potential to precipitate acute cognitive deterioration and distress. Maintaining normality via familiar surroundings should be the goal whenever possible.
i. Background
Laparoscopic surgery has developed considerably over the last 20 years due to acceptance of its advantages over laparotomy in terms of decreased postoperative pain, an earlier return to normal activity and a reduced length of hospital stay. The potential to perform laparoscopic procedures in the day case setting has been explored and what was once 'innovative' is increasingly becoming more common in clinical practice. This is reflected in the BADS Directory of Procedures, where day case total laparoscopic hysterectomy (TLH) has a recommended benchmark target day case rate of 50% [7]. However, only a small number of trusts in England perform this procedure as a day case as evidenced by data from The Model Hospital (Figure 2) [8].
Figure 2. National Distribution of Day Case Rates for Laparoscopic Hysterectomy (Q1 2019-2020)


ii. Developing a pathway at TSDFT
At TSDFT, the introduction of a day case TLH patient pathway resulted from the gynaecology and day surgery teams reflecting on their clinical practice. In 2010 TLH was being performed routinely with an overnight stay, however, the case of a 35-year-old patient with severe developmental delay presented challenges, which led to the development of the current day case TLH pathway.
The patient had severe menorrhagia unresponsive to maximal medical treatment and following discussion, a hysterectomy was requested by her parents, carers and supported by an Independent Mental Capacity Advocate. She was admitted with a plan for overnight stay. The surgery, undertaken on an afternoon list was uncomplicated and recovery uneventful. The patient, however, became very distressed at being away from her home environment so her mother, with medical and nursing support, agreed to her discharge later that evening. Following discharge, she remained well and made a good recovery. This raised the question that if more vulnerable patients could be successfully managed as a day case, why wasn't such management for TLH being offered to patients routinely?
iii. Principles for safe day surgery management
Changes made to promote day surgery practice and enable safe delivery of a day case TLH pathway at TSDFT are summarised below:
Once a decision for laparoscopic hysterectomy is made between a patient and their surgeon, a day case surgical pathway should be the default position, with a patient being listed and consented for management as a day case
In keeping with good clinical practice, a final decision about proceeding with day case management is dependent upon the outcome of preoperative assessment
The patient is seen in the Day Surgery Unit (DSU) for preoperative assessment, where possible immediately after their surgical outpatient appointment to avoid the need to an additional hospital visit
Preoperative assessment is nurse-led and an anaesthetic assessment will be triggered if appropriate
There are no general limits regarding age or body mass index (BMI) or medical complexity for our day case unit however for day case laparoscopic hysterectomy we usually exclude patients with a BMI >40kg/m2. Patients with conditions such as diabetes or those on anti-coagulant medication are treated via the day case pathway
The surgery should be performed first or second on a morning list (two, day surgery patients are often undertaken on a morning list)
Surgical technique has no impact on the success or not, of day surgery management, as with all surgery, careful tissue handling and meticulous haemostasis, irrespective of monopolar and bipolar diathermy use, make for better results and more successful early discharge. Use of a uterine manipulator is recommended with the patient in a steep Trendelenburg position
Use total intravenous anaesthesia (TIVA) with the patient intubated
All patients should have a urinary catheter for the procedure, which is removed routinely before reversal of anaesthesia
Low molecular weight heparin is given routinely. If this needs to continue following discharge the patient should be taught how to administer this prior to admission and if unable to do so, The TSDFT Medical Access Team coordinates this as an outpatient. In the absence of a 'medical access team' this can be coordinated with the local thrombosis and anticoagulation unit
Postoperatively patients go to primary recovery and have rapid transfer to the DSU ward where they remain until they can eat, drink, safely mobilise and have their pain controlled. If they are unable to pass urine, they can be re-catheterised and discharged with a plan for its removal
Discharge should be nurse-led
All women should receive a postoperative phone call from the DSU team the next day
iv. Audit of Outcomes [9]
Day case rates have increased from 68% in 2018/19 to 86% in 2019/20
Audit of responses between 2015 and 2020 of 300 patients showed 100% of women contacted were satisfied or very satisfied with their experience of the service, 90% reported no pain or only mild symptoms and 76% stated they felt good or very good overall
Unplanned admission rates have reduced from 25% to 7% over the 5- year audit period which is well within acceptable limits
A higher than benchmarked readmission rate for TLH has been observed (Torbay gynaecology GiRFT report 2018/2019) and continues to be audited but there is no significant difference between those patients who underwent day case surgery compared with those managed via a day case pathway
With a committed DSU, TLH is a viable and safe day case procedure which is acceptable to patients. This pathway can be undertaken using standard surgical techniques and can be largely unselective regarding patient factors or indication. It benefits from a DSU which is experienced in major cases and eager to explore and facilitate the possibility of day surgical pathways for additional procedures.
Surgery is changing constantly and it is essential that clinicians continue to innovate to improve pathways of care for our patients. Most women admitted for vaginal hysterectomies are discharged after two nights whilst those undergoing vaginal repair surgery have an overnight stay. Only a minority are managed as a day case (Table 1).
Table 1: Hospital Admitted Care Activity, 2019-2020, Vaginal Repair [10]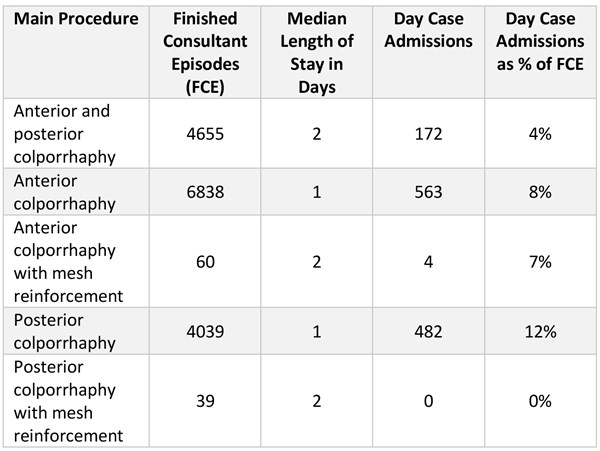 i. Developing a day case pathway
At TSDFT, most patients admitted for vaginal surgery (hysterectomy or repair) required an overnight stay only. The gynaecology team asked the question 'what care is offered to these women admitted overnight that cannot be done at home with adequate safety precautions?'. On reflection, the answer for the overwhelming majority of patients was 'nothing'. The rationale for planned overnight admission for all was therefore challenged. On review, the main factors preventing same day discharge related to surgical technique and routine use of a vaginal pack. Anaesthetic observation was that patients admitted under the care of one surgeon for overnight stay had lower postoperative analgesia requirements, mobilised earlier and went home sooner than others. This was attributed to infiltration with bupivacaine and adrenaline and the method of dissection (this is explained later in this section). The timing of vaginal pack removal was variable, being late on the evening of surgery, the following morning and sometimes after the patient had been discharged. It was recognised that the rate limiting factor for someone to go home on the same day was the pack. Avoiding of use of a vaginal pack would enable day surgery discharge.
ii. The pilot phase
The day case vaginal surgery pathway was introduced at TSDFT in October 2013 by the two consultant urogynaecologists. Patients initially selected were already booked for overnight stay but were approached on admission and subject to them having support at home, the prospect of being discharged later that day was discussed. Audit after one year, showed that despite the ad hoc nature of this approach, 90% of the women did go home on the day of surgery with a 7% readmission rate. At this stage, no other unit was performing vaginal surgery as day case. The closest comparator was a unit where patients were admitted for 23 hour stay, at which 76% of their vaginal surgeries were completed as such with a 21% readmission rate. In comparison, the pilot outcomes from TSHFT were considered acceptable and the day case vaginal surgery service was expanded [9].
iii. Current Practice
Day case patients are discharged through the TSDFT DSU, so reducing the risk of being nursed by staff unfamiliar with the day surgery process who may lack confidence in early discharge. Patients always remain on trolleys. Beds are not used. This emphasises the 'transient' nature of their hospital visit.
a. Preoperative preparation and admission
The default position is that all women who need vaginal surgery are booked as day case. There will be situations, however, where admission is unavoidable but these are very unusual. For instance, a couple who lived alone both in their 90's. The husband himself was unwell and so would not be able to care for his wife and the wife was blind, so did need a lot of care and attention. On this occasion it was felt inappropriate to send her home on the same day. Another example was an operation performed during the initial height of the Covid-19 pandemic on a patient in her late 80's. She also had dementia and her son a medical professional was going to care for her. However, he had to shield for health issues and could not collect her. She was admitted overnight and sent home using hospital transport. These examples demonstrate that patients considered for an inpatient pathway truly require one
All team members use the same protocol for booking patients
Patients are all pre-assessed by the day surgery nurses, who are familiar with day surgery process and are able to fully explain the day surgery pathway to the patient
On admission, patients remain in their own clothes until shortly before their surgery, they continue to drink clear fluids until sending and they walk to theatre. These steps reinforce the 'normality of day surgery'
b. Recommended surgical technique
With the patient in the lithotomy position, 0.25% Bupivacaine and 1:200000 adrenaline is injected (20 mls per compartment operated upon)
If vaginal hysterectomy is undertaken, the posterior vaginal wall and the Pouch of Douglas are opened together using scissors. The tissue between the peritoneum and the vaginal wall is very vascular and peeling the peritoneum from the vaginal wall (as per some traditional techniques) can lead to capillary oozing with an increased risk of haematoma formation (and hence requirement for a vaginal pack), which opening the layers together, avoids
Finger switch diathermy is used to incise around the vagina. Minimising dissection of the vagina away from the cardinal ligaments reduces the risk of lateral haematoma and perhaps subsequent vault prolapse
The rest of the operation is done traditionally ensuring meticulous haemostasis at all times. Occasionally it is difficult to achieve this, in which case a pack and a catheter is inserted but removed 2 hours postoperatively
c. Postoperative care
Once they have had their operation, patients are moved to primary recovery and as soon as their pain is controlled and observations are stable, they progress to secondary recovery in preparation for discharge
Most patients simply require standard day surgery postoperative care
If used during surgery (rarely required), the vaginal pack and catheter are removed two hours preoperatively
Approximately two hours postoperatively patients are encouraged to void and once they have done so, a bladder scan is undertaken to ensure that they don't have a high residual bladder volume before being discharged. If there is any concern regarding voiding, a patient can be discharged with a catheter, which is removed 24 hrs later in the community (it is unusual for this to be required)
Discharge is nurse-led and patients are advised to have someone at home to care for them for the first 24 hours
A member of the day case nursing team calls the patient the following day to check that everything is all right and collect details of postoperative satisfaction and symptoms to enable continuous quality improvement
Patients are given a phone number for the ward nurses to be contacted if there are any concerns outside of this
In conclusion, vaginal surgery can be safely performed as a day case procedure. The patients can recover in the comfort of their own homes. It is important that adequate safety advice and precautions are provided for their support. With respect to this, there is no 'one size fits all' so process and agreed protocols will be dependent on individual hospital resource.
The principles of anaesthesia for day case gynaecological surgery are common to most other day surgical procedures [1,2].
Premedication with oral analgesia
Short acting anaesthetic agents
Avoidance of emetogenic medication
Multi-modal analgesia
Short acting opioids for rescue analgesia if required
Good post-operative analgesia
An example anaesthetic protocol is shown in Table 2.
i. Preoperative Considerations
Patients should be premedicated with oral paracetamol and non-steroidal anti-inflammatory medication (NSAID) unless there is an absolute contraindication. Long acting preparations such as slow release ibuprofen 1600mg have found to be efficacious in a number of leading day surgery centres and avoid the risk of 'missed doses' later in the day. Patients should be encouraged to remain warm and hydrated preoperatively. Delaying changing from street clothes into theatre gowns until absolutely necessary minimises hypothermia and encouraging liberal consumption of water pre-operatively minimises rates of postoperative nausea and vomiting (PONV).
ii. Intraoperative Anaesthesia
Short acting anaesthetic agents should be used. Total intravenous anaesthesia (TIVA) is ideally suited to day case surgery anaesthesia, however units have also had success using the short acting volatile anaesthetic agent sevoflurane. Caution should be taken using isoflurane for day case surgery due to the longer 'hang-over' effect and manufacturers advise not to drive for 48 hours postoperatively when this is used. Avoidance of agents likely to contribute to PONV, such as nitrous oxide or long-acting opioids (morphine), is important. Patients should be warmed and hydrated with 1 litre of crystalloid fluids. With these techniques rates of PONV are very low. However, surgery on fallopian tubes and ovaries is known to be associated with increased rates of PONV so consideration of prophylactic anti-emetic medication should be given when hysterectomies are undertaken. They are rarely required for vaginal repair surgery if the anaesthetic techniques described above are employed. Judicious use of surgical local anaesthetic infiltration minimises postoperative analgesia requirements, however for major laparoscopic surgery intra-operative fentanyl towards the end of surgery (250-300mcg) has been shown to decrease requirement for postoperative supplemental analgesia.
Table 2: Example Anaesthetic Protocol (TSDFT)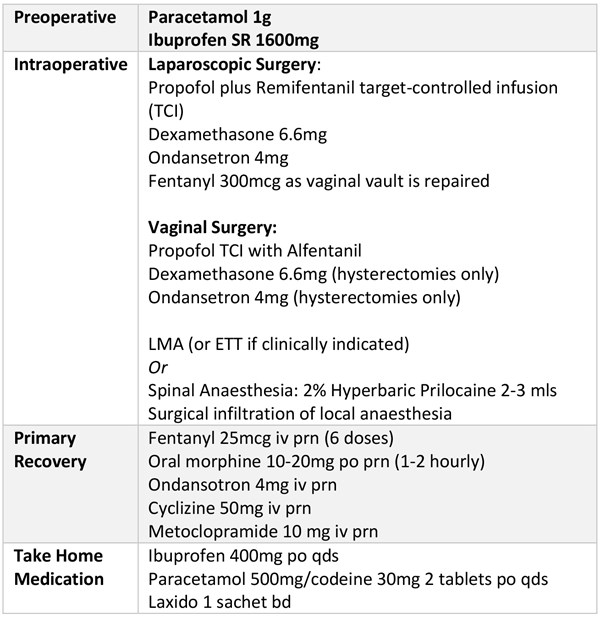 iii. Postoperative medication
Simple analgesia is usually sufficient (regular paracetamol and ibuprofen). If required, there should be agents available for rapid analgesic rescue. Standard prescriptions of intravenous fentanyl (6 x doses of 25µg) and oral morphine sulphate are effective in this circumstance. There should also be a prescription for antiemetics in first stage recovery if required.
With advances in surgical technology, a number of gynaecology procedures traditionally performed as a day case under a general anaesthetic, can be undertaken in an outpatient setting under local anaesthetic with re-usable or disposable instruments [11]. This is in keeping with the strategic vision set by the NHS delivery plan [3]. Outpatient procedures are usually well tolerated and allow quick mobilisation, rapid recovery and often less time off work for patients. Procedures suitable for outpatient management include diagnostic and operative hysteroscopy, endometrial ablation and manual vacuum aspiration (MVA) for the management of miscarriage, but there are limits on the size of pathology which can be removed from the uterine cavity using these methods.
The objective of moving procedures to the outpatient setting mirror those of moving elective inpatient procedures to day surgery and include:
To shorten the care pathway for patients
To speed up patient recovery and return to work
To free up surgical day case capacity for other procedures which are unsuitable for management as an outpatient
To reduce the number of elective operations cancelled
To reduce the overall unit cost of treatment by reduction in theatre usage and staffing requirements
A successful service largely depends on 3 key factors:
Appropriate patient selection
A robust pathway
Appropriate surgical expertise
i. Staffing
To ensure delivery of a high-quality, efficient service staff undertaking outpatient procedures, whether a surgeon or gynaecology nurse specialist, should have sufficient expertise and be assisted by experienced staff, trained in the handling of equipment used, including cleaning and decontamination [11]. Experienced nursing staff trained in the practice of outpatient procedures are essential to ensure smooth progression of patients along the outpatient procedure pathway.
ii. Patient selection
Surgical factors
These include ease of access to the uterine cavity, size of uterine pathology to be removed, procedures with minimal risk of major post-operative haemorrhage and no requirement for prolonged post-operative observation. Urgent procedures are also appropriate for a semi-elective outpatient pathway, such as manual vacuum aspiration (MVA) for a miscarriage patient without significant PV bleeding (see below).
Medical factors
As for day surgery, fitness for an outpatient-based procedure based on historical limitations such as age, BMI, or the arbitrary American Society of Anaesthesiologists (ASA) classification are no longer valid [1,2]. Patients with stable chronic medical conditions, for example diabetes or asthma or who have cognitive impairment are often better managed in an outpatient setting as this is associated with minimal disruption to their daily routine.
Obese patients, although technically challenging, also benefit due to avoidance of a general anaesthetic and early mobilization. There is no upper age limit for outpatient gynaecological surgery and increasing age does not lead to adverse outpatient procedure outcomes [12].
iii. Preoperative preparation
Aligning patient expectations is key to successful acceptance and preparation in order to improve tolerability and a reduction of inpatient conversion rates. Essential components of preoperative preparation for outpatient procedures include:
Patient education about the procedure and provision of verbal and written information is key in reducing anxiety and increasing patient satisfaction
Identification of any medical or social risk factors requiring optimisation prior to outpatient admission
Timely administration of effective pain relief
iv. Analgesia
A key factor in delivering a high-quality outpatient service is attention to detail in all aspects of pain relief. A multimodal approach to analgesia with timely administration of simple oral analgesia supplemented with local anaesthesia is essential. A woman's anxiety level strongly influences her perception of pain. Adequate support during the procedure and nonpharmacological pain management techniques based around the reduction of anxiety and distraction from pain, termed as 'vocal local', are also important in minimising pain.
Cervical preparation with synthetic prostaglandins (e.g. misoprostol 400μg) 2–3 hours prior to the outpatient procedure can be considered in women with a tightly closed cervix. This can soften the cervix, making it easier to dilate and hence reduce pain [13].
v. Postoperative recovery and discharge
A dedicated recovery area with beds or reclining chairs is necessary for safe recovery. Patients usually only require observation for 20-30 minutes to ensure they are comfortable and fit for discharge.
Patients should be discharged with a variety of written information including:
Advice regarding what to expect, so they may go home feeling confident
Appropriate take-home analgesia with clear instructions regarding when it should be taken
A discharge summary which can be shown to healthcare professionals should they require medical assistance overnight
A telephone number where patients can access advice if required from a senior nurse with sufficient experience to advise about complications of the surgical procedure undertaken
vi. Follow-up and audit
Nurse-led telephone follow-up the day following the procedure should be a routine part of the outpatient pathway. It provides immediate advice regarding any early complications and it is appreciated by patients. It also provides a powerful audit tool for postoperative symptoms and patient experience of care.
vii. Outpatient hysteroscopy
The Royal College of Obstetricians and Gynaecologists (RCOG) and British Society of Gynaecological Endoscopists (BSGE) recommends that all gynaecology units provide a dedicated outpatient hysteroscopy service for the management of women with abnormal uterine bleeding and introduction of a best practice tariff to incentivise this, appears to have been sucessful [14,15]. Outpatient hysteroscopy is now widely accepted as the default procedure for the vast majority of patients requiring a diagnostic hysteroscopy, with surgery in an operating theatre chosen only by exclusion. Current guidance is that 90% of these procedures should be undertaken via an outpatient pathway [7].
Although HES data does not differentiate between outpatient and day case activity, 2019 to 2020 data reveals that 91% of finished consultant episodes coded as diagnostic endoscopic examination of the uterus (Q18) were coded as a day case. [10] Operative hysteroscopic procedures such as polyp or fibroid resection and endometrial ablation are also increasingly done in the outpatient setting. There are very few absolute contraindications.
viii. Manual vacuum aspiration (MVA)
This has gained popularity as a safe and effective alternative to surgical management of miscarriage. The necessary skills are easy to acquire and require minimal additional training and resources, with complication rates reported to be similar to those of vacuum aspiration carried out under general anaesthesia in the operating theatre [13].
The National Institute for Health and Care Excellence guidance on the management of miscarriage recommends that when clinically indicated, women should be offered the choice of MVA in the outpatient setting [16].
Moving gynaecology day case procedures to the outpatient setting is a concept which shortens the care pathway for patients, offers economic benefits and is in keeping with the strategic vision set out in the NHS delivery plan. Outpatient procedures are usually well tolerated and allow rapid mobilisation, shorter recovery times and less time off work for patients.
Increased demand for theatre capacity means that emergency ambulatory surgery pathways are, by necessity, becoming embedded in day surgery care. This is supported by The NHS Long Term Plan, which states same-day emergency care should be available for surgical patients for 12 hours a day, seven days a week by 2020 and has been given added impetus by the current Covid-19 pandemic [3]. Acute surgical patients awaiting minor or intermediate procedures often occupy impatient hospital beds and are frequently delayed due to their lower priority on busy inpatient emergency lists. The provision of emergency ambulatory surgery can improve both patient experience and efficiency in the form of saved emergency theatre operating time and reduced bed occupancy, resulting in better outcomes for the patient and the hospital.
It is important that the definition of ambulatory emergency surgery is understood when establishing a service. The International Association of Ambulatory Surgery (IAAS) defines this as 'the management of an emergency patient according to an ambulatory surgical pathway, avoiding an overnight stay following the surgical procedure' [17]. Medical and social selection criteria should be the same as for elective day surgery admission. The BADS 2019 Directory of Procedures issues guidance on suitable emergency procedures. Recommended ambulatory emergency gynaecological and obstetric procedure rates are shown in Table 3.
Table 3: BADS zero-night stay emergency ambulatory rates for gynaecological and obstetric procedures [7]
A variety of pathways can be used to implement ambulatory emergency care and some are illustrated below [18]. As with elective day surgery admission, the key to success is multidisciplinary input. Clear communication between all stakeholders (including patients) for the development of agreed protocols for each stage in the patient journey is essential. Continuous audit should be undertaken to maintain and improve quality outcomes.
i. Management of Bartholin's abscess
Many hospitals have an established pathway whereby a patient with an abscess requiring drainage is referred by their GP to their local emergency department where they are evaluated by a surgeon. If a patient is clinically stable and confirmed to be socially and medically suitable for ambulatory surgery, they are discharged home and advised to return for surgery the following morning, with the intention of same day discharge. The surgery may take place via a day surgery unit or an inpatient 'emergency' theatre. Early admission of a patient with scheduling first on the list maximises the use of the first hour of emergency operating in the morning. The patient can then be discharged via a day case surgery pathway, thereby avoiding admission completely. This pathway frequently suits the management of Bartholin's cysts or abscesses.
ii. Surgical management of miscarriage
Women presenting to an Early Pregnancy Unit (EPU) with a confirmed miscarriage may be given a choice of medical or surgical management. Suffering the loss of a pregnancy is upsetting and should surgical management be agreed, supporting these vulnerable patients to remain the privacy of their own home with their family until the day of surgery may restore a sense of control in their care.
At TSDFT, which has a stand-alone DSU, the surgical pathway is as follows:
Following preoperative assessment, a patient can go home with analgesia and instructions to return to the DSU on the day of the first available slot on an elective day case gynaecology list. The gynaecology team agree to add the procedure to this list, ideally this should be confirmed with the patient before she is discharged
If it is not possible to schedule a patient on an elective DSU list within a few days, the patient is asked to attend the DSU on a day when a surgeon is available and the procedure can be undertaken either on a dedicated day surgery emergency list, or await available time on an inpatient emergency theatre list. Following uncomplicated surgery, patients are taken back to DSU for secondary recovery and discharge. A dedicated ambulatory emergency list is preferable as there may be delays waiting for main theatres making same day discharge less likely
A proportion of patients are offered manual vacuum aspiration (MVA) in an outpatient clinic if a skilled operator is available
Some units run daily outpatient lists for management of patients undergoing miscarriage and these can be undertaken by the EPU nurses, hence releasing valuable resources in terms of theatre teams, operating theatre and medical staff.
iii. Opportunistic streamlining of acute cases
Gynaecology or anaesthetic teams are in the ideal position of opportunistically identifying existing inpatients who are suitable for discharge on the same day as their emergency surgery. Such patients could undergo their surgery in an inpatient or DSU theatre with available capacity before being discharged using day surgery discharge criteria.
Hospitals promoting ambulatory emergency pathways have reported a change in medical culture, whereby teams proactively identify any DSU lists, which might finish ahead of schedule. Timely co-ordination with on the on-call team allows 'pulling' of suitable cases from the inpatient emergency list to the ambulatory setting.
iv. Dedicated emergency ambulatory surgery lists
The key here is to look for opportunities to utilise unexpected or 'ad-hoc' DSU theatre capacity in advance that can be allocated to ambulatory emergencies. This may be a vacant list or a list cancelled at short notice, which may leave a staffed theatre with no activity booked for the session. It relies on up-front knowledge of an empty, available DSU list, identification of suitable patients and good co-ordination with clear, agreed process between the DSU team, anaesthetic and surgical staff. Engaging relevant stakeholders in this process is essential, specifically, the identification of an obstetrics and gynaecology 'champion' to motivate others. An advantage of this pathway is that it challenges clinicians to consider ambulatory emergency surgery as the 'norm' rather than the exception.
Examples of how this has been implemented and changed medical culture are shown below:
The surgical team develops a process to identify patients from the acute take, suitable for day case management, who can be discharged with instructions to return to hospital on a day where there is a dedicated DSU emergency list. Teams may be more comfortable with this if there are already established specific procedure ambulatory emergency pathways with an effective discharge process
Prompts such as a 'tick box' on the emergency theatre booking form may remind surgeons to consider using an ambulatory emergency pathway. Morning emergency handover meetings are a good opportunity to identify any patients who are "day case suitable"
Factors relevant to list planning include:
Anaesthetic cover needs to be considered. There may be an allocated anaesthetist or it may be covered by the on-call team
If more than one speciality is using an emergency list, or there are team changes, maintaining safety by repeating the theatre team briefing
Care should be taken to schedule the ambulatory emergency list to optimise the chance of successful same day discharge and avoid overrunning into scheduled elective lists. This involves doing more complex operations in the morning or first in the afternoon
This pathway can involve any acute gynaecological presentation but to maximise its use, day surgery emergency lists should allow a mix of surgical specialties
There is a case for the appointment of an ambulatory emergency surgery coordinator to work in a role similar to trauma coordinators to help to identify and plan potential cases across all specialties
The result is a cost-neutral pathway that reduces bed days, frees inpatient emergency theatre time and increases satisfaction for patients and staff. It also means nursing capability is fully utilised in theatre if a list is taken down, rather than them being drafted to other areas of the hospital, which impacts on job satisfaction.
Ambulatory emergency surgery should be considered as an option at any stage of a patient's journey. Ideally admission is avoided altogether but appropriately selected inpatients can be streamlined to save post-operative stays. Engaging the relevant stakeholders is key. Identifying a champion on the obstetric and gynaecology team can motivate others. The benefits of pursuing ambulatory emergency surgery are clear: reduced bed days, liberated emergency theatre hours, increased patient satisfaction and better staff morale.
Data supporting this approach to care can be presented to hospital management to push back against 'bedding' day surgery spaces during times of bed crisis. A functional day surgery unit helps to keep on top of elective waiting lists but also relieves pressure for the acute hospital. Where there is no stand-alone unit, an acute medical or surgical unit could readily function as part of a day case emergency pathway facilitating admission and the challenge is to consider ambulatory emergency options as the 'norm' rather than the exception and consider 'why' and not 'why not'.
Stocker M, Russon K, Montgomery J and Ahuja M. Guidelines for the Provision of Anaesthetic Services, Chapter 6 Guidelines for the Provision of Anaesthetic Services for Day Surgery (2019). https://www.rcoa.ac.uk/sites/default/files/documents/2019-11/GPAS-2019-02-PREOP.pdf


Bailey CR, Ahuja MK, Bartholomew S et al. Guidelines for Day Case Surgery 2019, Anaesthesia; 74: 778-792 https://associationofanaesthetists-publications.onlinelibrary.wiley.com/doi/full/10.1111/anae.14639


NHS England. The NHS Long Term Plan. Version 1.2. London: NHS; 2019 (https://www.longtermplan.nhs.uk).


Patterns of Benign Gynaecology Care in English NHS Hospital Trusts 2015-16. https://www.rcog.org.uk/en/guidelines-research-services/audit-quality-improvement/clinical-indicators-programme/benign-gynaecological-care/benign-gynaecology-report-2015-16/ Accessed 27th September 2020].


https://future.nhs.uk/connect.ti/GIRFTNational/view?objectId=112160581 (Future NHS free registration is required for access)


Retief J, Morris R, Stocker M. The postoperative carer: A global view and local perspectives. Journal of One Day Surgery, 2018; 28.3 Available at: https://bads.co.uk/for-members/journal-of-one-day-surgery/?id=1228


British Association of Day Surgery. BADS Directory of Procedures, 6th edition, London: BADS; 2019. Available at: https://daysurgeryuk.net/en/shop/directory/bads-directory-ofprocedures-6th-edition/


Fergusson A, Weir A, Mankiewitz R et al. Is it time to default hysterectomies to day surgery? A review of outcomes in a district general hospital day surgery unit Journal of one day surgery, 2020; 30(4)


https://digital.nhs.uk/data-and-information/publications/statistical/hospital-admitted-patient-care-activity/2019-20


Providing Quality Care for Women. Standards for Quality of Care. 2016, The Royal College of Obstetrics and Gynaecology. Available at: https://www.rcog.org.uk/globalassets/documents/guidelines/workingpartyreports/gynaestandards.pdf [Accessed 7th November 2020]


Quemby DJ, Stocker ME. Day surgery development and practice: key factors for a successful pathway. Continuing Education in Anaesthesia, Critical Care & Pain, 2014; 14: 256-261 10.1093/bjaceaccp/mkt066.


Sharma M. Manual vacuum aspiration: an outpatient alternative for surgical management of miscarriage. The Obstetrician and Gynaecologist, 2015, 17: 157-161


Best Practice in Outpatient Hysteroscopy (Green-top Guideline No. 59), Royal College of Obstetricians and Gynaecologists, 2011. https://www.rcog.org.uk/globalassets/documents/guidelines/gtg59hysteroscopy.pdf [Accessed 4th November 2020]


https://improvement.nhs.uk/documents/484/Annex_DtD_Best_practice_tariffs.pdf [Accessed 7th November 2020]


Ectopic pregnancy and miscarriage: diagnosis and initial management. NICE guideline [NG126] Published date: 17 April 2019 https://www.nice.org.uk/guidance/ng126 [Accessed 4th November 2020


Jones K. Ambulatory Gynaecology: a new concept in the delivery of healthcare for women. Gynaecol Surg, 2006; 3: 153-156