Second Edition
This handbook has been prepared by:

Judith A Short (Editor)
Consultant Paediatric Anaesthetist, Sheffield Children's Hospital
Elizabeth Allison
Consultant Paediatric Anaesthetist, Sheffield Children's Hospital
Stephanie Bew
Consultant Paediatric Anaesthetist, Leeds General Infirmary
Vanessa Hodgetts
Consultant Paediatric Anaesthetist, Sheffield Children's Hospital
Philippa Horsfield
Senior Anaesthetic Trainee, Sheffield Children's Hospital
Christine Kirton
Consultant Paediatric Anaesthetist, Sheffield Children's Hospital
Nadia Ladak
Consultant Paediatric Anaesthetist, Sheffield Children's Hospital
Jane Sellors
Consultant Paediatric Anaesthetist, Sheffield Children's Hospital
Sarah Welsby
Acting Ward Manager, Theatre Admissions Unit, Sheffield Children's Hospital
Contributors to previous edition:
Ian Barker
Consultant Paediatric Anaesthetist (Retired), Sheffield Children's Hospital
Jackie Sanderson
Sister, Theatre Admissions Unit (Retired), Sheffield Children's Hospital
Published by British Association of Day Surgery, London, May 2018
Copyright© British Association of Day Surgery 2018
All Rights Reserved. No part of this publication may be reproduced, stored or transmitted in any form or by any means without the prior permission in writing of British Association of Day Surgery.

ISBN 978-1-908427-32-8
Day case surgery is popular with patients and healthcare providers alike. Avoiding overnight admission is efficient, cost-effective, reduces the number of hospital beds required and reduces waiting times. In addition, day case surgery is ideally suited to the needs of children, who are usually healthy and often require surgery which is of short duration and has relatively low postoperative morbidity. It also minimises the inconvenience of an inpatient stay for the child's family, and reduces the psychological consequences of hospitalisation,
such as sleep disturbance and emotional regression.
It is important that day surgery facilities for children are designed with the child's and family's needs in mind. A child-friendly environment, play equipment, child-sized furniture and facilities for parents are all important. Dedicated space for adolescents is also appropriate, catering for the differing needs of babies, children and young people. Ideally, facilities for children are provided separately from those for adult patients, staffed by personnel appropriately trained in the care of children. This includes waiting and play space, and both first and second stage recovery facilities.
A traditional ward environment is not essential, as healthy children admitted for elective surgery do not need to lie down until premedicated or escorted to the anaesthetic area, and can easily be recovered until discharge on a theatre trolley. The primary requirements are, therefore, an inviting waiting / play area with cubicles to allow privacy for admission procedures and changing, lockers for personal property, and a second stage recovery area, with appropriate clinical and monitoring equipment and space for parents to stay comfortably with their children until ready to go home.
For many children, a day case procedure may be their first and only hospital experience. Careful planning of day care services can help to facilitate the required care whilst avoiding distress for the child or the family.
Efficiency in day surgery services depends on effective collaboration between many clinical, managerial and administrative services. There are potential barriers to a smooth patient journey at every step.
Booking Patients for Surgery
Much essential information can be gathered at the outpatient clinic visit at which the decision is made for the child to have surgery as a day case. Information from the surgeon includes patient details, precise description of intended operation (e.g. open / laparoscopic), estimated duration of surgery, any special equipment requirements and any red-flag anaesthetic alerts, such as difficult airway or malignant hyperthermia risk. Consent can also be taken from the parents at this stage. During the clinic appointment, the parent / carer can also be asked to complete an anaesthetic pre-assessment screening questionnaire, and it may be useful to establish if parents are willing to accept an operation date at short notice. They can also be given a link to any appropriate internet-based information hosted on the hospital website.
Waiting List
During the wait for admission, anaesthetic pre-assessment can be carried out as appropriate, based on the information from the screening questionnaires. This can be nurse-led, with support from anaesthetic staff where necessary. Appropriate pre-assessment and liaison with specialist medical teams may allow patients with co-morbidities such as diabetes, metabolic disorders and special needs to be treated safely as day cases. It may also reduce the potential for on-the-day cancellation of inadequately prepared patients.
Optimal scheduling of patients is also important, so that operating lists are constructed with appropriate complexity and duration of procedures. The availability of surgical equipment needs to be considered – for instance it is inefficient to schedule 4 upper gastrointestinal endoscopies on a list if only 3 scopes are available and there is insufficient time to clean the scopes between cases. Extra anaesthetic time may need to be allowed for certain patients, e.g. ex-premature babies with tricky venous access, or patients requiring local anaesthetic blocks. Booking patients up to 6 weeks ahead, along with a similar notice period for annual leave requests, may also allow lists to be matched to available surgical staff and avoid loss of theatre activity.
Admission Letters
Parents should be given as much notice as possible of the impending admission date – at least 2-3 weeks if possible. The appointment letter should give clear instructions about where to check in and at what time, fasting rules, what to bring, and the anticipated duration of stay. Ideally, information should also be included about hospital services, including car-parking and refreshment facilities for visitors. At this stage, information about anaesthesia, suitable for both parents and children, should also be provided.
Reminders
To reduce the possibility of non-attendance, parents can be telephoned or texted with a reminder of the day case appointment 48 hours in advance, to establish their intention to bring their child as planned and to exclude any minor illness which may cause the surgery to be postponed. If the patient cannot use the appointment, contact can be made with families willing to attend at short notice to fill the place on the list.
On The Day
An established routine on the day care ward can aid the smooth flow of patients through the various steps in the admission process. For instance, initial checking-in of patients can be accompanied by the offer of a clear fluid drink, and the application of identity band and local anaesthetic cream. Patients can then move on to being weighed, measured and supplied with a theatre gown before waiting to be seen by admitting nurse, surgeon and anaesthetist, in rotation.
Dedicated theatre escort-orderlies can assist in patient transfer, by collecting patients from the day care ward, walking them to theatre (or transporting them by trolley if premedicated), settling them in the anaesthetic room, providing distraction as required during induction of anaesthesia and then supporting parents by accompanying them from the anaesthetic room and providing information on where to wait and when to return. Portable parent buzzer paging systems can be very useful, to allow parents to wait away from the theatre department or ward, preferably somewhere with refreshments, with a means to contact them when it is time to return to join their child in the recovery room.
Clinical Collaboration
Surgical, anaesthetic and nursing staff must all be focussed on optimising the short-stay experience for children and families. Surgical techniques can be chosen to minimise pain and aid in rapid recovery, with liberal use of local anaesthetic blocks. Absorbable sutures and showerproof dressings may reduce the need for return visits, as well as child-proof bandaging for small children having hand / foot surgery. Anaesthetic techniques promoting early street-readiness, with minimal pain or nausea and vomiting are also essential. Efficient first-stage recovery, with rapid return to the ward, will aid throughput in theatres, while allowing a nap, offering light food and drink, followed by nurse-led discharge according to agreed criteria, will avoid a prolonged wait before families can go home.
Aftercare
Many day surgery patients will not need to return for follow-up. However, all families must be confident they can manage any postoperative pain and symptoms at home, must have appropriate analgesia available, and must be given contact information for advice as required. Continuous audit and service evaluation of the day care experience will allow any adjustments and improvements to be made as required.
TOP TIP
Identifying the various steps in each patient's journey from initial out-patient visit to discharge from day care, can allow advance planning and coordination between departments to ensure a safe, effective, experience on the day.
The main criteria for day case procedures are that they should be relatively short, be associated with minimal physiological disturbance, tissue trauma or bleeding, and produce only mild or moderate postoperative pain which can be relieved by oral analgesics at home. The child must be able to resume their normal feeding method and medications before discharge. Children may also require general anaesthesia for diagnostic and therapeutic procedures which would be undertaken awake, under mild sedation or with local anaesthesia in adults.
There are many procedures which can be successfully undertaken on a day case basis in children, including those listed below:
General Surgery and Urology
Hernia repair (inguinal, umbilical, epigastric), EUA, in-growing toe nail, skin or muscle biopsy, minor ano-rectal procedures, division of tongue-tie, change of gastrostomy tube, manual evacuation, branchial cyst/fistula excision, thyroglossal cyst removal, insertion of long-term venous access lines, circumcision, orchidopexy (including staged laparoscopic procedures), cystoscopy, minor hypospadias, hydrocoele repair.
Plastic Surgery
Removal of skin lesions, lumps and bumps, correction of prominent ears, excision of accessory auricles and digits, incomplete simple syndactyly, minor cleft lip surgery.
Orthopaedic Surgery
Change of plaster, EUA, peripheral bone and soft tissue surgery, arthroscopy, removal of metalwork, manipulation of simple fractures, release of trigger thumb, tenotomy, serial casting for scoliosis, Botox injections, Ilizarov / Taylor Spatial Frame adjustments.
Oral Surgery
Dental extractions (especially in children with special needs), surgical removal of teeth, orthodontic surgery, dental conservation, excision or biopsy of oral lesions, lingual/labial frenectomy, removal of plates or wires.
Ophthalmic Surgery
EUA, probing of lacrimal ducts, squint correction, excision of chalazion or other benign lid lesions.
Ear, Nose and Throat Surgery
Grommet insertion, airway endoscopy, MUA of nasal fracture, nasal cautery, suction clearance including removal of foreign body, nasal polyps, dilatation of choanae. Adenoidectomy and tonsillectomy can be carried out as day case procedures with careful patient selection and postoperative observation for at least 4 hours prior to discharge for adenoidectomy and 6 hours for tonsillectomy.
Neurosurgery
Lumbar puncture, insertion of vagal nerve stimulator. Endoscopy Upper GI endoscopy, colonoscopy, bronchoscopy.
Endoscopy
Upper GI endoscopy, colonoscopy, bronchoscopy. 
Medical
Bone marrow aspiration, lumbar puncture, radiotherapy, CT and MRI.
In addition, some procedures may be suitable for treatment under general anaesthesia on a minimal stay or outpatient basis, such as the extraction of deciduous teeth (exodontia) and pulsed dye laser treatment of port wine stain birthmarks, where a very short duration of treatment allows rapid recovery and early discharge.
The BADS Directory of Procedures, introduced in 2006 and revised most recently for the 5th edition in 2016, provides a more comprehensive review of procedures suitable for day and short stay surgery. Continuing development of services and techniques leads to constant expansion of the type and extent of surgery that can be managed without an inpatient stay. It is essential that, as progress is made and we push the boundaries, close attention is paid to the ability of parents and children, and the support provided, to manage the postoperative care of more complex procedures, particularly analgesia requirements, at home.
Day case surgery is desirable for most healthy children and also for a large number of children with chronic stable conditions including those with a high level of dependency. Appropriate selection relies on good preoperative assessment and communication before the child is listed for day surgery. As well as the surgical considerations discussed in Section 3, selection criteria need to consider medical and social factors, and to be tailored to local populations and facilities.
Medical criteria
For children with more complex medical conditions or high levels of dependency, provision of good quality day care relies on preoperative communication and planning and the availability of up to date information about the child's condition and management. Day case surgery is often optimal for these children, as parents are the usual carers and avoidance of a night in hospital causes less disruption to normal care. Preoperative discussions with the child's normal medical team and carers allows the development of a clear plan for managing medication, feeding and other elements of care before and after surgery. Children with complex medical conditions should be managed in tertiary centres for even minor procedures to ensure suitable support and expertise is available. Day case surgery for complex children should only be provided by experienced surgeons and anaesthetists.
There are few medical criteria which are absolute exclusions to day case surgery, but children with the following problems may not be suitable for surgery in a DGH, or may require overnight admission even in a tertiary centre.
Ex-premature babies <60 weeks post conceptual age
Difficult airway
Extreme Obesity
Previous anaesthetic problems leading to delayed recovery
Metabolic disorder if child cannot tolerate overnight starvation
Haemoglobinopathy
Obstructive Sleep Apnoea
Poorly controlled chronic disease
Complex congenital heart disease
Age
The lower age limit depends on the training and experience of all the clinical staff. For a District General Hospital this may be 2 or 3 years of age. Many units in tertiary centres will accept healthy term babies >44-46 weeks post-conceptual age (PCA).
Ex-premature infants are a complex heterogeneous group and require individual assessment of risk. Most are suitable for day case care when >60 weeks PCA. Between 46 and 60 weeks PCA other factors to consider are apnoeas at home, history of chronic lung disease, CNS morbidity and anaemia <100g/l [1].
Obesity
Childhood obesity is an increasing problem in developed and developing countries affecting mainly older children and adolescents. Most obese children have not yet developed all the medical complications of obesity, but there is an increased incidence of type 2 diabetes, asthma and hypertension and altered pulmonary function. Obesity in children is defined by body mass index (BMI), but the measured value needs to be interpreted using age and gender specific tables [2]. A BMI which crosses the curve that reaches 30kg/m2 at age 18 is defined as obese. The upper BMI limit for paediatric day case surgery is not defined. Limited evidence suggests that children with non-syndromic obesity can have surgery as a day case, but have a higher incidence of laryngospasm, difficult mask airway, desaturation and other minor perioperative respiratory complications.
Haemoglobinopathies
The sickle cell and thalassaemia screening programme was set up in England in 2001 and was fully established within the whole of England by 2006, Scotland by 2010, Northern Ireland by 2012, and Wales by 2013. The screening programme is governed by Public Health England, which ensures providers of the screening programme participate fully in national Quality Assurance processes. Preoperative testing is therefore rarely required. Some younger children and those born outside the UK may require testing if status is unknown and they are in a high-risk ethnic group. In areas of the UK with a relatively high incidence of sickle cell disease it will be easy to access specialist testing and counselling services, but in other areas facilities will be more limited. Pre-assessment clinics should liaise with local services to provide appropriate testing.
Sickle cell disease is associated with significant perioperative morbidity such as acute chest syndrome, and the role of preoperative transfusion remains controversial [3]. Although with careful management, low risk procedures have been carried out as day cases with few reported complications, this must be based on individual risk assessment of the procedure for that particular child.
Obstructive Sleep Apnoea (OSA)
OSA is now a common indication for adenotonsillectomy, but it may also be an incidental pre-assessment finding in any child presenting for day surgery. Although adenotonsillectomy is routinely a day case procedure in many units, children with a diagnosis of moderate to severe OSA need careful assessment. Children with severe OSA or other co-morbidity are at increased risk of perioperative complications and need overnight monitoring [4]. In many cases the diagnosis of OSA has been made on clinical grounds rather than after investigations such as polysomnography or overnight oximetry, and without these objective measurements
it is difficult to define the severity of the OSA. Assessment and management by an experienced anaesthetist and surgeon, taking into account other factors such as age, comorbidity and time of day of surgery, should be key in decision making. In some cases, the decision can only be made on the day of surgery. Parents of such children should be aware of this uncertainty and understand that admission may be necessary.
Insulin Dependent Diabetes (IDDM)
Children with well controlled IDDM may be suitable for day case care if they are placed first on the operating list and are having procedures where they would be expected to resume a normal oral intake soon after surgery. Modern management of IDDM in children is frequently short acting insulin delivered by a pump, and early planning and liaison with the family and diabetic specialist is needed for successful and safe day care.
Respiratory tract infections
The management of a child with upper respiratory infection remains controversial. Many young children have a runny nose, particularly in the winter months, but are not systemically unwell. However, anaesthesia in the presence of active respiratory infection has an increased incidence of airway complications such as laryngospasm, cough, bronchoconstriction and atelectasis. Children with moderate to severe infection should have their surgery postponed. Indicators of severity include productive cough, purulent nasal secretions, malaise, irritability and fever. Postponement should be for 2-6 weeks after discussion with the anaesthetist. Longer postponement may be advisable after pertussis or bronchiolitic infection when the airway may remain irritable for many weeks.
Undiagnosed heart murmur noted on the day of surgery
Children under the age of 1 with a newly diagnosed murmur should be referred for a cardiology assessment. A murmur with pathological qualities and any worrying signs or symptoms must also be investigated prior to surgery. Children over 1 with an innocent sounding murmur, normal examination and no history of shortness of breath, syncope, pain, failure to thrive or palpitations can have surgery. Antibiotic prophylaxis is not required, but cardiology referral should be arranged postoperatively as an outpatient.
Social factors
The parents must
Agree to day care and give informed consent
Be able to care for the child at home
Understand instructions about preoperative and postoperative care
Have access to a telephone and know when and how to seek advice
Ideally have private transport to and from the hospital
Live a reasonable distance or journey time from hospital (depends on local factors)
References and further reading
Bowen L and Thomas M. Paediatric day case surgery. Anaesthesia and Intensive Care medicine 2016; 17(6): 274-9


Cole TJ et al. Establishing a standard definition for child overweight and obesity worldwide: International survey. BMJ 2000; 320: 1240-3


Howard J et al. The Transfusion Alternatives Preoperatively in Sickle Cell Disease (TAPS) study: a randomised, controlled, multicentre clinical trial. Lancet 2013; 381: 930-8


Robb PJ et al. Tonsillectomy and adenoidectomy in children with sleep-related breathing disorders: consensus statement of a UK multidisciplinary working party. Clinical Otolaryngology 2009 34; 1: 61-3
Preoperative investigations are not required in most children who are fit and well and are not on regular medication. However, early detection of children with other co-morbidities, special needs or extreme anxiety enables targeting of limited resources to the children who would most benefit from more thorough pre-assessment. The aims are to ensure that the child fits the criteria for day case surgery, appropriate plans are in place to prevent the need for admission, and the parents and child are adequately prepared and informed (see Section 6).
Pre-assessment can also have an essential administrative role in ensuring smooth and efficient admissions and list function on the day. Such tasks include making sure notes and investigations are available, contact numbers and addresses for parents are correct, day case beds are booked, interpreters are arranged and the list order is appropriate.
Methods of pre-assessment
A variety of methods for pre-assessment can be used, depending on local circumstances. Most are based around standardised nurse led assessment.
Questionnaires, either paper or online, can fulfil a screening function to help select children in whom a pre-assessment visit is necessary. Ideally, information should be gathered as soon as the child is listed for surgery, at the outpatient clinic visit where the decision is made
Telephone pre-assessment, backed up by written information, can be convenient and cost effective. It may suit families who live a long way from the hospital and find an extra visit inconvenient and expensive. It can also be effective for high volume surgery with homogenous patient groups such as children for simple dental extractions. Multiple attempts to contact parents may be necessary. Additionally, telephoning parents 48 hours prior to admission, with a reminder and to check that the child is well, has been shown to reduce the rate of missed appointments
Pre-assessment clinics offer a number of advantages, especially if they are located near the wards and theatres allowing familiarisation with the environment prior to the day of surgery. Meeting nursing staff and play therapists starts the psychological preparation of the child in a relaxed environment with time to answer questions and discuss anxieties. This is particularly important for day cases who will be admitted just prior to the time of surgery
Day care documentation
The use of a specific day case surgery notes booklet or integrated care plan containing pre-assessment information, medical notes, nursing observations and documentation, anaesthetic and theatre information, surgical notes, discharge plan and a drug chart can facilitate the creation of a complete and accurate record of a child's day case care. This booklet can be filed in the main hospital notes on discharge.
TOP TIP
Pre-assessment can be the ideal time to iron out potential administrative problems.
It is known that children facing an operation under general anaesthesia experience high levels of anxiety, and that increased anxiety in the preoperative period can be associated with many postoperative difficulties, including negative behavioural responses, nightmares, bed-wetting and increased postoperative pain. Frequent causes of concern are needles, fear of pain, worries about the unknown, the potential to be awake during the operation and the possibility that things might go wrong. Children may have sophisticated concerns and questions, often due to lack of knowledge or experience, which need appropriate attention and reassurance.
Children are not treated in isolation, but are looked after in association with their parents and carers. Many parents are acutely anxious when they bring their child for surgery, and this anxiety is easily transmitted to the child. In order to reduce this anxiety, it is essential that families receive timely, comprehensive and reassuring information about the impending hospital visit and have the opportunity to ask questions. As well as information for parents, it is important that age-appropriate information is provided for children, using language and explanations they can understand. The incidence of postoperative difficulties in children may be reduced by various methods of preoperative preparation, including the use of verbal and written information, books, videos, toys, computers, clown doctors and tours of clinical areas.
Pre-assessment clinics allow the parent and child to visit the hospital in advance, to meet the staff and to see some of the equipment involved in their care, perhaps with the help of a play specialist to introduce some of the procedures involved. They are enabled to explore some of their concerns in a non-threatening situation, so that many causes of anxiety can be addressed and eliminated before the day of surgery.
Written information for parents should cover:
The surgical procedure
The anaesthetic
Starvation instructions
What to bring
Time and place to arrive, and likely length of stay
Postoperative wound care and analgesia
Contact numbers
Car parking
Some hospitals allow children to wear their own clothes to come to the operating theatre, whereas others ask children to wear a hospital gown. As there is a risk that own clothing might get soiled or damaged, families could be encouraged to pick something loose and comfortable that's easy to wash afterwards, and bring something to change into to go home.
Parents should be encouraged to talk at home with their child about the impending hospital visit, at a level appropriate to the child's development and understanding. Local and national children's anaesthesia information resources may aid in these discussions, by providing appropriate terms for medical equipment and positive ways of describing hospital procedures (see below).
All children (except infants too young to understand) should be told:
That they are going to the hospital
That they will be having an operation or investigation
Some basic information about what will happen to them while they are at the hospital
The best timing of these discussions depends on the age of the child.
Children between 2 and 3 years of age should be told 2-3 days before and again on the day of admission
Children between 4 and 7 years of age should be told 4-7 days before the day of admission
Older children will usually be involved in making decisions about the operation or investigation, and discussion can take place a few weeks before the day of admission
Useful resources
The Royal College of Anaesthetists Information Website:
Rees Bear has an anaesthetic (for young children)
Davy the Detective – finding out about anaesthetics (for children aged 6-12)
General anaesthesia – a brief guide for young people
Your child's general anaesthetic
My day case operation – a resource for children with learning difficulty
Consent issues
Unless consent for surgery is obtained at a preoperative clinic, a parent or carer with legal responsibility for the child must be available to provide consent on the day of surgery. In England and Wales, this applies to children under 16 and those young people who are not fully able to understand the implications of their treatment. Although children under 16 are not deemed to be automatically legally competent to give consent, the courts have determined that such children can be legally competent if they have "sufficient understanding and intelligence to enable them to understand fully what is proposed". Many children under 16 can participate in the consent process, as long as appropriate information is provided in a way that they can clearly understand; some children may wish to sign the consent form alongside their parent's signature. If a competent child under 16 refuses treatment, those with parental responsibility can consent if the treatment is deemed to be in the child's interests. In Scotland, the ability of a child to give consent to treatment is based on competency rather than age.
TOP TIP
Careful preoperative preparation prevents many postoperative psychological difficulties.
Significant numbers of female young people of child-bearing age (post-menarche) undergo elective surgical and medical procedures under general anaesthesia each year. If the patient is pregnant, there is a small but recognised risk to the patient and her pregnancy/foetus, and consideration needs to be given to modifying or delaying the procedure.
A number of authorities, including NICE and the Health Protection Agency, stipulate that pregnancy status must be ascertained before a procedure is undertaken, and WHO pre-operative checklists include possibility of pregnancy as one of the mandatory questions before proceeding.
The Royal College of Paediatrics and Child Health (RCPCH) recommends each hospital should have a policy ensuring that ascertaining pregnancy status in girls of child-bearing age is consistent and sensitive to the age of the patient, and that staff are confident both to make the relevant enquiries and deal appropriately with the results. Guidance is available at: https://www.rcpch.ac.uk/resources/pre-procedure-pregnancy-checking-under-16s-guidance-clinicians
As pregnancy in girls of 11 years and under is extremely rare, it is appropriate to ascertain pregnancy status of girls aged 12 and over.
Preoperative information must be provided which explains the routine nature of enquiries about pregnancy status in girls aged 12 and over.
On the day of surgery, as part of the admission process, patients should be asked about the possibility of pregnancy. This is best done in private, to allow an opportunity for honest disclosure. (See the suggested approach later.) For children who are not considered to have the capacity to answer questions themselves, the parent or carer may be asked instead.
Routine urine testing, with verbal consent, is not necessary for the majority of day surgery procedures but may be considered appropriate for patients having invasive surgery to the abdominal or pelvic cavities, or any surgery involving per-operative x-rays, where the risk to a pregnancy is higher. A test may also be required if a patient indicates, on questioning, a possibility of pregnancy.
The result of the enquiry/test should be clearly documented in the patient's notes. In the case of an unexpected positive result, the surgeon and anaesthetist must be informed to discuss the result with the patient and decide how to proceed. The local policy must also contain guidance on safeguarding procedures and on the referral system for pregnant teenagers. The patient must also be encouraged to share the information with her parent/carer and GP, with assistance offered as appropriate.
A suggested algorithm is presented overleaf, followed by an example of preoperative patient information, a suggested form of enquiry and sample documentation. These examples form part of the Sheffield Children's NHS Foundation Trust 'Pre-procedure pregnancy checking in girls of child-bearing age policy'. The complete policy can be made available for reference, by request, from Dr Judith Short (Judith.short@sch.nhs.uk).
Algorithm for checking pre-procedure pregnancy status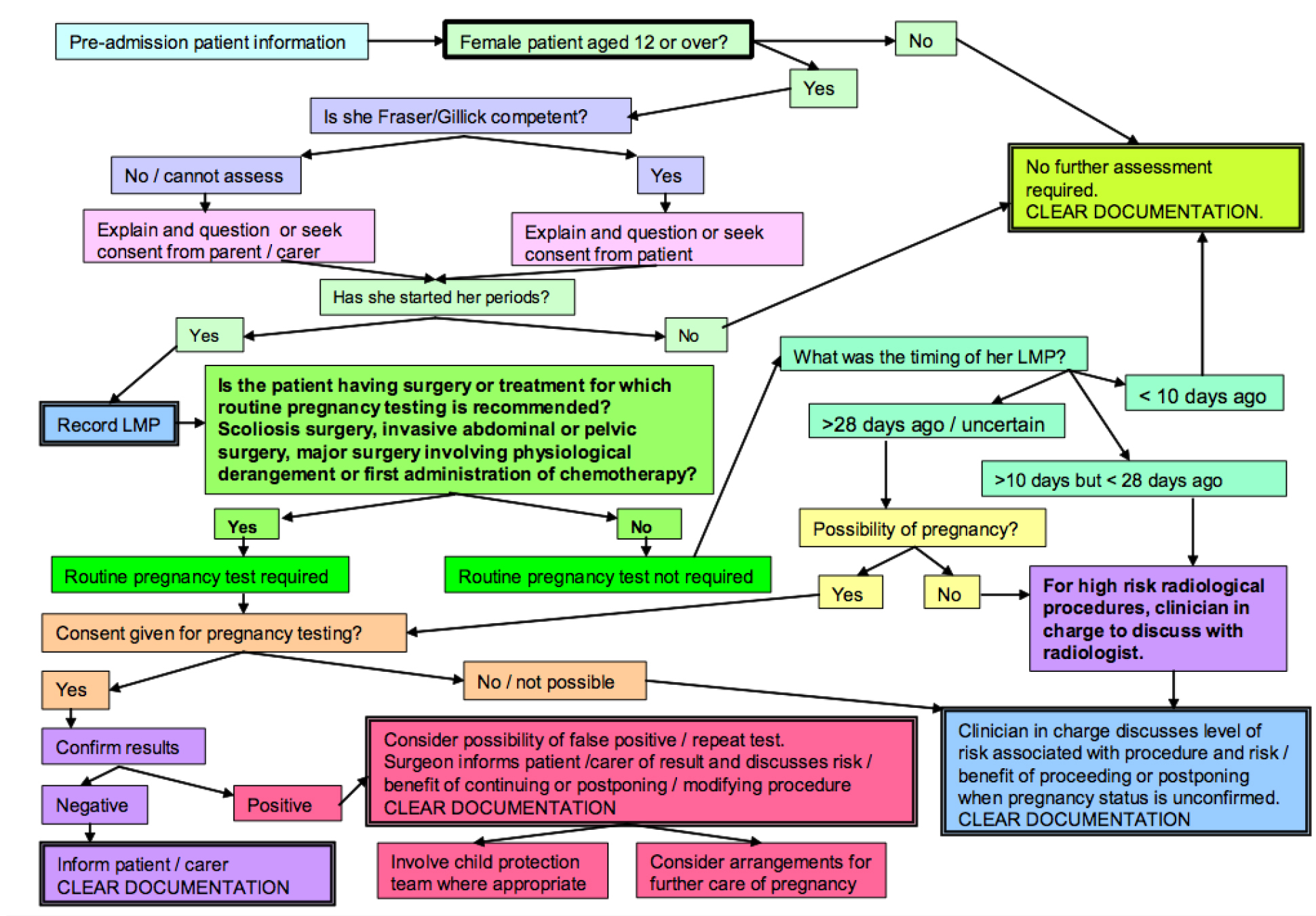 Information for Girls Aged 12 and Over

Why am I being asked if I might be pregnant before I have my operation, x-ray, treatment or test
We know that some tests and procedures put an unborn baby at risk of harm. These include certain x-rays, scans, operations and some medicines. To prevent the possibility of harming an unborn baby and the distress that this would cause to the baby's mother, we need to find out if girls of child-bearing age may be pregnant.
What does 'child-bearing age' mean?
This means girls aged 12 and over who have started their periods.
Why are you asking me if I might be pregnant, I'm not having sex?
We understand that many teenage girls are not having sex, so it is not possible for them to be pregnant. We do not know who is and who isn't sexually active, so to ensure we care for you safely, we ask everyone aged 12 and over if it is possible they might be pregnant.
What will you ask me?
First, we will usually ask you if you have started your periods, and if so, when your last period was. If your last period was over 1 month ago, we may ask you for a sample of your urine, so we can do a pregnancy test with your permission. In fact, we will ask all patients having certain operations or treatments that carry a high risk of harm to an unborn baby if we can do a pregnancy test just to make absolutely sure that they are not pregnant. We will usually try to talk to you about all of this on your own, but your parent/carer can be there if you want.
What happens after that?
If there is no chance of pregnancy, or if we do a pregnancy test and the result is negative, your test, treatment or operation will go ahead as planned. If the pregnancy test is positive, we will tell you the result and any changes to your treatment that need to be made.
Will everything I say be kept confidential?
None of the hospital staff will share information about you without your permission unless they consider that your health, safety or welfare is at risk. They will talk with you to encourage you to share that information with others if necessary. If you are pregnant and under 13 years old, it will be necessary for the hospital staff to share information with our Safeguarding Team and Children's Social Care Services.
Can I refuse to have a pregnancy test?
Yes, you have the right to refuse the test. In this case we will need to ask you some more detailed questions in private. However, it is possible that your surgery or test will be delayed or cancelled. You will be able to discuss this with your doctor or nurse, who will help you to find the best solution.
What should I do if I think it's possible I might be pregnant when I come to the hospital?
It is important that you tell a nurse or doctor so that we can decide what to do next. Everything you tell us will be treated confidentially. You may be offered a pregnancy test but, because a urine test may not be reliable very early in a pregnancy, you may still be pregnant even if the result is negative. In this case, a doctor will talk to you about whether you should go ahead with your operation, x-ray, treatment or test.
I'm not sure I really understand all of this. What should I do?
Ask a nurse or doctor to explain anything that you are not clear about. They will be happy to talk to you in private and to help with your questions.
A suggested approach includes the following questions:
"One of the questions that we have to ask all girls who are age 12 or over is about periods. Have you started your periods yet?
Do you remember when your last period was?
One of the reasons we ask about periods is to make sure that our patients are not pregnant because certain tests, treatments and operations can cause harm to an unborn baby. We know most girls will not be pregnant but because your period is late I need to double check that there is no possibility that you could be pregnant?
Have you got a boyfriend? Is there any chance that the two of you did anything that could result in you becoming pregnant?
If you are not sure, then we can do a pregnancy test to find out for certain. To do this we will test a sample of your urine that you provide for us."
Sample Documentation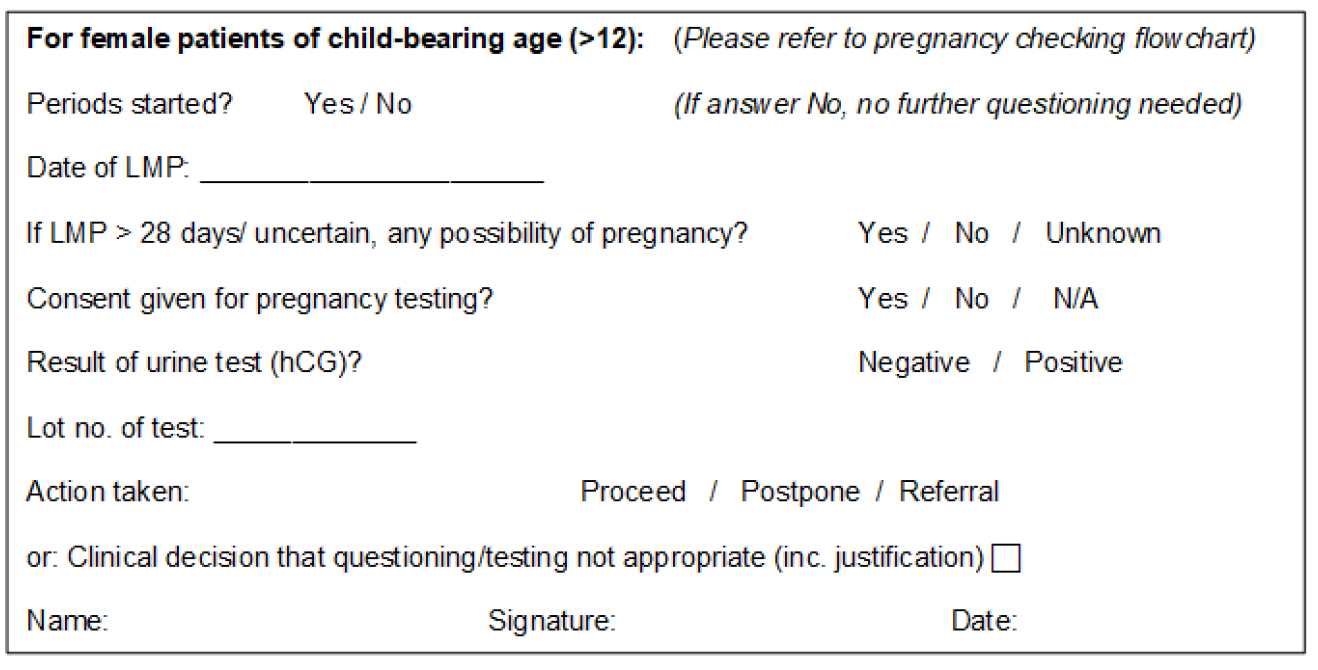 TOP TIP
This is a potentially tricky and sensitive area of the admission process. The role of a local policy is to ensure all reasonable steps have been taken to avoid additional risk.
The purpose of guidelines on fasting times prior to general anaesthesia is to reduce the potentially fatal risk of pulmonary aspiration of gastric contents, but also to avoid the discomfort and morbidity of prolonged starvation. Small children may be particularly at risk of dehydration and hypoglycaemia, and all children dislike the feelings of hunger and thirst. The following guidelines concur with national and international recommendations, and have been traditionally used in most hospitals [1,2,3].

*However, more recently, fasting guidelines for clear fluids have begun to be liberalised for children. In April 2018, the British and European Paediatric Anaesthesia Societies issued a consensus statement recommending that clear fluids should be given to children up to 1 hour prior to surgery [4]. There is evidence to support children being allowed clear fluid drinks up until being called to the operating theatre [5]. Many paediatric centres are now offering a drink on admission, adopting 1 hour fluid fasting, or even 'sip until sent for', with an improvement in patient comfort. In practice, to allow some flexibility in list planning and to give parents clear instructions, the new recommendations may be interpreted as follows for elective day case surgery:
Notes:
Children should be actively encouraged to drink clear fluids up to 1 hour before the start of the operating list and, if allowed, sips thereafter
Clear fluids are water, diluted squash and fruit juice without pulp. Fizzy drinks, juice with pulp and drinks containing milk are excluded
Chewing gum should not be encouraged on the day of surgery but, if not swallowed, should not usually cause cancellation of the procedure
Sweets (including lollipops) are solid food. A minimum preoperative fasting time of 6 hours is recommended
Regular medication taken orally should be continued preoperatively unless there is advice to the contrary. Children may be allowed sips of water to help them take their medication
Oral premedication, e.g. midazolam, may be given less than 1 hour prior to anaesthesia
If a delay in the operation is likely to exceed 2 hours, a clear fluid drink should be offered to the child
If a child admitted for surgery has undergone excessive fasting, consideration should be given to offering them a drink and scheduling their operation slightly later on the operating list
Intravenous fluids may be indicated in children who have not had fluids for more than 8 hours (given per-operatively if necessary)
Continuous nasogastric or gastrostomy tube feeding should usually be discontinued a minimum of 4 hours prior to anaesthesia. This should be determined individually with the anaesthetist
Oral contrast prior to abdominal CT scanning should be given a minimum of 2 hours prior to anaesthesia, or by nasogastric tube after anaesthetic induction
In neonates (<6 months), formula feed may be given up to 4 hours prior to anaesthesia at the discretion of the anaesthetist
Postoperative resumption of oral intake in healthy infants and children:
Oral fluids can be offered to healthy infants and children when they are fully awake following anaesthesia, providing there are no medical, surgical or nursing contraindications
Clear fluids or breast milk may be offered before introducing other oral intake
Infants and children undergoing day surgery should not be required to drink as part of the discharge criteria [3]
References
Brady M, Kinn S, O'Rourke K, Randhawa N, Stuart P. Preoperative fasting for preventing perioperative complications in children (Review). Cochrane Database of Systemic Reviews
http://www.mrw.interscience.wiley.com/cochrane/clsysrev/articles/CD005285/pdf_fS.html2.
Perioperative fasting in adults and children – An RCN guideline for the multidisciplinary team. RCN publications, November 2005 http://www.rcn.org.uk/publications/pdf/guidelines/perioperative_fasting_adults_children_full.pdf
Warner MA et al. Practice Guidelines for preoperative fasting and the use of pharmacologic agents to reduce the risk of pulmonary aspiration: Application to healthy patients undergoing elective procedures: A report by the American Society of Anesthesiologists Task Force on Preoperative Fasting. Anesthesiology 1999; 90 (3):896-905
Thomas M et al. Consensus statement on clear fluids fasting for elective pediatric general anesthesia. Available at: onlinelibrary.wiley.com/doi/epdf/10.1111/pan.13370 (Accessed 3 May 2018)
Anderson H, Zaren B, Frykholm P. Low incidence of pulmonary aspiration in children allowed intake of clear fluids until called to the operating theatre. Pediatric Anesthesia 2015; 25: 770–7
TOP TIP
Make sure parents have unambiguous instructions to avoid on-the-day cancellations due to inadequate fasting.
Equipment
In any environment where children are anaesthetised, there should be a full range of equipment available in appropriate sizes for airway management, fluid management (including volumetric pumps), monitoring, temperature management and resuscitation of all age groups of children for whom care is provided.
Minor illnesses
It is always preferable to anaesthetise children in an optimum state of health. The risks associated with upper respiratory infections have been discussed in Section 4. Children with diarrhoea and/or vomiting should be postponed for 2 weeks, as should those with recent contact with infectious diseases. It may be preferable to avoid anaesthesia and surgery in recently immunised children, to avoid the discomfort of vaccine related side-effects occurring during the recovery period. Recommendations from the Association of Paediatric Anaesthetists of Great Britain and Ireland suggest a delay of 2 days after inactive vaccines but to continue as planned with minor surgery after live vaccines (such as MMR) if the child is well immediately preoperatively.
Premedication
Local anaesthetic cream is usually offered to all children to facilitate venous cannulation. Many hospitals allow nurses to apply local anaesthetic cream without a medical prescription, according to a local protocol or patient group direction. Most children who have been adequately prepared for the day case surgery experience, and have a parent present with them in the anaesthetic room, will not require sedative premedication. However some particularly anxious children may benefit from preoperative oral sedation. Options include:
Midazolam 0.5mg/kg given 20-40 minutes preoperatively – induces sleep, but may have a paradoxical dysphoric effect in some children with autism.
Temazepam 10-20 mg may be useful in anxious older children. Onset time is 45-60 minutes with a 3 hour duration of action. May delay discharge.
Ketamine 3-5 mg/kg works well in combination with midazolam, for extremely anxious children or those with challenging behaviour/special needs.
Clonidine 4 micrograms/kg with atropine 20 micrograms/kg may provide a useful alternative, though is slower acting and may cause hypotension.
Dexmedetomidine 2 micrograms/kg, administered intra-nasally by atomiser, is very well tolerated. Onset of moderate sedation after 30-40 minutes, lasting up to 90 minutes.
Anaesthetic technique
The lowest anaesthetic complication rates are associated with the simplest, least invasive techniques.
Induction – intravenous propofol or inhalational induction with sevoflurane are both commonly used. It may be possible to allow children a degree of choice. Each technique has advantages and disadvantages, but both allow rapid recovery. Distraction techniques (e.g. bubble blowing or a noisy book) aid in achieving a smooth induction.


Maintenance – volatile anaesthesia with sevoflurane or isoflurane is more common than total intravenous anaesthesia (TIVA), although the latter is associated with a lower incidence of emergence agitation and a smooth, rapid recovery. See Section 10 for more detail on TIVA in children.


Airway management – the laryngeal mask airway is the mainstay of paediatric airway management for day surgery, avoiding the need to instrument the airway or administer neuromuscular blocking drugs. Where intubation is required, this can be facilitated by a short-acting neuromuscular blocking drug, a combination of propofol and alfentanil (or remifentanil), or deep sevoflurane anaesthesia.


Fluids – intravenous hydration is unnecessary for most day case procedures, but may be advantageous in children at high risk of postoperative nausea and vomiting, those who have fasted for prolonged periods or those who may not take oral fluids immediately postoperatively (e.g. after tonsillectomy). A bolus of 10 ml/kg of balanced salt solution given peroperatively is usually adequate for these patients.


Monitoring – full standard monitoring is recommended for all patients undergoing surgery. ECG monitoring is recommended during administration of local anaesthetic drugs, to allow early detection of local anaesthetic toxicity.


Analgesia – pain relief after paediatric day case surgery relies on the use of paracetamol, non-steroidal anti-inflammatory drugs and local anaesthetic techniques. Avoidance of opioids helps to facilitate rapid recovery with a low incidence of postoperative nausea and vomiting, although short-acting drugs such as alfentanil or fentanyl may be helpful in facilitating intubation or laparoscopic surgery. Oral morphine solution 0.1-0.2 mg/kg provides suitable rescue analgesia postoperatively, where simple analgesia has already been given.


Postoperative nausea and vomiting – children at higher risk of PONV include those with a previous history of PONV or motion sickness, those given opioid drugs and certain types of surgery, e.g. squint surgery, adenotonsillectomy and correction of prominent ears. Currently recommended prophylactic treatment is Ondansetron 0.15mg/kg, with added Dexamethasone 0.15mg/kg for those at high risk.
The Uncooperative Child:
The key to managing uncooperative children is to identify them in advance and to intervene before a deadlock occurs in the anaesthetic room. In many cases, the problem may be parental anxiety, in which case clear and timely information about the required procedures may help. Active anxiety-reducing measures for the child include age-appropriate information, play therapy and premedication. Further measures in the anaesthetic room may include distraction, relaxation techniques, positive reinforcement, coercion, time-out, holding still and finally postponement if the procedure cannot be achieved without restraint. Issues of consent may need to be considered if a competent child refuses to cooperate. Helpful guidelines on restrictive physical intervention and therapeutic holding for children and young people are available from the Royal College of Nursing (RCN, London 2010).
TOP TIP
The lowest anaesthetic complication rates are associated with the simplest, least invasive
anaesthetic techniques.
TIVA is not a new technique and is long established in the adult population. In paediatrics, it has been slower to gain popularity in part due to unfamiliarity with paediatric pharmacokinetic models. It is important to understand that due to physiological differences at different ages and stages, including variation in volume of distribution, drug metabolism and clearance, paediatric TIVA TCI models differ and adult models such as Schneider and Marsh are generally not suitable for use in the paediatric population.
Paediatric TCI models such as Paedfusor are available and can be added to menus on TCI pumps [1,2]. Paediatric TIVA can be conducted in a number of ways and for a wide range of procedures. Familiarity with the technique has many advantages, especially in preparation for situations where volatile anaesthesia is contra-indicated such as in malignant hyperthermia. TIVA has many other advantages:
Reduced incidence of adverse airway events such as laryngospasm
Reduced emergence delirium
Reduced postoperative nausea and vomiting
Excellent for airway cases
Reduced cost in younger children
Less environmental pollution
The traditional method of running a propofol infusion alongside a remifentanil infusion gives good control and titratability, especially when used in conjunction with BIS monitoring. This is an excellent anaesthetic choice for longer cases.
In addition to this, there is an increasing body of paediatric anaesthetists using TIVA for shorter day case procedures. Whilst not advocated by the Society for Intravenous Anaesthesia, or recommended or licensed by drug companies, combining remifentanil with propofol in the same syringe can provide a quick, effective, smooth anaesthetic whilst providing all the beneficial qualities of TIVA.
The synergistic effect of the two drugs allows lower propofol requirements and can reduce opiate requirements, although usual analgesic regimes are recommended. Arguments against combining the two drugs include creation of a brand new, unlicensed drug and running a one size fits all infusion of two drugs that pharmacologically behave in very different ways.
However, this is a technique used by many anaesthetists, spanning thousands of cases, and the pragmatists would argue that it works, is safe and has many benefits [3]. Creating a mixture of 1% propofol with a concentration of between 2.5 and 5 micrograms per ml of remifentanil gives an extremely versatile anaesthetic agent for use in paediatric day case procedures, and is particularly well tolerated in younger
patients (2-10 years).
In practical terms, to create the mixture:

Generic TIVA requirements include: good quality, visible IV access, non-return valves, ideally proximal to the patient, and suitable infusion pumps with alarms to indicate infusion stopped/near completion. Use of BIS monitoring is considered essential if using muscle paralysis and desirable for longer cases where titration of anaesthesia is beneficial.
Example cases:
Gastroscopy & colonoscopy/ haem-oncology procedures/MRI;
spontaneous breathing with nasal prong oxygen: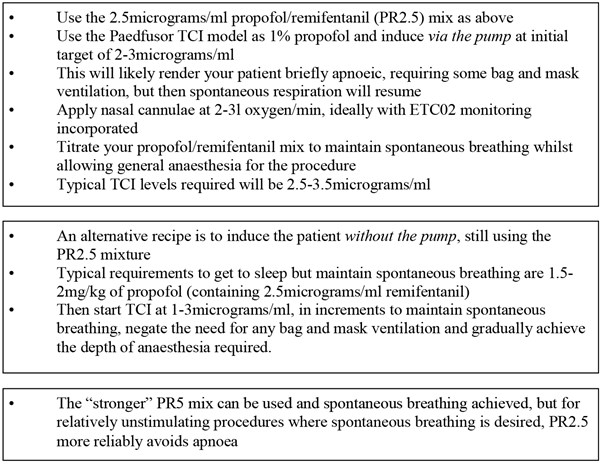 Tonsillectomy / other case requiring intubation: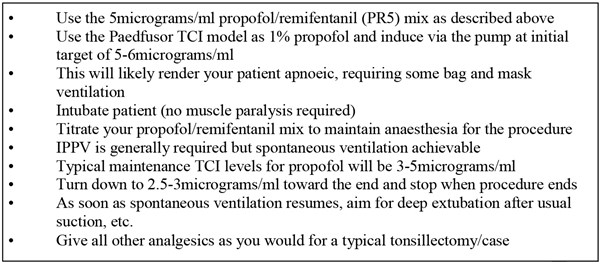 Day case procedure with LMA and spontaneous breathing:

Many hospitals will not have Paedfusor TCI models available.
In the event of this the following may prove useful:

References
Gaynor J and Ansermino J M. Paediatric Total Intravenous Anaesthesia. BJA Education 2016; 16 (11): 369–373
Lauder GR. Total intravenous anesthesia will supersede inhalational anesthesia in pediatric anesthetic practice. Paediatr Anaesth 2015; 25: 52–64
Bagshaw O. Propofol and remifentanil: to mix or not to mix. Paediatr Anaesth 2016; 26 (7):677-9
General principles
The main aim of paediatric day care anaesthesia is to provide a smooth general anaesthetic experience, with rapid return to normal function and excellent pain relief with minimal adverse effects. Most analgesia techniques rely on the triad of paracetamol, local anaesthesia and non-steroidal anti-inflammatory drugs. While short-acting opioids may be used to facilitate anaesthesia, morphine is reserved for exceptional circumstances and rescue, owing to its sedative and emetogenic sequelae.
Drugs
Paracetamol
The dose dependant analgesic properties of paracetamol are invaluable.
Oral: Quickly and reliably absorbed orally, it can be given in a pre-op loading dose of 30mg/kg, followed by 15-20mg/kg 4 hrly to a maximum of 75 mg/kg day. The most cost-effective option. Max 4g daily
Rectal: Unpredictably absorbed, peaking at 2 hours, and requiring 40mg/kg to achieve analgesic levels. Max 75mg/kg daily. Expensive.
Intravenous: A dose of 15mg/kg in infants and older children is widely accepted. A reduced dose in neonates is advised with current evidence. Expense equivalent to rectal. Caution required to avoid 10x overdose errors.
Non-Steroidal Anti-inflammatory Drugs (NSAID)
NSAIDs are of great value in day case surgery. (Not recommended under 3 months) Any hypothetical risk in asthma seems much reduced in children. There is no evidence from human studies that NSAIDs have a deleterious effect on bone fusion.
Ibuprofen
Widely available across the counter, this familiar and effective drug can be used orally at 7.5mg/kg repeated 6 hourly, or 10mg/kg repeated 8hrly. Max 30mg/kg/day.
Diclofenac
Also available orally, it is however the rectal form which is useful intra-operatively. With patient/parent consent, a suppository of 1mg/kg provides good analgesia for 8 hours. A suppository cannot be divided into smaller segments as the active ingredient is embedded as a tiny pellet in the carrier 'wax'. Max 3mg/kg/day.
Opiates
The use of opioids does not preclude the patient from being a day case. However long-acting opioids like morphine can delay discharge due to sedation and/or nausea and vomiting. Intra-muscular medication is always avoided in children if possible. Oral morphine 0.1-0.2 mg/kg orally (or an equivalent) can be prescribed where moderate pain is anticipated. MHRA guidance in 2013 advised against prescribing codeine under 12 years of age or if having tonsillectomy with obstructive sleep apnoea and under 18 years of age.
Local anaesthetic techniques
It is a prerequisite that the planned technique is discussed pre-op and the expected side-effects explained to the cognisant child, e.g. heavy limbs after a caudal.
Topical anaesthesia
Topical EMLA (Eutectic Mixture of Local Anaesthetic) cream is advisable for most children undergoing an intravenous induction. It can also be used to prepare the operative site should a simple surface procedure be planned under local infiltration alone. EMLA works best if applied at least one hour prior to use, preferably longer. It should be removed just before use to maximise effectiveness, and allow the cannulator/operator to see the demarcation area. After 5 hours it should be removed regardless. Although unlicensed in babies under 12 months, it is used routinely. An alternative formulation is available, called Denela. Ametop gel can be useful if a more rapid onset is required. It is effective in 30-45min but must be removed after one hour. Ametop can be used from 6 months upwards.
Wound infiltration
Long-acting local anaesthetic agents e.g. levobupivacaine, can be administered intradermally or subcutaneously at the operative site if a regional block is inappropriate. There is evidence that this can be more efficacious if injected preoperatively, surgeon willing.
Caudal block
This block is extensively used in day case paediatric practice. It provides reliable analgesia for sub-umbilical surgery. A dose of 1ml/kg of 0.25% levobupivacaine is acceptable practice for groin surgery; 0.5ml/kg is sufficient for penile and lower limb surgery. The side effects of limb weakness and delayed micturition should not prevent discharge in a routine case.
Ilioinguinal block
This is another useful and mainly reliable block for groin surgery. Increased success rates with reduced volumes of local anaesthetic have been shown with the use of ultrasound guidance. The common side effect of femoral involvement, preventing 'ball kicking' movement should not delay discharge.
Penile block
For penile surgery a caudal or a dorsal nerve block of the penis are more effective than a subcutaneous ring block.
Other local blocks
A variety of other nerve blocks may be appropriate if the situation demands it, e.g. wrist and ankle blocks, digital nerve blocks, rectus sheath blocks, TAP blocks, etc. It is unusual currently to discharge paediatric patients with local anaesthetic block catheter infusions in place, though this may change in the future as they gain popularity in adult practice. A robust monitoring arrangement would be required.
References:
'Good practice in postoperative and procedural pain management' APA, 2012 www.apagbi.org.uk (Evidence based information and recommendations)


Mannion S. Ultrasound guided regional anaesthesia in children – a practical guide. Cambridge University Press, 2015.
TOP TIP
Multi-modal analgesia is the most effective technique. The addition of simple analgesia to local anaesthetic techniques is recommended, both to compensate for non-surgical discomfort, such as sore throat from airway manipulation, and in case of block failure.
In ideal circumstances, children should recover from anaesthesia and surgery in a dedicated child-friendly environment separate from facilities provided for adults. There are several aspects of recovery for children which deserve a mention:
One-to-one supervision should be available by a nurse or operating department practitioner trained in the care of children
Children recovering with a laryngeal mask airway in situ have fewer airway complications on emergence if they are recovered in the lateral position
If possible, parents or carers should be invited to sit with the child once airway reflexes have returned and the child is beginning to wake up
Parents can be encouraged to help observe, comfort and support their child alongside the nurse
Young children may appear to be slow to regain consciousness if they have made a transition from anaesthesia into natural sleep. Allowing a child to take a nap in recovery facilitates a smooth return to clear-headedness
Similarly, encouraging a child to sleep for a while on return to the ward often helps to improve the disorientation and dizziness associated with early recovery
Children enjoy choosing a "bravery certificate" as a souvenir of their trip to theatre
Emergence delirium
This phenomenon may be defined as: "a disturbance in a child's awareness of and attention to his or her environment with disorientation and perceptual alterations including hypersensitivity to stimuli and hyperactive motor behaviour in the immediate post-anaesthesia period." It may occur in up to 40% of pre school children who have received sevoflurane anaesthesia, although all short-acting volatile anaesthetic agents have been implicated in its aetiology.
There is no treatment for emergence delirium, but fortunately it is usually transient, lasting up to 10-15 minutes. The child must be safely contained during an episode, and although it can be distressing for both staff and parents, it does not appear to affect the quality of subsequent recovery. Further research is ongoing regarding the aetiological factors associated with emergence delirium and strategies for its avoidance, but it appears that a small dose of propofol (1mg/kg) given IV after sevoflurane induction may offset the symptoms.
Pain assessment in recovery
The use of local anaesthetic blocks or infiltration along with preoperative or perioperative use of simple analgesics during day case surgery means that most children are pain-free in recovery. However pain management should be based on the use of a validated pain assessment tool appropriate for the child's age and development. The FACES scale can be used for children aged 3 and over and the FLACC scale is useful for children aged up to 7 who are unable to score their own pain. Children should have a score of no more than 0-3 prior to discharge from recovery.
FACES pain scale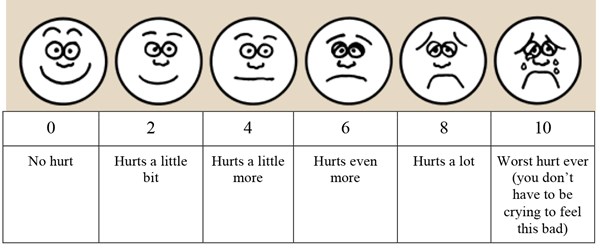 Instructions: Point to each face using the words to describe the pain intensity. Ask the child to choose the face that best describes their pain and record the appropriate number. (Wong DL and Baker CM. Pain in children: comparison of assessment scales. Paediatric Nursing 1988; 14(1): 9-17)
FLACC pain scale For children aged 2 months to 7 years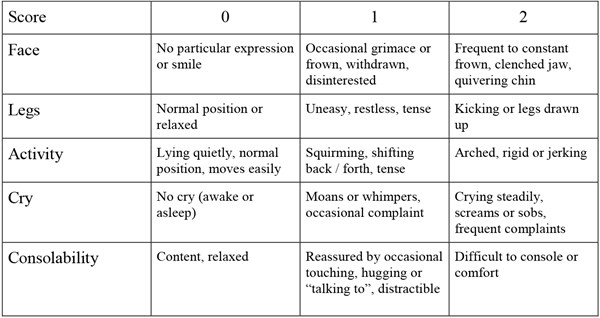 Instructions: Each of the five categories (F) Face, (L) Legs, (A) Activity, (C) Cry and (C) Consolability is scored 0,1 or 2 which results in a total score between 0 and 10. (Merkel S et al. The FLACC: A behavioural scale for scoring postoperative pain in young children. Pediatric Nurse 1997; 23(3): 293-297)
Pain score
0 - No pain
3 - Mild pain – responds to simple analgesics
6 - Moderate pain – requires mild opioids e.g. oral morphine
7 -10 Severe pain – requires opioid analgesia e.g. IV morphine
TOP TIP
Airway complications are reduced if children are recovered in the lateral position, with or without a laryngeal mask in situ.
The criteria used for safe discharge from the day care unit must be appropriate for the child's age and developmental stage.
Vital signs and conscious level must be normal compared with the child's preoperative state
There should be no respiratory distress or stridor, particularly in children who have been intubated
Swallowing, cough and gag reflexes should have been regained
The child's movements should be normal for their age (see note 2 below)
The child should ideally have no pain. Mild pain must be controllable by simple analgesics
The child should be free from nausea and/or vomiting
The child must be accompanied home by a responsible adult and adult supervision must be available at home
The child should be taken home in private transport, unless by special arrangement
Notes:
It is not essential for an otherwise well child to have a drink or pass urine prior to discharge, although both are encouraged
Lower limb weakness due to motor blockade from a caudal or ilioinguinal block need not delay discharge in a young child, providing the child can be transported in a pushchair or carried. Discharge in older children may have to be delayed until they can safely walk
Reasons for hospital admission include:
Unexpected anaesthetic or surgical events, e.g. regurgitation, aspiration, bronchospasm, hypersensitivity reactions, malignant hyperthermia, suxamethonium apnoea, change of surgical plan involving more extensive surgery
Slow or abnormal recovery of vital signs or conscious level
Airway complications
Severe pain
Bleeding
Persistent nausea or vomiting
Verbal and written instructions must be given to the child and parent or carer about pain control, wound care, mobilisation and resumption of normal activities. A telephone number should be included for further advice. Any arrangements made for follow-up must be clear.
TOP TIP
Children may safely be discharged before they have had a drink or passed urine.
Pain relief after day case surgery in children is usually provided by a combination of paracetamol and ibuprofen. Both drugs are available as sugar-free syrups for easy administration to younger children and are available to buy over the counter.
There are two major barriers to effective pain relief at home:
Medicines given in inadequate doses by weight
Medicines not given regularly
Some day care units provide take-home packs of simple analgesics for at least the first 72 hours after surgery; other units ask parents to provide pain medicines at home. In either situation, both verbal and written instruction are required to ensure the medicines are used appropriately.
Advice might include the following points:
Due to the use of local anaesthesia, the child may not have experienced any postoperative pain. The child may become sore when the local anaesthetic wears off
It is important to pre-empt the onset of discomfort by giving regular pain relief "by the clock" for the first two to three days after surgery, and then to continue offering pain relief when needed. A timer may be a useful reminder for the next dose
Paracetamol and ibuprofen can be given at the same time
Doses of medicine to be used for the week following surgery can be based on the child's weight as measured in the day care unit (see below). After this period, if simple analgesics are required for other reasons, the doses as recommended on the bottle from the chemist can be used
Prescribed or recommended doses of syrups must be easy to administer by parents e.g. multiples of 2.5mls
An oral medicine syringe may be helpful
There are two strengths of paracetamol syrup. Make sure you know which one you have
Older children may prefer tablets. Adult doses are appropriate over 12 years
A prescription is required for stronger analgesics e.g. morphine
Parents can be provided with local anaesthetic gel to help with pain after circumcision
Other simple measures may help in pain control e.g. rest, distraction, warmth
Nausea and vomiting may be managed by sipping fluids, having a break from solid food and then reintroducing bland foods, e.g. plain biscuits initially
Advice on who to contact if pain relief is inadequate and further assistance is required
Recovery after tonsillectomy or adenotonsillectomy may be particularly painful, with the highest pain scores often occurring on days 3-5 postoperatively. Regular simple analgesia is very important to allow resumption of activities and normal diet. Low dose oral morphine (0.1mg/kg) may be prescribed as rescue analgesia, with up to 10-12 doses supplied as take home medication.
TOP TIP
Encourage parents to give paracetamol and ibuprofen together four times a day, on waking, lunchtime, teatime and bedtime, to aid in remembering every dose.
Take-home medicines: recommended doses by weight
(in volumes easy to measure by parents using oral syringes)
Paracetamol (given 6 hourly)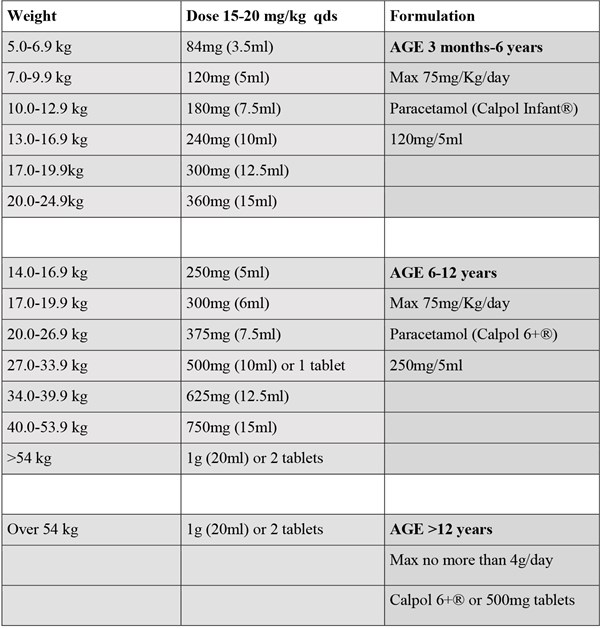 Dose adjustment of take-home analgesia is advisable for patients with obesity (BMI>97th centile) [1,2].
For paracetamol, dose according to ideal body weight (IBW)
For ibuprofen, apply a correction factor to the actual body weight (ABW) to calculate the appropriate dose, which allows for partial distribution into adipose tissue: 0.4(ABW-IBW)+IBW
Ideal body weight can be calculated from the standard child height-weight growth charts by using the proportional weight for the child's centile height.
Ibuprofen (given 6 hourly with paracetamol)
Alternatively, ibuprofen can be given 8 hourly in a dose of 10mg/kg, allowing staggering of paracetamol and ibuprofen dosing.
References
Ross EL, HeizerJ, Mixon MA, et al. Development of recommendations for dosing of commonly prescribed medications in critically obese children. Am K Health-Syst Pharm 2015; 72:542-56


Rowe S, Siegel D, Benjamin DK. Gaps in drug dosing for obese children:A systematic review of commonly prescribed acute care medications. Clin Ther 2015; 37 (9): 1924-32
Dental caries is the most common reason for children to be admitted to hospital for a general anaesthetic in the UK, with 43,700 admissions in England alone in 2015/16. Many of these admissions are for extractions only, hence there is a high demand for exodontia services [1]. These are often managed on an 'outpatient' basis, without admission to a ward. The availability, close to the operating theatre, of a preoperative waiting area, a private space for assessment and a second-stage recovery area for discharge are essential.
Preoperative preparation
Preoperative explanatory literature given to families outlining the process of surgery and general anaesthesia, including strict fasting instructions
Staggered appointments reduce the waiting time in hospital
Preoperative assessment may be a dental nurse led questionnaire prior to consultation with an anaesthetist
Preoperative medication may include

topical local anaesthetic cream
oral analgesia, e.g. paracetamol, ibuprofen
sedation

best planned in advance in conjunction with the dentist
may require admission to a day case unit pre- and postoperatively
placing these patients first on the list will assist with a timely discharge
Conduct of anaesthesia
The standards for outpatient dental anaesthesia follow AAGBI guidelines and are the same as for any other general anaesthetic [2].
Intravenous induction of anaesthesia can be advantageous

Less emergence delirium
Faster wake up time – assists list turnover
Less environmental pollution

Gas induction followed by venous cannulation may also be used
The preference for airway maintenance is a flexible laryngeal mask airway (LMA)
Hand-held nasal masks are rarely used now as they do not protect the airway and are inefficient for gas scavenging
For outpatient exodontia an oral or nasal endotracheal tube is rarely required.
Analgesia
May include:
Preoperative oral dispersible paracetamol in children over the age of 5
Peroperative intravenous paracetamol in children under the age of 5
Peroperative local anaesthetic infiltration by the dentist

produces good pain relief - paradoxically the numb feeling may distress the child

Very rarely, rectal medication can be administered whilst the child is unconscious (specific consent should be obtained for this practice)
Recovery and discharge
The procedure may last up to 15 minutes
Children are placed in the left lateral position for transfer to a recovery area.
Skilled, experienced recovery staff are essential (protective eyewear may be advisable as children may cough or spit blood on emergence)
The LMA remains in situ until the child is awake. This has the advantage of preventing blood and secretions from soiling the airway
Children may suffer emergence distress due to, for example, the taste of blood, numbness, sensation of missing teeth or disorientation
Once awake additional oral analgesia may be given as necessary, e.g. ibuprofen
An antiemetic such as ondansetron 0.1mg/kg (max 4mg) may be given for postoperative nausea and vomiting, but is rarely required
The patient can be discharged home from the recovery area once considered fit
The decision to discharge is dependent upon consciousness, effective analgesia, ability to drink, absence of nausea and vomiting and the ability to walk
Parents should be given verbal and written advice regarding postoperative analgesia, mouth care and diet before discharge
Appropriate transport home, which does not include the bus or train, is essential. Managed well, the whole experience need not take more than 90 minutes and can be entirely child friendly
References and further reading
1. Knapp R, Marshman Z, Rodd H. Treatment of dental caries under general anaesthetic in children. BDJ Team 2017; 4 (7): 17116.


Association of Anaesthetists of Great Britain and Ireland. Recommendations for standards of monitoring during anaesthesia and recovery 2015. Anaesthesia 2016; 71:85-93


Department of Health. A Conscious Decision: A review of the use of general anaesthesia and conscious sedation in primary dental care. 2000.
TOP TIP
Ethyl chloride local anaesthetic spray is an effective alternative to traditional local anaesthetic creams to facilitate cannulation for intravenous induction. Dripping rather than spraying, although difficult to master, results in good analgesia with minimal discomfort.
Fast-track dental lists have been developed where patients receive sedation only, rather than a general anaesthetic.
Aims
To reduce the waiting list for GA comprehensive care lists
To reduce radical treatments
To assist in the transition to adult care
Patient criteria
Aged > 12 yrs
ASA I or II (or more complex patients with strict pre-assessment)
Highlighted as anxious during assessment at the dental hospital / practice
Have previously failed to undergo procedures with nitrous oxide / Entonox sedation at the dental hospital / practice
Must be able to tolerate intravenous cannulation without sedation
Preoperative preparation
Similar pathway to the exodontia patients (see Section 15)
Staggered admission times
The patient must be adequately fasted as per local guidelines.
The patient is initially assessed by a nurse and then the anaesthetist who goes through the anaesthetic procedure
Topical local anaesthetic cream is applied on admission
Sedation technique
The patient must be able to tolerate awake cannulation without sedative premedication
The aim is to sedate not anaesthetise - for this procedure inhalational volatile agents are not used.
Sedation is given via a target controlled infusion of:

propofol (0.5 – 1 micrograms/ml) with
remifentanil (0.05 – 0.1micrograms/kg/min) and
background fluid maintenance

Monitoring includes oximetry, etCO2 (via nasal prongs) and ECG (optional)
Once the patient is sedated, the dentist uses topical anaesthesia followed by careful infiltration of local anaesthesia
The patient is conscious and communicates throughout.
Parents can be present if desired
The patient may listen to their personal choice of music if they wish
Recovery and discharge
Once the procedure has finished:
The patient is transferred to a recovery area where they are managed and discharged by a trained practitioner
Average times to discharge are approximately 20 minutes
Patients often retain pleasant memories of the process, which may assist in acceptance of any future dental procedures that may be required
There are estimated to be about 800,000 disabled children under 16 in the UK, which equates to about 1 child in 20. The term "special needs" covers a huge spectrum of individuals and diagnoses, including children with medical, developmental and psychological issues. Such children by the nature of their conditions make frequent appearances on theatre lists, either requiring multiple treatments because of their condition or, because of their condition, needing anaesthesia for procedures most children could tolerate awake. Many of these children can be accommodated on day case lists with little or no extra planning, but others
will require a much greater degree of coordination and preparation.
In 2014, a Care Quality Commission survey looked at the experiences of children and young people receiving inpatient or day case treatment and found the patient experience was poorer for children with special needs compared to those children without those needs. A frequent concern of parents is that hospital staff do not understand their child's condition or the specific medical, psychological and social challenges that need to be addressed during the hospital stay. There are a number of considerations which can help to redress this issue.
Preparation
Pre-assessment or contact before admission can highlight a child's needs, giving staff time to plan and prepare. The parents or carers are usually experts on the child's condition and can provide essential information about the child's likes and dislikes, obsessions and phobias, diet and how (or if) they will take medication and how they communicate, including how they express pain. Most of this information can be captured in a Hospital Passport, for which there are sample templates on the NHS website (www.nhs.uk) and Autism Society website (www.autism.org.uk). If families do not already use a Hospital Passport for their child, a day case admission may be a good opportunity to encourage them to complete one. The information gathered may aid in planning additional needs, such as availability of a side room or hoist, or allowing some flexibility in the usual day care routines.
Advance communication also allows the hospital staff to inform the parents or carers of any facilities which may be useful, such as the location of the hospital disabled parking spaces and availability of any information provided in augmentative or alternative communication methods. An example of a symbol timeline showing the day case process step by step, in a way which may be familiar to pupils using symbol communication at school, can be found at https://www.rcoa.ac.uk/patient-information/patient-information-resources/easy-read-accessible-resources. A video on day surgery, using Makaton sign language, can be viewed via https://youtu.be/c4gVGmllu7c
Environment
An appropriate environment is important for children with special needs. The physical space needs to be suitable - for example, lack of automatic doors can be difficult for wheelchair users. A day case waiting area can be chaotic and noisy, so side rooms and quiet space are often essential for the successful management of children with sensory difficulties or challenging behaviour. A trained play specialist can be invaluable in providing suitable activities to keep children occupied while they wait. Appropriate games and toys, such as a soft play area or multi-sensory equipment like bubble tubes or fibreoptic lights can be very useful. More recently iPads with apps appropriate for children with special needs can be easily and usefully employed (www.autismpluggedin.com has some good suggestions).
Making a plan for theatre
This will depend on the child's level of understanding and previous experiences. Children with special needs can find any change to their routine difficult. With appropriate preparation, some can do very well by using clear simple language, and visual supports, such as the symbol timeline or photographs representing each stage of the patient journey.
If possible, the child's surgery should be scheduled first on the operating list to avoid prolonged starvation and the stress of waiting in an unfamiliar environment. Some children may need premedication to alleviate their anxiety, or to make them sufficiently sedated to be able to tolerate the procedure if their disability makes them unable to cooperate. Premedication can include benzodiazepines, clonidine or dexmedetomidine and ketamine. Sometimes a combination of the above is necessary. It is useful to consider how the child will take the medication. For instance, some oral preparations may be unacceptable to a child because of taste or unfamiliarity. Volume can be reduced by prescribing drugs in a higher concentration, but it is also important to consider other routes of administration, for example buccal (midazolam), nasal (dexmedetomidine), or in extreme circumstances intramuscular (ketamine). For some children, an element of restraint may be utilised to facilitate aspects of daily living and to maintain safety. In these circumstances, and with parental support and involvement, similar holding may be appropriate to aid in anaesthetic induction, with or without sedative premedication. The advantages and disadvantages of each approach should be discussed with the parent or carer and a joint decision reached on how to proceed.
Coordination of procedures
Within limits, it is very useful to combine procedures to minimise disruption to the child and their family, who may spend a great amount of time in hospital or find hospital visits very distressing. Parents have reported that care would be enhanced by coordination of appointments and services. So, the child that is having an MRI scan can also have a hearing test done, or the child having dental treatment can also have Botox injections.
Support
Most parents wish to be involved in the care of their child. However, some parents of children with special needs have reported there is an assumption that they will care for the child's full needs. While they often wish to be involved in day to day care, it is useful to discuss this with parents and agree respective roles. It is just as important to support parents in providing aftercare at home. Some parents of children with Autism, ADHD and learning difficulties experience problems with administering analgesia. Therefore, specific information regarding pain relief for these children needs to be considered. Information to parents about the possible reactions to admission and anaesthetics, i.e. sleep disturbance, crying and disturbance in their routine should be discussed prior to discharge.
Further reading
Short JA and Calder A. Anaesthesia for children with special needs including autistic spectrum disorder. Continuing Education in Anaesthesia Critical Care & Pain 2013; 13 (4): 107–112


Taghizadeh N et al. Autism spectrum disorder (ASD) and its perioperative management. Paediatr Anaesth 2015; 25 (11): 1076-84
TOP TIP
Have a plan but be flexible. Use the resources available on specialist websites.
Children undergoing day case surgery deserve to be offered a high quality service delivered to the same standards as inpatient care [1,2]. The 2003 National Service Framework for Children; Standard for Hospital Services offers these recommendations [3]:
Child centred services
Children and young people should receive care that is integrated and coordinated around their particular needs and the needs of their family.
Quality and safety of care provided
Children and young people should receive appropriate high quality, evidence-based hospital care, developed through clinical governance and delivered by staff who have the right set of skills.
Quality of setting and environment
Care will be provided in an appropriate location and in an environment that is safe and well suited to the age and stage of development of the child or young person.
Let us examine these standards more closely with regards to children's day case surgery.
Child centred services
Children comprise approximately 19% of the population [4]; many will require some form of surgery during childhood
Many surgical procedures performed on children will be elective, relatively straightforward and performed locally, usually on fit infants and children [1]
To provide children with the best possible patient experience, care should be provided locally, where safe, and centrally, where necessary [5]
Increasing numbers of children are being transferred to specialist centres for treatment, leading to the potential for pressures on existing systems, deskilling of DGH staff and inconvenience for families travelling long distances to access appropriate care [6]
More complex referrals should be treated at specialist centres and minor / intermediate surgery should be undertaken locally, using outreach services as appropriate [8] Unnecessary referrals to specialised centres could potentially overload these centres and cause the loss of skills at a local level [9]
The majority of surgical care should be delivered as part of a network. These networks must be appropriately resourced and work closely with clinicians and commissioning bodies to ensure a high standard of care. Children and their families should be involved in the design of such networks [5,7]
Information on all aspects of the condition, surgery and aftercare should be given to parents and children according to their age and understanding [1,2,7]
Procedures for obtaining consent should recognise the rights of children and their ability to understand and evaluate information [5]
Preparation, procedures, environment and routines should minimise anxiety for the child and parents, and parents and the child should be involved, before discharge, in discussions about aftercare [5]
Quality and safety of care provided
All staff involved in the care of children must undertake a workload that is adequate to allow
them to maintain their skills in this area [5]
Surgeons
Consultants working in tertiary referral centres will inevitably require more extensive specialist training than those undertaking paediatric practice in DGHs. Consultants with a designated paediatric sub-specialty interest should have undertaken a specified period of training in a post recognised by the Specialist Advisory Committee of the Joint Committee on Higher Surgical Training
It is suggested that the volume of work undertaken by a surgeon to maintain skills in working with younger children should be the equivalent of 100 cases a year. An active surgeon who deals with the same type of work in adults would not necessarily need to treat large numbers of children for successful outcomes
A consultant surgeon must remain responsible for the care of children undergoing day case surgery [5]
Anaesthetists
The service should be led at all times by consultants who regularly anaesthetise children.
All consultant anaesthetists with a Certificate of Completion of Training (CCT) should have had basic paediatric anaesthetic training allowing them to be competent to provide anaesthesia for straightforward elective and emergency surgery in otherwise fit and healthy children aged 3 and over [1]
Those consultants with a substantial commitment to paediatric anaesthesia should have undertaken a period of 12 months of sub-specialty training. For those with a subspecialty interest in paediatric anaesthesia, a period of 6 months of sub-specialty training and current training in Advanced Paediatric Life Support skills is sufficient
All anaesthetists must maintain their competencies, either through direct clinical care or through continuing professional development [1]
All anaesthetists must work within the limits of their professional competence and must be assisted by Operating Department Practitioners with specific paediatric skills and training
Nurses
There should be a minimum of two Registered Children's Nurses on duty while children are being cared for [10]
In the recovery unit, one-to-one nursing care should be available by nurses trained in caring for children, resuscitation skills and recognising and assessing a child in pain [10]
Operating department practitioners
There is no specific recognition or registration of sub-specialty training in paediatric practice by the Association of Operating Department Practitioners, but registered ODPs may be encouraged to develop an individualised scope of practice centred on the paediatric patient group [11]
It has been recommended that professional organisations create specific competencies and standards for those who care for children perioperatively [5]
Play specialists
The advice of hospital play specialists should be sought on preparation, distraction techniques and therapeutic play for children attending for day case surgery. Play specialists should be available and there should be appropriate facilities for play [1,10]
Other staff groups
Surgical services for children must be supported by other facilities, including paediatrics, critical care, radiology, pathology and other diagnostic services. Specialist paediatric support services may only be available in tertiary referral centres [5]
Quality of setting and environment
A safe, appropriate child and family-friendly environment should be provided for all children undergoing day case surgery [5]
Separate facilities should be available for children and adolescents, away from adult treatment areas [1,2]
Elective surgical admissions should be scheduled on dedicated children's theatre lists if possible. If mixed adult and paediatric lists are necessary, children should be scheduled for the beginning of the list to facilitate day care and minimise preoperative starvation [5,7]
Separate recovery facilities should be available for children, where parents may join their child as they emerge from anaesthesia [2]
Other support facilities must be available – anaesthetic care, trained children's nurses, paediatric pain management systems, medical aftercare, radiology and pathology [5,7]
These conditions are most likely to be met in association with inpatient general paediatric facilities from whom advice and support will be available. If there are no inpatient paediatric facilities, a neighbouring children's service should take formal responsibility for the children being managed in the unit, and agreed and robust arrangements should be in place for paediatric assistance and transfer if required [2,5]
Royal College of Anaesthetists. Guidelines for the Provision of Anaesthetic Services: Chapter 10; Guidance on the provision of Paediatric Anaesthetic Services. London: s.n.2017.


Guidelines for the Provision of Anaesthetic Services: Chapter 6; Guidance on the Provision of Anaesthesia Services for Day Surgery. London: s.n. 2016.


Department of Health. Getting the right start: National Service Framework for Children; Standard for Hospital Services. London: s.n. 2003.


Office for National Statistics. Overview of the UK population: March 2017. London : s.n. 2017.


The Royal College of Surgeons of England. Children's Surgical Forum: Standards for Children's Surgery. London: s.n. 2013.


Cochrane H, Tanner S. Trends in Children's Surgery 1994-2005: Evidence from Hospital Episodes Statistics Data. London: Department of Health 2007.


National Confidential Enquiry into Patient Outcome and Death. Surgery in Children: Are we there yet? London: s.n. 2011.


NHS England. NHS Standard Contract for Paediatric Surgery: Surgery (and surgical pathology, anaesthesia and pain). London: s.n. 2013.


British Association of Paediatric Surgeons. Commissioning guide 2013: Provision of children's surgery. London: s.n. 2014.


Royal College of Nursing. Day Surgery Information; Children and Young People in Day Surgery. London: s.n. 2015.


College of Operating Department Practitioners. The Scope of Practice. London: s.n. 2009.


Royal College of Anaesthetists. CCT in Anaesthetics. London : s.n., 2010