Fourth Edition
Dr Benjamin Fox,
Consultant Anaesthetist, The Queen Elizabeth Hospital Kings Lynn NHS Foundation Trust
Dr Kim Russon,
Consultant Anaesthetist, The Rotherham NHS Foundation Trust
Dr Mary Stocker,
Consultant Anaesthetist, Director of Day Surgery, Torbay and South Devon NHS Foundation Trust
Edited by:
Miss Jo Marsden,
Publications Secretary and Editor, The British Association of Day Surgery
Copyright © The British Association of Day Surgery 2019. All rights reserved. No part of this publication may be reproduced, stored or transmitted by any means without the prior permission in writing of The British Association of Day Surgery.
ISBN number 978-1-908427-34-2
Previous editions of this handbook were written by day surgery pioneers Dr Beverley Watson and Dr Jon Allen who worked at Queen Elizabeth Hospital Kings Lynn NHS Foundation Trust. Since the first edition was published in 2004, acceptance of day case spinal anaesthesia by patients and hospital staff has grown steadily. Whilst equipment and techniques have not substantially changed, short-acting local anaesthetic agents have now been introduced into practice, broadening the scope of procedures for which a spinal anaesthetic may be considered in the day surgery setting.
The aim of this 4th edition is to share the experience acquired during the successful introduction and subsequent evolution of day case spinal anaesthesia in two United Kingdom district general hospitals: The Queen Elizabeth Hospital, Kings Lynn (QEH) and Rotherham NHS Foundation Trusts (RFT). Relevant literature is summarized and issues pertinent to all staff involved in the management of safe day case spinal anaesthetic included.
The use of spinal anaesthesia in day surgery is growing in acceptance and popularity. It is safe, practical, cost-effective and popular with patients
Consideration of spinal anaesthesia should be raised with patients throughout their pathway and start with the surgeon, when a date for surgery is agreed
Good quality verbal and written patient information at preoperative assessment is essential
Voiding before discharge is unnecessary in low risk patients but active bladder management is required for those at high-risk of postoperative retention
Delays in time to discharge due to block regression are modest to minimal, especially when short acting agents such as 1% chloproprocaine or 2% hyperbaric prilocaine are used
A pathway for referring patients with suspected postdural puncture headache to the anaesthetic department should be in place in which followup continues until symptoms have been treated or resolved spontaneously
The transformation of day surgery practice over recent years has been considerable with significant improvements in United Kingdom day surgery rates. For the period 1998-99 to 2013-14, 1.3 million more patients were managed in a day surgery setting, generating £2 billion in NHS savings [1]. Political demand and clinical enthusiasm to increase day surgery rates further, however, lies against a backdrop of a surge in population obesity and ageing. Patients are presenting for surgical procedures with more complex comorbidity. Expanding the utilization of spinal anaesthesia in day surgery can provide a safe pathway for management of such patients and additionally contribute to more efficient use of limited healthcare resource.
Cocainisation of the spinal cord was first described by August Bier in 1899 [2]. The technique has been refined since, evolving into the modern concept of intrathecal, spinal or subarachnoid block. Spinal anaesthesia is widely accepted by patients, surgeons and other hospital staff for many inpatient procedures and has become the preferred anaesthetic technique for some operations performed in the day surgery setting, for example lower limb arthroplasty. However, there are many other procedures which are well suited to day case spinal anaesthesia (e.g. cystoscopy, hysteroscopy, ankle and hindfoot surgery). The integration of spinal anaesthesia into day surgical practice in the United Kingdom has many benefits (Table 1). Nonetheless, uptake has been slow due to health care professional misperception it may impede postoperative recovery by adversely impacting on mobilization, urine retention, promote postdural puncture headache and an assumption, patients will be reluctant to be awake during their procedure.
Although spinal anaesthetic equipment and technique have not changed substantially, recent licensing of agents with rapid onset and short duration of action for spinal use in the United Kingdom such as hyperbaric 2% prilocaine and 1% chloroprocaine hydrochloride render day case spinal anaesthesia more achievable
Table 1. Benefits of day surgery spinal anaesthesia
As for the introduction of any change or innovation into clinical practice, success is more likely if there is a proactive, positive, 'champion' from each involved speciality to encourage service development. In addition, staff at all levels need to be educated and up-dated regularly about this anaesthetic technique. Speciality specific factors are summarized below.
i. Surgeons
These have an important role in encouraging patients' acceptance of a spinal anaesthetic by making them aware this is a viable option at the time a decision is made for surgery. They need to be confident in performing procedures with patients awake or under sedation. If low dose selective anaesthesia techniques are used, they may also need to modify their techniques slightly, for example introducing arthroscopic instruments into knees where motor tone is preserved. Use of spinal anaesthesia allows for surgeons to speak to their awake patients during the operation, enhancing the latter's understanding of their condition, operation findings and treatment. In turn, this can obviate a need for postoperative review on the ward and permit earlier discharge, so improving day surgery efficiency. Surgeons unfamiliar with operating on awake patients may require some training in order to avoid inadvertent, 'sabotage language'. For example, the question "can you feel anything?" is much better put as "are you comfortable?". Helpful guidance for this has been published [6].
A view commonly held by surgeons is that use of spinal anaesthesia will slow down operating lists. However, in non- arthritic patients, it is unusual for a spinal anaesthetic to take longer to administer than a general anaesthetic. For example, at both QEH and RFT, spinals have been recorded as taking just under seven minutes from preparation to surgical start time [7,8]. As there is no need to wait for a patient to wake up and requirement for recovery space is reduced, time can also be saved at the end of the procedure. Reassurance can also be provided about delayed mobilization and urinary retention, which are less problematic with newer, short-acting intrathecal local anaesthetics.
ii. Anaesthetists
All anaesthetists should be familiar with the technique of subarachnoid block from their basic anaesthetic training and inpatient work, so details of assessing suitability and discussing risks will not be discussed further. However, some may need to be introduced to low dose techniques (e.g. selective subarachnoid block), which may take time and experience to become familiar and confident with. The newer short-acting intrathecal agents are usually straighter forward to use.
The following misapprehensions regarding perioperative morbidity associated with day case spinal anaesthesia may need to be challenged:
A significantly prolonged time to discharge when compared to a general anaesthetic
A high incidence of urinary retention
Frequent postdural puncture headache
Occasional transient neurological syndrome
The possibility of respiratory depression
Correct choice of local anaesthetic and dose is the key to successful day case spinal anaesthesia. Suggested doses are illustrated in appendices A and B.
iii. Preoperative assessment
This provides an ideal opportunity to discuss spinal anaesthesia with patients in a positive but unpressured way, providing an overview about the option of being awake during surgery. To do so, nursing staff will need to understand what a spinal anaesthetic involves and ideally should have seen this technique performed and observed postoperative management.
If nursing staff do not know whether a particular patient is to be offered a spinal or general anaesthetic, it is practical to for them to provide preparatory information about both, emphasizing detailed discussion and the final decision about choice of anaesthetic will be made by their anaesthetist on the day of surgery.
iv. Day surgery ward
Nursing staff on the day surgery ward also need to be educated about spinal anaesthesia before its introduction. Some will have little or no experience of managing patients who have received a neuraxial block and may be uncomfortable responding to patients' questions. They may also share some or all of the previously listed misconceptions held by anaesthetists unfamiliar with this technique about recovery.
It is recommended to introduce a training programme, including the following:
Relevant anatomy and physiology
Technique for performing subarachnoid block,with observation of the technique being performed
Nursing care
Safe mobilization after a spinal anaesthetic
Bladder management (see section 12)
Discharge criteria
Potential complications
Annual update and feedback sessions are recommended to keep staff informed and identify any problems. Data should be collected on any patients requiring inpatient admission due to problems following a spinal anaesthetic and appropriate staff information provided (Appendix C).
v. Theatre staff
If a planned procedure on a day surgery list is to be performed using a spinal anaesthetic, this should be discussed at the team brief. Theatre staff who are used to patients having no motor power after a subarachnoid block need to be made aware of the selective nature of certain blocks to avoid conflicting patient information. For example, a saddle block for a perianal procedure may leave full power in the legs so patients can be asked to lift their own legs into stirrups. Staff also should be educated to avoid use of the aforementioned 'sabotage language'.

vi. Patient Information
Patients' and relatives' attitudes are very important in determining success of day case spinal anaesthesia. Their understanding and acceptance will be helped by the provision of appropriate preoperative information and counselling to reducing anxiety and increase co-operation. This is important at each step of the surgical pathway from outpatients, preoperative assessment and the day of admission. Information consistency is vital irrespective of method of communication (e.g. verbal, written, video, Trust website).
Patients should be offered an information leaflet about spinal anaesthesia at their outpatient appointment at the time a decision for surgery is made or preoperative assessment. This should include a brief description of the technique, its benefits and risks and the type of surgical procedures for which it might be suitable. The Royal College of Anaesthetists has produced a comprehensive information leaflet on spinal anaesthesia [3]. Patients should be discharged with written advice and local helpline telephone contact numbers.
The option of spinal anaesthesia may allow a day surgery unit to revise admission criteria with regard to both the patient and the operation.
Low-dose spinal anaesthesia is associated with remarkable cardiovascular stability [7]. Even patients with relatively fixed cardiac outputs remain stable. Those with high body mass index, severe respiratory or cardiac disease, obstructive sleep apnoea and difficult airways may thus be considered eligible for day surgery.
Worldwide, day case spinal anaesthesia has been used for most operations below the waist. In the United Kingdom, this can be used for the procedures listed in Table 2. Some centres, however, are extending the surgeries to include gynaecological laparoscopies and lower limb arthroplasties.
Table 2. Surgical procedures suitable for day case spinal anaesthesia (these are examples and not an exhaustive list)
i. List order
As with any surgical list careful planning when booking cases will ensure the benefits of day case spinal anaesthesia without impacting upon on list productivity or successful discharge. For example, patients at high risk of urinary retention, or those requiring hip or knee replacement should have their procedures scheduled at the beginning or early on a list to provide sufficient time to void postoperatively or mobilize.
ii. Surgical duration
This is a key issue. Open and honest discussion about surgical time helps in tailoring the local anaesthetic dose to ensure optimum operating time with minimal delay to regression of spinal anaesthesia and discharge. Surgical and theatre staff should be ready as soon as the spinal dose is delivered. Audit at QEH found the median time from day case spinal anaesthetic administration to discharge was 210 minutes when hyperbaric 2% prilocaine was used [7].
i. Needles
'Pencil-point' spinal needles are associated with a lower incidence of postdural puncture headache than those with a traditional 'cutting-tip'. Although fine needle gauges are linked with reduced postdural puncture headache, the relationship between needle gauge and its incidence is not linear [9]. Very fine gauge needles can be more difficult to place and have higher failure rates. The rate of postdural puncture headache with use of a 24G pencil-point needle is reported to be 1 in 100 to 1 in 500 [10].
ii. Storage
A dedicated subarachnoid block trolley is useful for storage of equipment and drugs to improve time efficiency from everything "all being in one place".

iii. Listening to broadcasts (music, podcasts, radio) during surgery
Some patients appreciate listening to broadcasts with headphones or earphones during their operation, which may avoid the need for sedation. If your hospital does not have such equipment, patients can be advised at preoperative assessment to bring their own personal equipment with them.
The primary objective for day case spinal anaesthesia is to balance optimal block duration for delivery of surgical anaesthesia against a delay in discharge. The use of low dose techniques or newer, short-acting agents has contributed towards achieving this aim. Adjuncts, which increase the efficacy of local anaesthesia, are described in the next section.

Local anaesthetic preparations currently employed for spinal anaesthesia in the United Kingdom include:
Hyperbaric bupivacaine 0.5%
'Plain' bupivacaine 0.25% and 0.5%
Levobupivacaine 0.25% and 0.5%
Hyperbaric prilocaine 2%
Chloroprocaine hydrochloride 1%
Lidocaine
i. Hyperbaric bupivacaine 0.5%
This inexpensive, long-acting amide anaesthetic is well established as an agent for spinal inpatient and obstetric surgery but the standard doses recommended for such procedures are usually too long in duration for efficient patient management in the day case setting. Techniques, which employ lower doses (e.g. 15mg) have been developed for the day surgery setting (Appendix A). Whilst a dose less than 10mg is an off-license indication, it can be used to achieve selective spinal anaesthesia without block failure using practical methods described in section 10 of this handbook. With all low dose and selective spinal anaesthesia, light touch sensation is preserved and accordingly patients should be reassured this is not indicative of block failure [11].
ii. Plain bupivacaine 0.25% and 0.5%
Bupivacaine 0.5% has been used for inpatient and selective day case spinal anaesthesia for many years and although low dose regimes are still in use in day surgery centres across the UK, it has been replaced by levobupivacaine in many trusts (see below). There has, however, been a resurgence of interest in the use of plain bupivacaine with the development of day case arthroplasty as this requires an intrathecal regime of sufficient duration for joint replacement that wears off early enough to allow time for intensive physiotherapy and mobilization prior to discharge. Experience from the Enhanced Recovery Joint Replacement Team at The Northumbria Healthcare NHS Trust has shown low dose (i.e. 3.5mls to 4 mls, 0.25% solution) plain bupivacaine is more reliable than levobupivacaine in achieving the outcomes of adequate anaesthesia provision with early discharge [12,13].

iii. Levobupivacaine 0.25% and 0.5%
Low dose levobupivacaine regimes were pioneered by Dr Watson and her team at QEH, which provided a significantly reduced duration of action and earlier mobilization compared with the more traditional doses. However, this practice has been superseded by the introduction of newer, shorter-acting drugs such as hyperbaric prilocaine and chloroprocaine hydrochloride, which confer a number of advantages over plain bupivacaine and levobupivacaine.
iv. Hyperbaric prilocaine 2%
This is an intermediate-acting amide local anaesthetic licensed for short duration surgical procedures in doses between 40 to 60mg (2mls to 3mls, 2% solution). Hyperbaric prilocaine provides a better-quality block than its hypobaric counterpart [14]. The 90% effective dose for knee arthroscopy is 38.5 mg when the anaesthetic injection is performed with the patient in a sitting position, who is then immediately turned supine [15]. When used without fentanyl, 50mg appears to be the optimal dose [16]. Compared with plain bupivacaine, prilocaine offers a more favourable offset and quicker voiding [17].

Hyperbaric prilocaine 2% is currently the most commonly used local anaesthetic agent in day case spinal anaesthesia at QEH and RFT due to its quick onset and shorter duration of action. Service review at QEH has shown a median time from spinal anaesthetic to discharge of 210 minutes (with a mean dose of 34mg) for patients undergoing knee arthroscopy [18]. At RFT, for patients undergoing a variety of general surgery, orthopaedic, gynaecology and urology procedures using the most commonly prescribed dose of hyperbaric prilocaine (30mg) with fentanyl (10µg) has demonstrated a mean time to ambulation of 150 (range 53 to 300) minutes and a mean time to discharge of 227 (range 98 to 372) minutes [8].

v. Chloroprocaine hydrochloride 1%
This is an ester local anaesthetic agent licensed for surgical procedures lasting up to 40 minutes in doses of 40 to 50mg (4ml to 5ml, 1% solution). It has a considerably better time to offset, micturition and discharge than plain or hyperbaric bupivacaine [19,20].

A dose of 40mg allows rapid and reliable spinal anaesthesia [21]. Initial service audit of fifty-seven knee arthroscopies at QEH using this dose showed a median time from spinal anaesthetic to clinical block of 2.5 (range 2 to 14) minutes and a median time to postoperative mobilization of 118 (range 97 to 148) minutes. As the duration of action of chloroprocaine hydrochloride 1% is relatively short, lists are organized so staff are scrubbed to prepare the surgical site as soon as the block has been administered and the patient arrives in the operating theatre.

There have however, been two cases at QEH, where conversion to general anaesthetic has been necessary. In the first, the duration of surgery had exceeded the recommended forty minutes. In the second, conversion was required after twenty minutes as the patient has been turned laterally to the non-operative side due to an incorrect assumption chloroprocaine is hypobaric. It is in fact slightly hyperbaric which may help to explain the failure [22]. Fentanyl is now added as discussed in section 8, although 1% chloroprocaine has been used at Derby without fentanyl successfully since 2013 for over 3000 cases with no conversion to general anaesthesic [23].
vi. Lidocaine
Lidocaine has been used for subarachnoid block but is associated with dose-dependent postoperative transient neurologic symptoms (i.e. buttock and leg pain). This has effectively precluded its use in the United Kingdom since 2005 [24]. Bupivacaine, and prilocaine are associated with a very low incidence of such symptoms [25].
i. Glucose
This is one of the most important intrathecal local anaesthetic adjuncts, due to its increased viscosity and being less miscible with cerebrospinal fluid. Its addition creates a hyperbaric local anaesthetic solution, the quality of block provided changing with patient position. Hyperbaric bupivacaine 0.5% and hyperbaric prilocaine 2% are both available in the United Kingdom as preparations with the addition of glucose.

Solutions without glucose mix more quickly with cerebrospinal fluid and tend to concentrate at the injection site resulting in a more concentrated block over fewer dermatomes. If spread occurs, it is likely due to currents within the cerebrospinal fluid rather than local anaesthetic 'floating' due to differences in density between the two. Hypobaric solutions, however, can spread unpredictably even when positioning is used [25].

ii. Fentanyl
Intrathecal fentanyl is probably the most frequently used additive in United Kingdom day case spinal anaesthesia as it can increase block height, sensory time and tourniquet tolerance without influencing motor and bladder function [26]. Fentanyl may enhance low dose local anaesthesia spinal regimes. In a study of patients undergoing ambulatory surgical arthroscopy with dilute, small-dose hyperbaric bupivacaine, in those randomly allocated to receive fentanyl (10µg) motor blockade was unchanged but sensory blockade was enhanced, without prolonging recovery time and there were no block failures. In contrast, a 24% block failure rate occurred in those allocated to receive hyperbaric bupivacaine alone [27].
The American Society of Anesthesiologists practice guideline on neuraxial opioid administration and respiratory depression concluded single-dose intrathecal fentanyl can be used safely, without altering the risk of respiratory depression or hypoxia when compared to parenteral administration. Use of the lowest effective dose is recommended [28]. Clinically significant respiratory depression secondary to use of intrathecal fentanyl has not been encountered to date in clinical practice at QEH or RFT, where a 10µg dose is used (Appendix A). A doseresponse relationship between intrathecal fentanyl and respiratory depression in the elderly has been reported with a dose of 50µg but not with administration of 12.5µg or 25µg [29].
Intrathecal fentanyl is associated with a 9% incidence of pruritus, which is usually self-limiting, restricted to the immediate perioperative period and does not require treatment although it can be attenuated with ondansetron [7,30]. Despite its widespread use and an established safety and efficacy profile, use of intrathecal fentanyl remains an off-label indication in the United Kingdom. Some units have now moved away from adding opiates to day case surgery spinal anaesthetics using hyperbaric prilocaine 2% with minimal need for supplemental analgesia, sedation or conversion to a general anaesthetic (Appendix B) [31].
iii. Diamorphine
Intrathecal diamorphine is widely accepted as an adjunct for inpatient subarachnoid block as it can increase block quality and duration. Although it provides postoperative analgesia, it increases the risk of urinary retention and pruritus. For these reasons it is only used in selected cases in the day surgery setting. Audit at RFT has shown adjuvant diamorphine to be helpful and safe in day case anterior cruciate ligament reconstruction and unicompartment knee replacement surgery [8,32].
i. Patient Positioning
Although considered to be the one of the most important factors influencing spinal blockade, clinical evidence suggests the contrary when other than lowdose local anaesthesia is used. [33,34] For example, steep head-down-tilt only raises the block of a hyperbaric agent by a few dermatomes. An old but still useful resource is the 'Glass Spine' video produced by the Obstetric Anaesthetists Association [35]. Positioning is more relevant with low doses of local anaesthesia where as much of the drug as possible needs to reach the nerve roots of interest. Blocks will fail if the local anaesthetic does not get to the nerves (e.g. trapped behind the lumbar cistern) or spreads too far thereby diluting itself, for example, flow to T5 and T6 in a supine patient.
ii. Local Anaesthetic dose
This is associated with duration of block but of less relevance in the era of short-acting agents. Low volume injections (i.e. < 2mls) may reduce block spread and duration, although most literature suggests that changing the volume or concentration of a solution (whilst keeping the dose constant) has little effect on spread [25].
iii.Speed of injection
Overall, studies compare what would now be considered a slow speed of injection (i.e. 10 seconds) to even slower speeds (i.e. several minutes) rendering it difficult to draw evidence-based conclusions for current practice. Clinical experience from QEH and RFT with hyperbaric 2% prilocaine suggests a rapid injection gives better success probably due to it staying closer to the site of injection, thereby reducing initial spread and risk of dilution [25]. Barbotage for day case spinal anaesthesia is not recommended.
iv. Needle bevel orientation
Previous editions of this handbook suggested directing the needle side-hole towards the side of surgery to enhance the block in that area and there may be some merit in caudal needle bevel orientation when low doses of local anaesthetic are used, or to focus a saddle block [11]. With standard doses of intrathecal local anaesthetic there is heterogeneity of evidence with varying cofounders, so firm conclusions cannot be made. In the absence of robust data, cephalad orientation is recommended as part of our standard technique (described in section 10), given this has been used successfully.
v. Patient factors
Gender, height and body mass index have little impact on the spread and quality of spinal blockade [25,36].
i. Patient handling
The key to successful technique in the day surgery setting is to keep it simple. The following suggestions can also be applied to spinal anaesthesia for inpatient procedures to improve list efficiency.
If a unilateral block is planned, anticipate which way the patient is going to face before they arrive in the anaesthetic room
Sit the patient with their legs over the side of the trolley and their feet supported on a chair or stool.
For a unilateral block, face the patient in the direction of their surgery so they can lay down on the correct side without having to roll through the supine position
Perform venous cannulation and apply monitoring equipment with the patient sitting
Following the spinal injection, the patient may be left sitting for a saddle block, laid on the appropriate side for a unilateral block or laid supine
ii. Tailoring blocks for specific procedures
Lower limb surgery
With most operations a thigh tourniquet is necessary but for foot surgery the surgeon may be agreeable to a calf tourniquet, which can be tolerated better and for a longer duration. With short-acting agents, addition of an appropriate peripheral nerve block or local anaesthetic infiltration for postoperative analgesia should always be considered
Inguinal hernia repair
This requires a higher block and therefore associated with an increased risk of postoperative retention and delayed discharge. Whilst hyperbaric solutions have been recommended to achieve a unilateral block, clinical experience at QEH and RFT shows coadministration of an ilioinguinal nerve block to be helpful
Perineal, prostate and bladder surgery
Perineal surgery requires a saddle block (described below). Immediate supine positioning produces a higher block suitable for prostate and bladder surgery
iii. Selective Spinal Anaesthesia
This is the combination of low dose local anaesthesia with an adjunct and patient positioning to limit the spread of the local anaesthetic so only the nerve roots of interest are blocked.
With short-acting agents there is less necessity to keep doses low but proponents of selective spinal anaesthesia with heavy prilocaine argue lower doses result in a unilateral block, less cardiovascular compromise, earlier voiding, mobilization and discharge. Supportive evidence is conflicting. However, it should be remembered when using a low dose there is an inherent risk of block failure.
a. The Watson-Allen knee arthroscopy technique
The patient is sat so when they lie to the side with their head on the pillow, they are operative side down without a need for lying supine first
30mg (1.5mls, 2% solution) hyperbaric prilocaine or 7.5mg (1.5mls, 0.5% solution) hyperbaric bupivacaine with 10mcg fentanyl
Quick injection (1ml/sec)
3 minutes lateral (some authors recommend at least 10 minutes lateral)
The reduced dose of local anaesthetic produces a 'thinner' block, which is predominantly a nociceptive sensory block with relative motor sparing [11]. The sensory block may be subtle compared to a standard dose spinal and less suitable for traditional testing (Watson describes the block as more akin to an epidural). Patients misinterpreting preserved light touch sensation as indicative of block failure may need reassurance.
b. Saddle block
This occurs through pooling of the hyperbaric local anaesthetic in the lumbar cistern when the patient is kept in a sitting position. Gebhardt and colleagues have suggested a technique both hyperbaric prilocaine and chloroprocaine for minor anal operations [37,38].
Sit the patient so when they lie to the side with their head on the pillow, they are operative side down without a need to be lying supine first
10mg prilocaine or 20mg chloroprocaine
Needle orifice pointing caudad
The patient is kept sitting for 10 minutes
i. Analgesia
As short-acting local anaesthetic agents are commonly advocated for day case spinal anaesthesia it is essential to consider a multimodal analgesic regime.

Pre-anaesthetic administration of simple oral analgesics such as paracetamol and ibuprofen (unless contraindicated) is advocated for all day case surgery [39]. Use of local anaesthesia via local infiltration or peripheral nerve blockade should be considered wherever possible [39].
ii. Sedation
Most patients who are appropriately prepared for awake surgery do not require sedation, in particular, those undergoing arthroscopic surgery are often keen to see what is going on. Keeping patients informed of what is occurring and what to expect helps to build rapport and manage anxiety. However, some wish to be sedated. It is important to remember principles of day surgery anaesthesia when selecting medications for sedation. The most widely accepted technique is low dose, propofol target-controlled infusions (0.5µg to 1µg/ml) [40]. Drugs, such as midazolam, are not encouraged in the day surgery setting due to the longer duration side effects of amnesia and drowsiness.
Postoperative retention of urine is a common problem associated with a number of risk factors. The normal adult urinary bladder has a capacity of 400 to 600 mls and most people experience a sensation of fullness at volumes of around 300 mls. However, those with chronic urinary retention may be insensitive to much higher volumes than this.
Acute postoperative retention of urine is defined as inability to void in the presence of a full bladder and significant risk factors for this include: [41]
Patient age greater than 70
Pre-existing bladder conditions (including obstructive and neurological problems)
Inguinal, anorectal or urological surgery
Spinal with bupivacaine dose more than 7mg
Spinal diamorphine
Spinal anaesthesia can interfere with the balance of autonomic control over bladder function and may lead to over-distension of the bladder during the period of detrusor muscle paralysis. However, day case spinal anaesthesia using short-acting agents is rarely associated with urinary retention in patients who are otherwise at low-risk for this complication [39,41,42]. Nevertheless, care should be taken not to give excessive intravenous fluids (i.e. >500 mls). Whilst voiding has traditionally been a prerequisite for discharge from day surgery, it is no longer considered necessary for patients at low risk of retention [11,42]. Management of high-risk patients using bladder ultrasound scanning enables accurate monitoring of postoperative bladder volumes and is the standard of care [43,44]. Results of ultrasound scans need to be interpreted according to the individual patient and clinical circumstances. If catheterization is indicated, patients can be discharged with a catheter in situ and an appointment to return for 'trial without catheter' date.
A bladder management pathway has been developed at QEH (Appendix D). It has resulted in faster discharge and avoidance of unnecessary urinary catherization, with a reduction in complications. It is recommended urologists are involved in the development of local guidelines for postoperative bladder management.
A spinal anaesthetic should be treated with the same respect as a general anaesthetic. It offers poor quality of care and is potentially dangerous to think that the anaesthetist's job is done once the spinal has been performed.
i. Block quality or failure
In contrast to newer short-acting agents, low-dose and selective spinal anaesthesia, due to the subtle nature of their sensory block may render conventional methods of testing inappropriate and unhelpful, for example ice, light touch or motor block. In these circumstances, indications of a working block are a sense of warmth or tingling in the affected areas and a modest fall in diastolic pressure.
If a block is present but inadequate, it may be necessary to supplement it with small doses of a short acting intravenous opioids or propofol. Local anaesthetic infiltration at the site of operation or in the form of a nerve block can also be helpful.


On rare occasions, a subarachnoid block may fail completely. The causes are many and summarized comprehensively elsewhere [45]. In the event of block failure, it can be repeated, converted to a general anaesthetic or the procedure may need to be abandoned and rescheduled for another date.
In any of the above situations, the importance of patient reassurance and a confident manner cannot be overstated.
ii. Cardiovascular status
Though uncommon in the day case setting, bradycardia and hypotension can occur due to a combination of preoperative dehydration, venous pooling and vasodilation. Ensuring patients are not starved for longer than necessary can help reduce this.

For practical purposes, significant hypotension can be defined as a fall in blood pressure necessitating intervention (e.g. extra intravenous fluids or vasoconstrictors). This complication is rare and should not be used as an excuse to preclude patients with known cardiovascular disease from having a spinal anaesthetic. Following the introduction of day surgery spinal anaesthesia at QEH using low dose bupivacaine (5mg) with fentanyl (10µg), the incidence of hypotension was 2.5% [5]. Overdistension of the bladder during the period of detrusor paralysis may lead to postoperative urine retention. To avoid excessive fluid loads, it is recommended sympathomimetic drugs are used for first-line management of hypotension.
Recent experience at QEH and RFT identified two patients who became profoundly bradycardic following a spinal anaesthetic, which revealed they had received too little fluid in the perioperative period and were probably sat up too quickly on their return to the ward. As put by Nicholas Greene 'the sine qua non' of safe spinal anaesthesia is maintenance of venous return' [36].
Day surgery ward nurses need to develop skills and confidence in assessing and looking after patients who have had a day case spinal anaesthetic.

The majority of patients can safely bypass first stage recovery, returning directly to the day surgery ward to sit up for food and drink. Gradual elevation to the sitting position may help to avoid vasovagal effects but there is no need for this to delay access to refreshment.

It is important to ensure there is adequate return of power to the legs before mobilizing. At QEH and RFT an ability to straight leg raise against gravity has been found to be a simple and adequate prerequisite to mobilization. Other centres, however, may use more formal methods of testing. Irrespective of how return of power is assessed, it is important that nurses are available to assist patient weight-bearing and movement. Proprioception and balance are also required for safe mobilization and patients should be advised that these, along with bladder activity are the last functions to return after a spinal anaesthetic. Care should be taken with the first few steps and urinary voiding may take a little longer.
Staff must be educated about assessment for safe mobilization. Suggested criteria to be fulfilled before attempting ambulation include:
Patients should only be mobilized when they have been assessed by a trained member of staff
Ward staff should be available to assist initial weight bearing
Sensation must be normal (unless local anaesthesia or a peripheral nerve block has been used)
Plantar flexion of the foot is at preoperative levels of strength (unless peripheral nerve block or surgery that affects this has been given to that limb)
Proprioception has returned to the big toe
There should be awareness all the above may be affected by supplemental local anaesthetic infiltration or regional anaesthesia used to provide longer acting anaesthesia at the operative site
Patients are discharged following mobilization, ensuring they are comfortable and with an appropriate analgesic prescription. For many, simple 'over the counter' medication will suffice.
At QEH, patients are usually discharged about three hours after their spinal anaesthetic, which is comparable to general anaesthesia for many procedures. Patients at low risk of retention do not have to void as described in section 12. With the introduction of the newer short acting spinal anaesthetic agents, patients may be ready to mobilize within 90 minutes [7,27].
As for a general anaesthetic, a responsible adult should escort the patient home and provide support for the first 24 hours after surgery [39]. A 24/7 telephone contact number must be provided to patients, in the event of them needing advice about postoperative concerns or complications, for example if they develop a headache or fail to void. The telephone contact should be to a dedicated surgical area or appropriately experienced member of staff. An answer-phone is inappropriate.
Some day surgery units conduct routine telephone follow up for all of their patients but others do not. It is unnecessary to routinely call all patients after spinal anaesthesia to check for postdural puncture headache or transient neurological symptoms if they have received appropriate verbal and written information. A follow up phone call should be considered for those patients at high risk of urinary retention, or if the anaesthetist has any other concerns.
Despite the low risk of complications, for a day surgery unit introducing spinal anaesthesia to their practice, contacting patients 48 to 72 hours after discharge can be used to assess patients experience, which can be fed back to staff. At QEH, the generally positive patient feedback received by staff conducting telephone follow- up helped to create a 'spinal friendly' ethos in the day surgery unit.
i. Postdural puncture headache
This usually presents as an occipitofrontal headache, exacerbated by adopting an upright posture and relieved by lying supine. It is less likely and severe after dural puncture with a pencil-point needle. Whilst it can be debilitating, effective treatment is available, although this may require readmission for assessment and management (e.g. epidural blood patch) [46]. A system of referring patients with suspected postdural puncture headache to the anaesthetic department and patients should be followed up until symptoms have been treated or resolved spontaneously. An example of an advice sheet for staff taking patient telephone enquiries is shown in Appendix E.
ii. Transient neurologic symptoms
This is a syndrome characterized by transient, mild to severe pain in the lower back, buttocks or legs. Typically, the pain starts within 24 hours of the subarachnoid block, lasts for less than 2 days and is amenable to oral analgesia. The main risk factor for its development is the use of intrathecal lidocaine in doses greater than 40 mg, where an incidence between 10% to 40% have been reported. Concentration and baricity appear to be less important than the dose. In contrast, bupivacaine and prilocaine are associated with a low incidence of transient neurologic syndrome [47]. There is no specific treatment and patients can be reassured it is a self-limiting condition.
iii. Patient experience
Day case spinal anaesthesia is associated with a reduced incidence of postoperative symptoms associated with a general anaesthetic such as nausea and vomiting, poor pain control, sore throat and grogginess. Patient followup revealing high satisfaction scores [4]. If significant comorbidity makes a general anaesthetic undesirable, a spinal anaesthetic may allow access to the day surgery unit with all its inherent benefits.
The Kings Fund, 2015. Day case surgery: a good news story for the NHS. Available at https://www.kingsfund.org.uk/blog/2015/07/day-case-surgery-good-news-story-nhs (accessed April 2018)


Bier A: Versuche uber Cocainisirung des Ruckenmarkes. (Experiments on the cocainization of the spinal cord) Deutsche Zeitschrift fur Chirurgie 1899; 51:361-9


Royal College of Anaesthetists, 2014. Your spinal anaesthetic: information for patients. Available at https://www.rcoa.ac.uk/sites/default/files/documents/2022-03/03-YourSpinal2020web.pdf (accessed April 2019)


Teunkens A, Vanhaecht K, Vermeulen K et al. Measuring satisfaction and anesthesia related outcomes in a surgical day care centre: A three-year single-centre observational study J Clin Anesth, 2017; 43: 15-23


Fosnot CD, Fleisher LA, Keogh J. Providing value in ambulatory anesthesia Curr Opin Anaesthesiol, 2015; 28: 617-22


Lang E, Laser E. Patient Sedation Without Medication: Rapid rapport and quick hypnotic techniques A Resource Guide for Doctors, Nurses, and Technologists. CreateSpace Independent Publishing Platform, USA, 2011.


Watson B, Allen JG. Spinal Anaesthesia in Day Surgery – an audit of the first 400 cases. Journal of One Day Surgery, 2003; 12: 59-62


Sriraman R, Hormis A, Russon K. Intrathecal hyperbaric 2% prilocaine for day surgery, a prospective, observational study. J One Day Surg, 2015; 5: 51-54


Xu H, Liu Y, Song W, et al. Comparison of cutting and pencil-point spinal needle in spinal anesthesia regarding postdural puncture headache: A metaanalysis. Medicine (Baltimore). 2017; 96: e6527. doi:10.1097/MD.0000000000006527


Risks associated with your anaesthetic, section 10. Headache after a spinal or epidural anaesthetic. Revised edition 2015. The Royal College of Anaesthetists and The Association of Anaesthetists. www.rcoa.co.uk (Accessed April 2019)


Watson B, Allen J. Spinal anaesthesia for day surgery patients a practical guide. 3rd edition 2013; British Association of Day Surgery Publications, UK.


Reed M, Khan M, Lawton R. 2018. Enhanced recovery & day surgery management for hip and knee replacement. British Association of Day Surgery, UK.


Mann A, Harper I, Brock S. Levobupivacaine for low dose spinal anaesthesia. Br J Anaesth, 2014; 112: 380


Camponovo C, Fanelli A, Ghisi D et al. A prospective, double-blinded, randomized, clinical trial comparing the efficacy of 40mg and 60mg hyperbaric 2% prilocaine versus 60mg plain 2% prilocaine for intrathecal anesthesia in ambulatory surgery. Anesth Analg 2010; 111: 568- 572


Guntz E, Latrech B, Tsiberidis C et al. ED50 and ED90 of intrathecal hyperbaric 2% prilocaine in ambulatory knee arthroscopy. Can J Anaesth 2014; 61: 801-807


Manassero A,Bossolasco M, Ugues S et al. Comparison of unilateral and bilateral spinal anesthesia with 2% hyperbaric prilocaine in daycase inguinal herniorrhaphy: a randomized controlled trial. Minerva Anestesiol, 2014; 80:685- 691


Black AS, Newcombe GN, Plummer JL et al. Spinal anaesthesia for ambulatory arthroscopic surgery of the knee: a comparison of low-dose prilocaine and fentanyl with bupivacaine and fentanyl. Br J Anaesth 2011; 106: 183-8


Fox B, Chen P, Stimpson J, Spinal or nerve block for knee arthroscopy? Anaesthesia 2016; 71; 1244-1245


Camponovo C, Wulf H, Ghisi D et al. Intrathecal 1% 2-chloroprocaine vs. 0.5% bupivacaine in ambulatory surgery: a prospective, observerblinded, randomised, controlled trial. Acta Anesthesiol Scand 2014; 58: 560-566


Lacasse MA, Roy JD, Forgot J et al. Comparison of bupivacaine and 2-chloroprocaine for spinal anesthesia for outpatient surgery: a double-blind randomized trial. Can J Anaesth 2011; 58: 384-391


Kopacz DJ. Spinal 2-Chloroprocaine: Minimum Effective Dose. Reg Anesth Pain Med, 2005; 30: 36- 42


Na KB, Kopacz DJ. Spinal Chloroprocaine Solutions: Density at 37° C and pH Titration. Anesth Analg 2004; 98: 70-74


Hudson RJS, Erskine R. Chloroprocaine spinal anaesthesia for day case knee arthroscopy. British Society of Orthopaedic Anaesthetists, Annual Scientific Meeting, Nottingham, November 2018 https://www.rcoa.ac.uk/sites/default/files/documents/2022-03/03-YourSpinal2020web.pdf (accessed May 2019)


Zaric D, Pace NL. Transient neurologic symptoms (TNS) following spinal anaesthesia with lidocaine versus other local anaesthetics. Cochrane Database Syst Rev 2009; Apr 15;(2):CD003006


Hocking G, Wildsmith JAW. Intrathecal drug spread. Br J Anaesth, 2004; 93: 568- 78


Vath JS, Kopacz DJ. Spinal 2-chloroprocaine: the effect of adding fentanyl. Anesth Analg, 2004; 98: 89-94


Ben-David B, Solomon E, Levin H et al. Intrathecal fentanyl with small-dose dilute bupivacaine: better anesthesia without prolonging recovery. Anesth Analg 1997; 85: 560 – 565


Horlocker TT, Burton AW, Connis BR et al. American Society of Anesthesiologists Task Force on Neuraxial Opoids. Practice guidelines for the prevention, detection, and management of respiratory depression associated with neuraxial opioid administration. Anesthesiology 2009; 110: 218-230


Varrassi G, Celleno G, Capogna G et al. Ventilatory effects of subarachnoid fentanyl in the elderly. Anaesthesia 1992; 47: 558-562


Henry A, Tetzlaff JE, Steckner K. Ondansetron is effective in treatment of pruritus after intrathecal fentanyl. Reg Anesth Pain Med, 2002; 27: 538-539


Erskine RJ, Geutjens G. Feasibility of spinal prilocaine for knee arthroplasty. British Society of Orthopaedic Anaesthetists, Annual Scientific Meeting, Nottingham 9th November 2018 https://bsoa.org.uk/wpcontent/uploads/2018/04/Abstract-Booklet-2018-1.pdf (accessed April 2019)


Taha M, Hepworth T, Roberts L et al. Introducing Uni-compartment knee replacement (UCKR) as a day case to Rotherham Foundation Trust Hospital. J One Day Surg 28.3 Supplementary ASM 2018 abstract book


Sinclair CJ, Scott DB, Edstrom HH. Effect of the Trendelenberg position on spinal anaesthesia with hyperbaric bupivacaine. Br J Anaesth 1982; 54: 497- 500


Mitchell RWD, Bowler GMR, Scott DB, Edstrom HH. Effects of posture and baricity on spinal anaesthesia with 0.5% bupivacaine 5ml. A double-blind study. Br J Anaesth 1988; 61: 139-143


Carrie LES, 2014. Obstetric Anaesthetists Association: The spread of local anaesthetic solutions in the glass spine. [video online]. Available at: https://youtu.be/XQ7zh5rdu6o


Greene NM. Distribution of local anesthetic solutions within the subarachnoid space. Anesth Analg, 1985; 64: 715-730


Gebhardt V, Herold A, Weiss C et al. Dosage finding for low-dose spinal anaesthesia using prilocaine in patients undergoing perianal outpatient surgery. Acta Anaesthesiol Scand, 2013; 57: 249-256


Gebhardt V, Mueller-Hansen L, Schwarz A et al. Chloroprocaine 10mg/ml for low dose spinal anaesthesia in perianal surgery - a randomized, dose finding study. Acta Anaesthesiol Scand 2017: 241- 249


Bailey CR, Ahuja M, Bartholomew K et al.Guidelines for day-case surgery 2019. Guidelines from the Association of Anaesthetists and the British Association of Day Surgery Anaesthesia 2019 https://doi.org/10.1111/anae.14639


Jackson I. Sedation in day surgery and office-based: drugs, techniques, monitoring and patient selection. https://www.esahq.org


Baldini G, Bagry H, Aprikian A, Carli F. Postoperative Urinary Retention: Anesthetic and Perioperative Considerations. Anesthesiology 2009; 110: 1139- 1157


Mulroy MF, Salanis FV, Larkin KL, Polissar NL. Ambulatory surgery patients may be discharged before voiding after short-acting spinal and epidural anesthesia. Anesthesiology, 2002: 97: 315-319


Pavlin et al. Management of bladder function after outpatient surgery. Anesthesiology, 1999; 91 42-50


International Prostate Symptoms Score (I-PSS)


Fettes PD, Jansson JR, Wildsmith JA. Failed spinal anaesthesia: mechanisms, management and prevention. Br J Anaesth, 2009;102: 739-748


Gaiser RR. Postdural puncture headache: a headache for the patient and a headache for the anaesthesiologist. Curr Opin Anaesthesiol, 2013; 26: 296-303


Zaric D,Pace NL. Transient neuralgic symptoms after spinal anaesthesia with lidocaine versus other local anaesthetics: A systematic review of randomized, controlled trials. Anesth Analg, 2005; 100: 1811- 1816
1% chloroprocaine (Ampres) is now available. It is licensed for 40minutes but experience from Derby and other centres seem to suggest 4mls (40mg) can give up to 60min operating time and wears off after 90-120mins and 5mls (50mg) can give up to 90mins operating time with full resolution after 120-180minutes. There is no need to add opiates to 1% Chloroprocaine
Unilateral procedures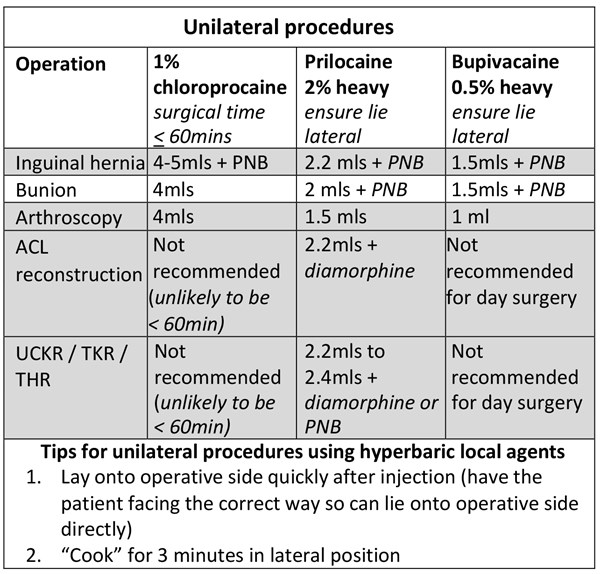 Midline procedures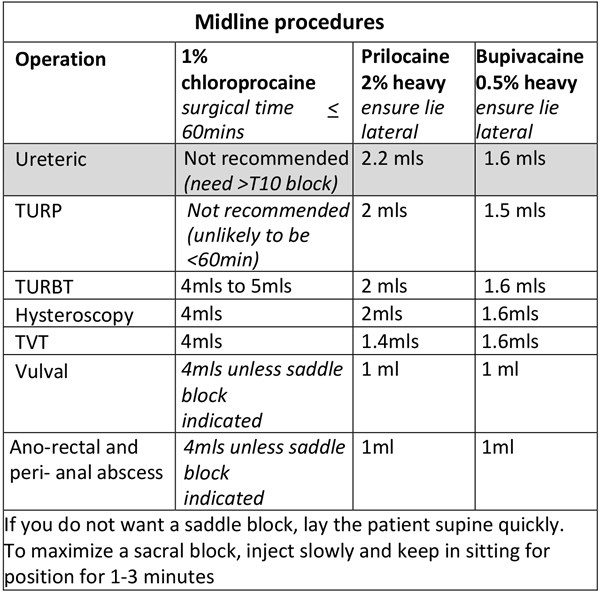 General tips for spinal anaesthesia in day surgery:
Hyperbaric 2% prilocaine and 1% chloroprocaine blocks tend to be rapid, dense and regress quickly


Hyperbaric 2% prilocaine and 1% chloroprocaine require relatively quick injection 1ml/second without repeated barbotage


Historically fentanyl 10 mcg has be added to 2% heavy prilocaine or 0.5% heavy bupivacaine doses given above. There is a move away from using opiates in day case spinal anaesthesia and instead to increase the prilocaine doses by 0.2- 0.4mls. Larger doses of bupivacaine are NOT recommended for day surgery


Hypotension is rare - manage with inotropes/vasopressors - avoid IV fluid loads > 500 ml


Please remember to advise the day surgery ward if your patient is high risk of urinary retention


Please remember to address post op pain following spinal anaesthesia (e.g. use local anaesthetic or peripheral nerve block (PNB)


This guidance reflects experience from King's Lynn, Derby and other centres – anaesthetists may wish to adjust volumes to suit individual clinical circumstances
Reproduced with the permission of Dr Kim Russon©
Targeted spinal anaesthesia, University Hospitals of Derby and Burton NHS Foundation Trust*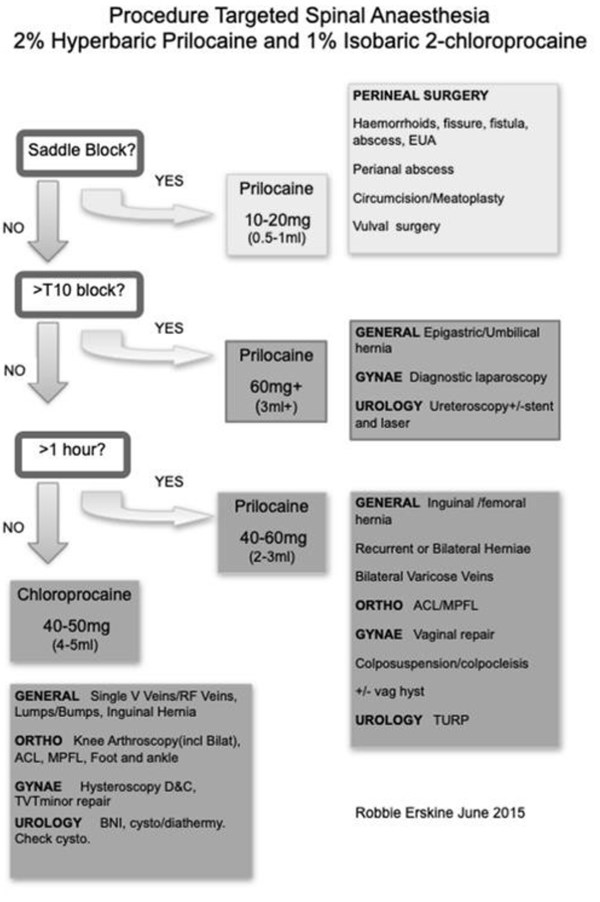 *Chloroprocaine is slightly hyperbaric but used as an isobaric agent Reproduced with the permission of Dr Robbie Erskine©
Spinal Anaesthetic – A Guide for Day Surgery Ward
What is a spinal anaesthetic?
A local anaesthetic drug is injected through a needle into the CSF (central spinal fluid) to numb the nerves from the waist down to the toes. Depending on the type of local anaesthetic the numbness will last 1 -4 hours. Almost any operation performed below the waist is suitable for a spinal anaesthetic. The patients may remain awake or receive some sedation.
Short-acting Local Anaesthetics (LA): lignocaine, 2- chloroprocaine (Ampres), heavy prilocaine (Prilotekal), 0.25% chirocaine
Longer acting LA's: Heavy Marcain (0.5%heavy bupivacaine), 0.5% bupivacaine / chirocaine
Opiate Drugs that may be added: fentanyl (short acting) or diamorphine (longer acting)
Morphine should not be added to spinals for day surgery patients
Benefits of a spinal anaesthetic
Excellent pain relief immediately after surgery
Less need for strong painkillers
Less sickness and vomiting
Earlier return to drinking and eating
Less effect on the heart and lungs if you have disease of either of these
Less disruption to sugar control for diabetics
Side effects
Common Skin
itchiness for a few hours if spinal opiate used
Uncommon
Low blood pressure
Difficulty passing water/peeing (urinary retention). Very occasionally a urinary catheter may be needed for a short time.
Headache. Most headaches get better within a few hours and can be treated with simple pain-relieving tablets. If your headache is severe or unusual in anyway, we would like to know about it.
Rare
Post-operative Care
Regular BP check
Check BP on arrival to ward. If more than one hour has elapsed since insertion of spinal check BP hourly until mobile unless complaints of symptoms of low BP (faint/dizzy/unwell). Check BP one more time once mobile unless patient feels unwell, then BP checks should be continued. If less than one hour has elapsed since spinal insertion monitor BP every 15minutes until one-hour post spinal or until stable.
Spinal Diamorphine (look out for the orange sticker)
Check BP sats, resp rate, sedation score and pain score every hour on the ward for 4 hours then 4 hourly, until discharge. If ready for discharge in less than 8 hours please check and document BP, sats and respiratory at time of discharge. Please discuss with anaesthetist if at any time the respiratory rate is noted to be 8 or below, or you have any other concerns.
Tinzaparin - this should not be given until at least 4 hours after spinal injection. If in doubt please check with anaesthetist.
Mobilizing
Patients may report some tingling in the skin as the spinal wears off. Independent mobilization will depend on the type of LA used and the volume. Please look at the anaesthetic chart. Proprioception and balance are also required for safe ambulation. Nursing staff will assess patients to see if numbness has resolved sufficiently to consider standing. Patient must be able to straight leg raise before attempting to stand. Two members of staff must be available to first stand the patient. There must be a chair available when standing the patient.
Bladder Management
Post-operative retention of urine is a common problem associated with a number of patient, surgical and anaesthetic risk factors. The normal adult urinary bladder has a capacity of 400-600mls. In most people, a sense of fullness will occur at around 300mls. However, patients with a history of chronic bladder retention may be insensitive to higher volumes.
The following are high risk factors for post-operative urinary retention
Patient age > 70
Pre-existing conditions including obstructive or neurological problems
Inguinal, ano-rectal and urological surgery
Prolonged spinal anaesthesia
Spinal diamorphine
Spinal anaesthesia can interfere with the balance of autonomic control over the bladder function and may lead to over distension of the bladder. Short-acting SAB is rarely associated with urinary retention in patients who are otherwise at low risk for this complication. Care should be taken not to give excessive (>500mls) of intravenous fluids.
Whilst voiding is normally a pre-requisite for discharge from day surgery, BADS (The British Association of Day Surgery) recommends that this is not necessary in low-risk patients. Management of high risk patients using ultrasound bladder scanning enable accurate monitoring of post-operative bladder volumes and is the new suggested standard of care. A catheter may be needed in patients who have a sensation of bladder fullness and cannot void or with ultrasound evidence of >450mls of urine. These patients need to be discussed with a doctor prior to discharge.
Low-risk patients do not need to void before discharge. They should be advised to contact day surgery / the ward if after 8pm if they have not voided within 12hours. High risk patients should be asked to void when they feel comfortably full and ready or after a maximum of 4hours. If unable to void they need a bladder scan. If the volume is less than 400mls continue to observe. If >400mls catheterize and discuss with doctor.
Follow-up phone call
Usual checks for pain etc
Confirm patient is voiding without problems
Exclude post-dural puncture headache
Reproduced with the permission of Dr Kim Russon©
Bladder Management Flowchart, Queen Elizabeth Hospital Kings Lynn NHS Foundation Trust
Patients who develop headache after spinal anaesthesia Information for Helpline Staff
Postdural puncture headache (PDPH) is an uncommon complication of spinal anaesthesia.
The headache usually starts within 48 hours of the block but may be delayed up to about a week.
The headache may be frontal or occipital. Neck pain may be a feature. Mild photophobia is common.
The characteristic feature of PDPH is that its severity is related to the patient's posture. The headache will be more severe on sitting and standing and much better on lying down. Often the patient will wake with no headache and only notice it after they have begun to get up and walk about.
Advise the patient to rest, keep well hydrated and take simple analgesics and report back to you later if appropriate.
If the headache is not relieved by simple analgesics, is severe, getting worse, preventing the patient from mobilizing or has any other unusual features, you must refer them to an anaesthetist. During normal working hours 8.30-5.30pm this should be Dr Russon, the anaesthetic consultant on cover (Bleep 731). Out of hours contact the 2nd on call anaesthetist via the hospital switchboard and discuss the case with him/her.
Reproduced with the permission of Dr Kim Russon©